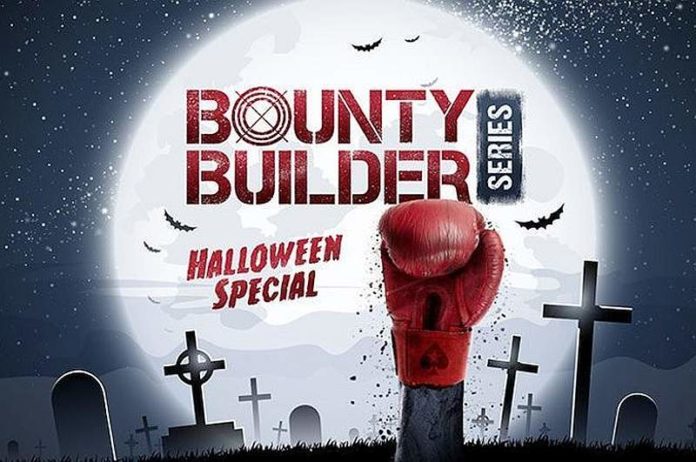 Już za kilka dni na PokerStars rozegrane zostaną turnieje Bounty Builder Series. Festiwal w bardzo popularnym formacie potrwa przez dwa tygodnie.
Bounty Builder Series nie jest nowym pomysłem. Festiwal był już w przeszłości rozgrywany. Teraz powraca, a gracze od niedzieli uczestniczyć będą mogli w ogromnej liczbie pokerowych eventów. Zaplanowano łącznie 180 turniejów, a ich pula wyniesie 25.000.000$.
Festiwal rozpocznie się 13 października, a zakończy 27 października. Wtedy właśnie rozegrany zostanie Main Event, w którym wpisowe to 530$, a pula 2.000.000$. W czasie festiwalu codziennie rozgrywane będzie dwanaście turniejów.
Podczas festiwalu dominowała będzie odmiana NL Holdem. Rozegrane zostanie jednak kilka turniejów w odmianie Omaha (Pot Limit, No Limit, 5 Card). Większość eventów to turnieje w formacie 9-handed i 8-handed. Pojawi się sporo turniejów 6-handed, a także kilka nieco bardziej "egzotycznych", czyli 4-handed, 3-handed i heads-up Zoom.
Wszystkie turnieje rozgrywane będą w niezwykle popularnym formacie progressive knockout (PKO). W turnieju takim wpisowe dzielone jest pomiędzy bounty i pulę nagród. Wraz z kolejnymi eliminacjami gracze zwiększają swoje bounty wygrywając również kwoty bounty za rywali.
Turnieje główne i dodatkowe szczegóły
Największe turnieje festiwalu rozegrane zostaną 26 i 27 października. Doskonałych graczy wysokich stawek zobaczyć będzie można w High Rollerze za 5.200$, który wystartuje 26 października. Main Event rozpocznie się 27 października o godzinie 19:00. Będzie to dwudniowy turniej, w którym wpisowe to 530$, a pula gwarantowana 2.000.000$.
Podczas festiwalu aktualizowana będzie lista najlepszych graczy. Wygra ten, który wyeliminuje największą liczbę rywali. Zwycięzca klasyfikacji otrzyma 3.000$, a nagrodzonych zostanie pięciu najlepszych graczy.
Dodatkowo podczas festiwalu odbywały się będą specjalne turnieje Trick or Treat (środy i piątki). Gracze, którzy będą w nich rywalizowali otrzymają losowo bilet warte od 1,10$ do 22$. Bilety do festiwalu zdobyć będzie można w specjalnych frerrolach, do których wejściówki dostać będzie można wykonując wyzwania.
Harmonogram Bounty Builder Series
| | | |
| --- | --- | --- |
| Data | Godzina | Event |
|  13 paź. | 16:00 | Bounty Builder Series 001: $1.10 NLHE [6-Max], $7.5K Gtd |
|  13 paź. | 16:15 | Bounty Builder Series 02: $11 NLHE [6-Max], $100K Gtd |
|  13 paź. | 16:30 | Bounty Builder Series 03: $109 NLHE [6-Max], $125K Gtd |
|  13 paź. | 17:30 | Bounty Builder Series 04: $55 NLHE [Turbo], $100K Gtd |
|  13 paź. | 19:00 | Bounty Builder Series 05: $2,100 NLHE [8-Max], $500K Gtd |
|  13 paź. | 19:15 | Bounty Builder Series 06: $215 NLHE [8-Max], $400K Gtd |
|  13 paź. | 19:30 | Bounty Builder Series 07: $22 NLHE [8-Max], $150K Gtd |
|  13 paź. | 20:30 | Bounty Builder Series 08: $109 NLHE [Turbo], $200K Gtd |
|  13 paź. | 22:00 | Bounty Builder Series 09: $530 NLHE, $400K Gtd |
|  13 paź. | 22:15 | Bounty Builder Series 10: $55 NLHE, $250K Gtd |
|  13 paź. | 22:30 | Bounty Builder Series 11: $5.50 NLHE, $75K Gtd |
|  13 paź. | 23:30 | Bounty Builder Series 12: $1,050 NLHE [8-Max, Turbo], $200K Gtd |
|  14 paź. | 16:00 | Bounty Builder Series 13: $2.20 PLO [6-Max], $7.5K Gtd |
|  14 paź. | 16:15 | Bounty Builder Series 14: $22 PLO [6-Max], $35K Gtd |
|  14 paź. | 16:30 | Bounty Builder Series 15: $215 PLO [6-Max], $75K Gtd |
|  14 paź. | 17:30 | Bounty Builder Series 16: $215 NLHE [Turbo], $100K Gtd |
|  14 paź. | 19:00 | Bounty Builder Series 17: $530 NLHE [8-Max], $150K Gtd |
|  14 paź. | 19:15 | Bounty Builder Series 18: $55 NLHE [8-Max], $175K Gtd |
|  14 paź. | 19:30 | Bounty Builder Series 19: $5.50 NLHE [8-Max], $50K Gtd |
|  14 paź. | 20:30 | Bounty Builder Series 20: $109 NLHE [Turbo], $100K Gtd |
|  14 paź. | 22:00 | Bounty Builder Series 21: $215 NLHE, $150K Gtd |
|  14 paź. | 22:15 | Bounty Builder Series 22: $22 NLHE, $75K Gtd |
|  14 paź. | 22:30 | Bounty Builder Series 23: $2.20 NLHE, $7.5K Gtd |
|  14 paź. | 23:30 | Bounty Builder Series 24: $55 NLHE [6-Max, Turbo], $75K Gtd |
|  15 paź. | 16:00 | Bounty Builder Series 25: $5.50 NLHE [8-Max], $15K Gtd |
|  15 paź. | 16:15 | Bounty Builder Series 26: $55 NLHE [8-Max], $75K Gtd |
|  15 paź. | 16:30 | Bounty Builder Series 27: $530 NLHE [8-Max], $100K Gtd |
|  15 paź. | 17:30 | Bounty Builder Series 28: $109 NLHE [4-Max, Turbo], $125K Gtd |
|  15 paź. | 19:00 | Bounty Builder Series 29: $1,050 NLHE, $350K Gtd |
|  15 paź. | 19:15 | Bounty Builder Series 30: $109 NLHE, $200K Gtd |
|  15 paź. | 19:30 | Bounty Builder Series 31: $11 NLHE, $100K Gtd |
|  15 paź. | 20:30 | Bounty Builder Series 32: $215 NLHE [6-Max, Hyper-Turbo], $75K Gtd |
|  15 paź. | 22:00 | Bounty Builder Series 33: $530 NLHE [8-Max], $150K Gtd |
|  15 paź. | 22:15 | Bounty Builder Series 34: $55 NLHE [8-Max], $100K Gtd |
|  15 paź. | 22:30 | Bounty Builder Series 35: $5.50 NLHE [8-Max], $20K Gtd |
|  15 paź. | 23:30 | Bounty Builder Series 36: $109 NLHE [Turbo], $100K Gtd |
|  16 paź. | 16:00 | Bounty Builder Series 37: $2.20 NLHE [8-Max], $7.5K Gtd |
|  16 paź. | 16:15 | Bounty Builder Series 38: $22 NLHE [8-Max], $75K Gtd |
|  16 paź. | 16:30 | Bounty Builder Series 39: $215 NLHE [8-Max], $100K Gtd |
|  16 paź. | 17:30 | Bounty Builder Series 40: $55 NLHE [Turbo], $75K Gtd |
|  16 paź. | 19:00 | Bounty Builder Series 41: $530 NLHE [6-Max], $150K Gtd |
|  16 paź. | 19:15 | Bounty Builder Series 42: $55 NLHE [6-Max], $150K Gtd |
|  16 paź. | 19:30 | Bounty Builder Series 43: $5.50 NLHE [6-Max], $40K Gtd |
|  16 paź. | 20:30 | Bounty Builder Series 44: $109 NLHE [6-Max, Turbo, Shootout], $100K Gtd |
|  16 paź. | 22:00 | Bounty Builder Series 45: $109 NLHE, $150K Gtd |
|  16 paź. | 22:15 | Bounty Builder Series 46: $11 NLHE, $75K Gtd |
|  16 paź. | 22:30 | Bounty Builder Series 47: $1.10 NLHE, $5K Gtd |
|  16 paź. | 23:30 | Bounty Builder Series 48: $55 NLHE [Turbo], $75K Gtd |
|  17 paź. | 16:00 | Bounty Builder Series 49: $5.50 NLHE, $15K Gtd |
|  17 paź. | 16:15 | Bounty Builder Series 50: $55 NLHE, $75K Gtd |
|  17 paź. | 16:30 | Bounty Builder Series 51: $530 NLHE, $100K Gtd |
|  17 paź. | 17:30 | Bounty Builder Series 52: $109 NLHE [6-Max, Turbo, Win the Button], $100K Gtd |
|  17 paź. | 19:00 | Bounty Builder Series 53: $2,100 NLHE [8-Max], $400K Gtd |
|  17 paź. | 19:15 | Bounty Builder Series 54: $215 NLHE [8-Max], $250K Gtd |
|  17 paź. | 19:30 | Bounty Builder Series 55: $22 NLHE [8-Max], $125K Gtd |
|  17 paź. | 20:30 | Bounty Builder Series 56: $55 NLHE [Turbo], $100K Gtd |
|  17 paź. | 22:00 | Bounty Builder Series 57: $530 NLO8 [6-Max], $50K Gtd |
|  17 paź. | 22:15 | Bounty Builder Series 58: $55 NLO8 [6-Max], $40K Gtd |
|  17 paź. | 22:30 | Bounty Builder Series 59: $5.50 NLO8 [6-Max], $15K Gtd |
|  17 paź. | 23:30 | Bounty Builder Series 60: $215 NLHE [8-Max, Turbo], $100K Gtd |
|  18 paź. | 16:00 | Bounty Builder Series 61: $1.10 NLHE [6-Max], $5K Gtd |
|  18 paź. | 16:15 | Bounty Builder Series 62: $11 NLHE [6-Max], $50K Gtd |
|  18 paź. | 16:30 | Bounty Builder Series 63: $109 NLHE [6-Max], $100K Gtd |
|  18 paź. | 17:30 | Bounty Builder Series 64: $215 NLHE [Turbo], $100K Gtd |
|  18 paź. | 19:00 | Bounty Builder Series 65: $530 NLHE, $150K Gtd |
|  18 paź. | 19:15 | Bounty Builder Series 66: $55 NLHE, $175K Gtd |
|  18 paź. | 19:30 | Bounty Builder Series 67: $5.50 NLHE, $50K Gtd |
|  18 paź. | 20:30 | Bounty Builder Series 68: $109 NLHE [Turbo], $125K Gtd |
|  18 paź. | 22:00 | Bounty Builder Series 69: $1,050 NLHE [8-Max], $200K Gtd |
|  18 paź. | 22:15 | Bounty Builder Series 70: $109 NLHE [8-Max], $100K Gtd |
|  18 paź. | 22:30 | Bounty Builder Series 71: $11 NLHE [8-Max], $75K Gtd |
|  18 paź. | 23:30 | Bounty Builder Series 72: $55 NLHE [6-Max, Hyper-Turbo, Progressive Total KO], $75K Gtd |
|  19 paź. | 16:00 | Bounty Builder Series 73: $2.20 NLHE, $7.5K Gtd |
|  19 paź. | 16:15 | Bounty Builder Series 74: $22 NLHE, $75K Gtd |
|  19 paź. | 16:30 | Bounty Builder Series 75: $215 NLHE, $100K Gtd |
|  19 paź. | 17:30 | Bounty Builder Series 76: $55 NLHE [6-Max, Turbo], $75K Gtd |
|  19 paź. | 19:00 | Bounty Builder Series 77: $1,050 NLHE [8-Max], $250K Gtd |
|  19 paź. | 19:15 | Bounty Builder Series 78: $109 NLHE [8-Max], $200K Gtd |
|  19 paź. | 19:30 | Bounty Builder Series 79: $11 NLHE [8-Max], $100K Gtd |
|  19 paź. | 20:30 | Bounty Builder Series 80: $215 NLHE [Heads Up, Turbo, Progressive Total KO, Zoom], $100K Gtd |
|  19 paź. | 22:00 | Bounty Builder Series 81: $530 NLHE, $150K Gtd |
|  19 paź. | 22:15 | Bounty Builder Series 82: $55 NLHE, $100K Gtd |
|  19 paź. | 22:30 | Bounty Builder Series 83: $5.50 NLHE, $20K Gtd |
|  19 paź. | 23:30 | Bounty Builder Series 84: $109 PLO [6-Max, Turbo], $40K Gtd |
|  20 paź. | 16:00 | Bounty Builder Series 85: $2.20 NLHE, $7.5K Gtd |
|  20 paź. | 16:15 | Bounty Builder Series 86: $22 NLHE, $100K Gtd |
|  20 paź. | 16:30 | Bounty Builder Series 87: $215 NLHE, $150K Gtd |
|  20 paź. | 17:30 | Bounty Builder Series 88: $109 NLHE [Turbo], $150K Gtd |
|  20 paź. | 19:00 | Bounty Builder Series 89: $5,200 NLHE [8-Max, High Roller], $500K Gtd |
|  20 paź. | 19:15 | Bounty Builder Series 90: $530 NLHE [8-Max], $500K Gtd |
|  20 paź. | 19:30 | Bounty Builder Series 91: $55 NLHE [8-Max], $250K Gtd |
|  20 paź. | 20:30 | Bounty Builder Series 92: $215 NLHE [Turbo], $250K Gtd |
|  20 paź. | 22:00 | Bounty Builder Series 93: $1,050 NLHE [6-Max], $250K Gtd |
|  20 paź. | 22:15 | Bounty Builder Series 94: $109 NLHE [6-Max], $400K Gtd |
|  20 paź. | 22:30 | Bounty Builder Series 95: $11 NLHE [6-Max], $150K Gtd |
|  20 paź. | 23:30 | Bounty Builder Series 96: $55 NLHE [8-Max, Turbo], $75K Gtd |
|  21 paź. | 16:00 | Bounty Builder Series 97: $1.10 5-Card PLO [6-Max], $2.5K Gtd |
|  21 paź. | 16:15 | Bounty Builder Series 98: $11 5-Card PLO [6-Max], $20K Gtd |
|  21 paź. | 16:30 | Bounty Builder Series 99: $109 5-Card PLO [6-Max], $35K Gtd |
|  21 paź. | 17:30 | Bounty Builder Series 100: $215 NLHE [8-Max, Turbo], $100K Gtd |
|  21 paź. | 19:00 | Bounty Builder Series 101: $530 NLHE, $150K Gtd |
|  21 paź. | 19:15 | Bounty Builder Series 102: $55 NLHE, $175K Gtd |
|  21 paź. | 19:30 | Bounty Builder Series 103: $5.50 NLHE, $50K Gtd |
|  21 paź. | 20:30 | Bounty Builder Series 104: $109 NLHE [Turbo], $150K Gtd |
|  21 paź. | 22:00 | Bounty Builder Series 105: $215 NLHE [8-Max], $150K Gtd |
|  21 paź. | 22:15 | Bounty Builder Series 106: $22 NLHE [8-Max], $75K Gtd |
|  21 paź. | 22:30 | Bounty Builder Series 107: $2.20 NLHE [8-Max], $7.5K Gtd |
|  21 paź. | 23:30 | Bounty Builder Series 108: $55 NLHE [6-Max, Turbo, Progressive Total KO], $75K Gtd |
|  22 paź. | 16:00 | Bounty Builder Series 109: $5.50 NLHE, $25K Gtd |
|  22 paź. | 16:15 | Bounty Builder Series 110: $55 NLHE, $100K Gtd |
|  22 paź. | 16:30 | Bounty Builder Series 111: $530 NLHE, $100K Gtd |
|  22 paź. | 17:30 | Bounty Builder Series 112: $109 NLHE [Turbo], $100K Gtd |
|  22 paź. | 19:00 | Bounty Builder Series 113: $2,100 NLHE [8-Max], $400K Gtd |
|  22 paź. | 19:15 | Bounty Builder Series 114: $215 NLHE [8-Max], $250K Gtd |
|  22 paź. | 19:30 | Bounty Builder Series 115: $22 NLHE [8-Max], $125K Gtd |
|  22 paź. | 20:30 | Bounty Builder Series 116: $55 NLHE [Turbo], $100K Gtd |
|  22 paź. | 22:00 | Bounty Builder Series 117: $1,050 NLHE [6-Max], $200K Gtd |
|  22 paź. | 22:15 | Bounty Builder Series 118: $109 NLHE [6-Max], $100K Gtd |
|  22 paź. | 22:30 | Bounty Builder Series 119: $11 NLHE [6-Max], $75K Gtd |
|  22 paź. | 23:30 | Bounty Builder Series 120: $215 NLHE [8-Max, Turbo], $100K Gtd |
|  23 paź. | 16:00 | Bounty Builder Series 121: $2.20 NLHE [8-Max], $7.5K Gtd |
|  23 paź. | 16:15 | Bounty Builder Series 122: $22 NLHE [8-Max], $75K Gtd |
|  23 paź. | 16:30 | Bounty Builder Series 123: $215 NLHE [8-Max], $100K Gtd |
|  23 paź. | 17:30 | Bounty Builder Series 124: $55 NLHE [6-Max, Turbo], $75K Gtd |
|  23 paź. | 19:00 | Bounty Builder Series 125: $530 NLHE, $150K Gtd |
|  23 paź. | 19:15 | Bounty Builder Series 126: $55 NLHE, $175K Gtd |
|  23 paź. | 19:30 | Bounty Builder Series 127: $5.50 NLHE, $50K Gtd |
|  23 paź. | 20:30 | Bounty Builder Series 128: $109 NLHE [6-Max, Hyper-Turbo], $75K Gtd |
|  23 paź. | 22:00 | Bounty Builder Series 129: $109 NLHE [8-Max, Progressive Total KO], $200K Gtd |
|  23 paź. | 22:15 | Bounty Builder Series 130: $11 NLHE [8-Max, Progressive Total KO], $75K Gtd |
|  23 paź. | 22:30 | Bounty Builder Series 131: $1.10 NLHE [8-Max, Progressive Total KO], $5K Gtd |
|  23 paź. | 23:30 | Bounty Builder Series 132: $55 NLHE [Turbo], $75K Gtd |
|  24 paź. | 16:00 | Bounty Builder Series 133: $5.50 NLHE, $15K Gtd |
|  24 paź. | 16:15 | Bounty Builder Series 134: $55 NLHE, $75K Gtd |
|  24 paź. | 16:30 | Bounty Builder Series 135: $530 NLHE, $100K Gtd |
|  24 paź. | 17:30 | Bounty Builder Series 136: $215 NLHE [Turbo], $100K Gtd |
|  24 paź. | 19:00 | Bounty Builder Series 137: $10,300 NLHE [8-Max, High Roller], $500K Gtd |
|  24 paź. | 19:15 | Bounty Builder Series 138: $1,050 NLHE [8-Max], $350K Gtd |
|  24 paź. | 19:30 | Bounty Builder Series 139: $109 NLHE [8-Max], $200K Gtd |
|  24 paź. | 20:30 | Bounty Builder Series 140: $530 NLHE [Turbo], $150K Gtd |
|  24 paź. | 22:00 | Bounty Builder Series 141: $2,100 PLO [6-Max], $250K Gtd |
|  24 paź. | 22:15 | Bounty Builder Series 142: $215 PLO [6-Max], $75K Gtd |
|  24 paź. | 22:30 | Bounty Builder Series 143: $22 PLO [6-Max], $40K Gtd |
|  24 paź. | 23:30 | Bounty Builder Series 144: $109 NLHE [8-Max, Turbo], $100K Gtd |
|  25 paź. | 16:00 | Bounty Builder Series 145: $2.20 NLHE, $7.5K Gtd |
|  25 paź. | 16:15 | Bounty Builder Series 146: $22 NLHE, $75K Gtd |
|  25 paź. | 16:30 | Bounty Builder Series 147: $215 NLHE, $100K Gtd |
|  25 paź. | 17:30 | Bounty Builder Series 148: $55 NLHE [Turbo], $75K Gtd |
|  25 paź. | 19:00 | Bounty Builder Series 149: $530 NLHE [6-Max], $150K Gtd |
|  25 paź. | 19:15 | Bounty Builder Series 150: $55 NLHE [6-Max], $125K Gtd |
|  25 paź. | 19:30 | Bounty Builder Series 151: $5.50 NLHE [6-Max], $40K Gtd |
|  25 paź. | 20:30 | Bounty Builder Series 152: $109 NLHE [Turbo], $125K Gtd |
|  25 paź. | 22:00 | Bounty Builder Series 153: $1,050 NLHE [8-Max], $200K Gtd |
|  25 paź. | 22:15 | Bounty Builder Series 154: $109 NLHE [8-Max], $150K Gtd |
|  25 paź. | 22:30 | Bounty Builder Series 155: $11 NLHE [8-Max], $75K Gtd |
|  25 paź. | 23:30 | Bounty Builder Series 156: $215 NLHE [6-Max, Hyper-Turbo], $75K Gtd |
|  26 paź. | 16:00 | Bounty Builder Series 157: $1.10 NLHE [8-Max], $5K Gtd |
|  26 paź. | 16:15 | Bounty Builder Series 158: $11 NLHE [8-Max], $50K Gtd |
|  26 paź. | 16:30 | Bounty Builder Series 159: $109 NLHE [8-Max], $100K Gtd |
|  26 paź. | 17:30 | Bounty Builder Series 160: $55 NLHE [3-Max, Turbo, Win the Button], $75K Gtd |
|  26 paź. | 19:00 | Bounty Builder Series 161: $2,100 NLHE, $300K Gtd |
|  26 paź. | 19:15 | Bounty Builder Series 162: $215 NLHE, $200K Gtd |
|  26 paź. | 19:30 | Bounty Builder Series 163: $22 NLHE, $125K Gtd |
|  26 paź. | 20:30 | Bounty Builder Series 164: $5,200 NLHE [8-Max, High Roller], $500K Gtd |
|  26 paź. | 22:00 | Bounty Builder Series 165: $530 NLHE [Turbo], $150K Gtd |
|  26 paź. | 22:15 | Bounty Builder Series 166: $55 NLHE [Turbo], $75K Gtd |
|  26 paź. | 22:30 | Bounty Builder Series 167: $5.50 NLHE [Turbo], $20K Gtd |
|  26 paź. | 23:30 | Bounty Builder Series 168: $109 NLO8 [6-Max, Turbo], $35K Gtd |
|  27 paź. | 16:00 | Bounty Builder Series 169: $1.10 NLHE, $7.5K Gtd |
|  27 paź. | 16:15 | Bounty Builder Series 170: $11 NLHE, $100K Gtd |
|  27 paź. | 16:30 | Bounty Builder Series 171: $109 NLHE, $150K Gtd |
|  27 paź. | 17:30 | Bounty Builder Series 172: $22 NLHE [Turbo], $75K Gtd |
|  27 paź. | 19:00 | Bounty Builder Series 173: $530 NLHE [8-Max, Main Event], $2M Gtd |
|  27 paź. | 19:15 | Bounty Builder Series 174: $55 NLHE [8-Max], $250K Gtd |
|  27 paź. | 19:30 | Bounty Builder Series 175: $5.50 NLHE [8-Max], $75K Gtd |
|  27 paź. | 20:30 | Bounty Builder Series 176: $109 NLHE [6-Max, Turbo], $200K Gtd |
|  27 paź. | 22:00 | Bounty Builder Series 177: $2,100 NLHE, $400K Gtd |
|  27 paź. | 22:15 | Bounty Builder Series 178: $215 NLHE, $400K Gtd |
|  27 paź. | 22:30 | Bounty Builder Series 179: $22 NLHE, $150K Gtd |
|  27 paź. | 23:30 | Bounty Builder Series 180: $1,050 NLHE [8-Max, Turbo], $200K Gtd |