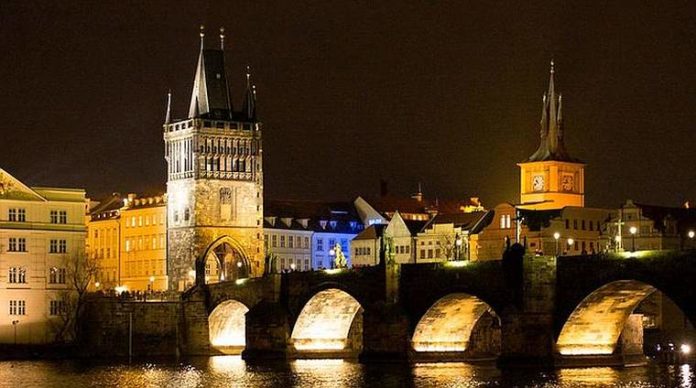 W marcu rozegrana zostania kolejna edycja festiwalu EPT Praga. Już teraz możecie zobaczyć, co przygotowali tam organizatorzy.
Festiwale serii European Poker Tour to jedne z popularniejszych pokerowych rozgrywek. Niestety w ostatnim czasie organizatorom turniejów dała się we znaki pandemia koronawirusa. W efekcie poprzedni rok EPT zakończyło właściwie z dwoma turniejami – najpierw w marcu odbyło się EPT Soczi, a kilka miesięcy później rozegrano EPT Open Soczi.
W grudniu rozegrana miała być nowa edycja EPT Praga. W Czechach ponownie wprowadzono jednak stan wyjątkowy i impreza musiała zostać przełożona. Niedawno poinformowano, że praska impreza odbędzie się w dniach 5 do 16 marca, a miejscem rozegrania będzie hotel Hilton.
Festiwal to łącznie 57 eventów z różnym wpisowym. Całość rozpocznie się od EPT National, który ma wpisowe 1.100€. Turniej ten zawsze notuje dobre wyniki, podobnie jak zresztą EPT Cup (8-9 marca), gdzie wpisowe wynosi 330€. Main Event EPT Praga rozpocznie się 10 marca i będzie miał wpisowe 5.300€.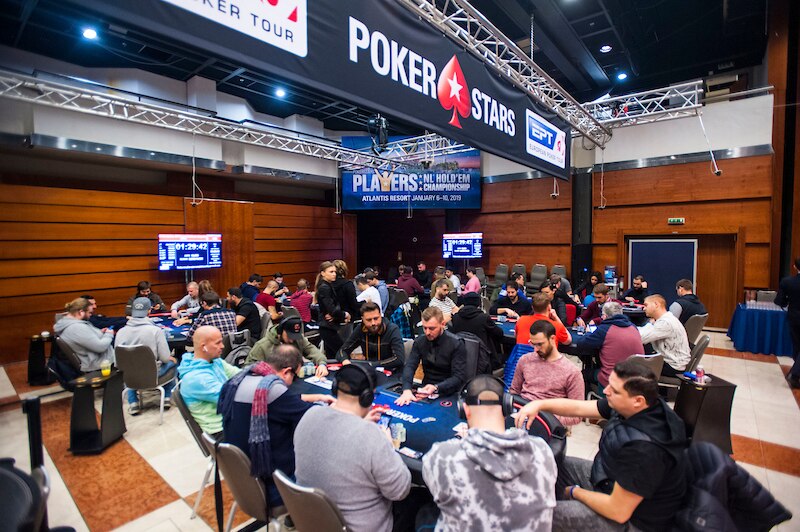 EPT Praga – główne turnieje festiwalu

EPT National: 6-10 marca – wpisowe 1.100€
EPT Cup: 8-9 marca – wpisowe 330€
EPT National High Roller: 9-10 marca – wpisowe 2.200€
EPT Super High Roller: 9-11 marca – wpisowe 50.000€
EPT Prague Main Event: 10-16 marca – wpisowe 5.300€
EPT Prague High Roller: 14-16 marca – wpisowe 10.300€
Pełny harmonogram rozgrywek – EPT Praga
Godzina
Nr eventu
Event
Buy-In
Stack startowy
5 marca – sobota
18:00
#1 (day 1)

#1 NL Hold'em – Single Re-Entry

€10,300
50,000
19:00
#2 (day 1)

#2 NL Hold'em – Freezeout

€1,100
20,000
19:00
#3

#3 NL Hold'em – €1,100 Qualifier 'Win your seat at 100,000 chips' – Unlimited Re-Entry

€130
10,000
22:00
#4

#4 NL Hold'em – Hyper Turbo – Freezeout

€550
20,000
6 marca – niedziela
12:00
#5 (1A)

#5 NL Hold'em – Eureka Main Event – Single Re-Entry Per Flight – 40 Min Levels

€1,100
30,000
12:00
#6

#6 NL Hold'em – €1,100 Bounty (€100) Qualifier 'Win your seat at 100,000 chips' – Unlimited Re-Entry

€230
10,000
12:30
#1 (day 2)

#1 NL Hold'em – Single Re-Entry

€10,300
13:00
#2 (day 2)

#2 NL Hold'em – Freezeout – Final Day

€1,100
16:00
#7

#7 NL Hold'em – €1,100 Qualifier 'Win your seat at 50,000 chips' – Freezeout

€250
10,000
19:00
#5 (1B)

#5 NL Hold'em – Eureka Main Event – Single Re-Entry Per Flight – 30 Min Levels

€1,100
30,000
22:00
#8

#8 NL Hold'em – Hyper Turbo – Freezeout

€1,100
20,000
7 marca – poniedziałek
12:00
#5 (1C)

#5 NL Hold'em – Eureka Main Event – Single Re-Entry Per Flight – 40 Min Levels

€1,100
30,000
12:00
#9

#9 NL Hold'em – Unlimited Re-Entry

€10,200
100,000
19:00
#5 (1D)

#5 NL Hold'em – Eureka Main Event – Freezeout – 20 Min Levels

€1,100
30,000
21:00
#10

#10 EPT Main Event Qualifier 'Win your seat at 50,000 chips' – NO CASH ALTERNATIVE – Freezeout

€1,200
10,000
8 marca – wtorek
12:00
#5 (day 2)

#5 NL Hold'em – Eureka Main Event – Single Entry Per Flight – 60 Min Levels

€1,100
12:00
#11

#11 NL Hold'em – Unlimited Re-Entry

€25,000
100,000
12:00
#12 (1A)

#12 NL Hold'em – Eureka Cup – Single Re-Entry Per Flight – Play to 5%

€330
20,000
15:00
#13

#13 EPT Main Event Qualifier KO (€500) 'Win Your Seat @ 100,000 chips' – NO CASH ALT – Unlimited Re-Entr

€1,100
10,000
18:00
#12 (1B)

#12 NL Hold'em – Eureka Cup – Single Re-Entry Per Flight – Play to 5%

€330
20,000
22:00
#14

#14 NL Hold'em – Hyper Turbo Knockout (€1,000) – Freezeout

€2,150
20,000
9 marca – środa
12:00
#5 (day 3)

#5 NL Hold'em – Eureka Main Event – Single Entry Per Flight – 60 Min Levels

€1,100
12:00
#15

#15 NLH Qualifier To #16 'Win your seat @ 100,000 chips '- NO CASH ALTERNATIVE – Unlimited Re-Entry

€250
10,000
12:30
#12 (day 2)

#12 NL Hold'em – Eureka Cup – Single Re-Entry Per Flight – Final Day

€330
12:30
#16 (day 1)

#16 NL Hold'em – Eureka High Roller – Single Re-Entry

€2,200
30,000
12:30
#17 (day 1)

#17 NL Hold'em – EPT Super High Roller – Unlimited Re-Entry

€50,000
250,000
18:00
#18

#18 EPT Main Event Qualifier KO (€1,000) 'Win Your Seat @ 50,000 chips' – NO CASH ALT – Freezeout

€2,200
10,000
21:00
#19

#19 EPT Main Event Qualifier 'Win your seat at 100,000 chips' – NO CASH ALTERNATIVE – Unlimited Re-Entry

€600
10,000
10 marca – czwartek
12:00
#5 (day 4)

#5 NL Hold'em – Eureka Main Event – Single Re-Entry Per Flight – 60 Min Levels – Final Day

€1,100
12:00
#20 (1A)

#20 NL Hold'em – EPT Prague Main Event – Single Re-Entry

€5,300
30,000
12:00
#21

#21 8-Game – Single Re-Entry

€550
50,000
12:00
#22

#22 EPT Main Event Qualifier 'Win your seat at 50,000 chips' – NO CASH ALTERNATIVE – Freezeout

€1,200
10,000
12:30
#16 (day 2)

#16 NL Hold'em – Eureka High Roller – Single Re-Entry – Final Day

€2,200
12:30
#17 (day 2)

#17 NL Hold'em – EPT Super High Roller – Unlimited Re-Entry

€50,000
17:00
#23

#23 EPT Main Event Qualifier 'Win your seat at 100,000 chips' – NO CASH ALTERNATIVE – Unlimited Re-Entry

€600
10,000
20:00
#24

#24 NL Hold'em – €25,000 Qualifier – NO CASH ALTERNATIVE – Unlimited Re-Entry

€2,650
15,000
22:00
#25

#25 NL Hold'em – Hyper Turbo – Freezeout

€1,100
20,000
11 marca – piątek
12:00
#20 (1B)

#20 NL Hold'em – EPT Prague Main Event – Single Re-Entry

€5,300
30,000
12:30
#17 (day 3)

#17 NL Hold'em – EPT Super High Roller – Unlimited Re-Entry

€50,000
12:30
#26

#26 NL Hold'em – Unlimited Re-Entry

€25,000
100,000
12:30
#27 (day 1)

#27 PL Omaha – Single Re-Entry

€1,100
30,000
20:00
#28

#28 NL Hold'em – Single Re-Entry

€2,150
20,000
21:00
#29

#29 NL Hold'em – Hyper Turbo – Freezeout

€550
20,000
12 marca – sobota
12:00
#19 (day 2)

#19 NL Hold'em – EPT Prague Main Event – Day 2

€5,300
12:30
#27 (day 2)

#27 PL Omaha – Single Re-Entry – Final Day

€1,100
12:30
#30

#30 NL Hold'em – Unlimited Re-Entry

€25,000
100,000
13:00
#31

#31 PL Omaha – Single Re-Entry

€5,200
50,000
14:00
#32 (day 1)

#32 NL Hold'em – Single Re-Entry

€2,200
20,000
18:00
#33

#33 NL Hold'em – Single Re-Entry

€330
20,000
20:00
#34

#34 NL Hold'em – Hyper Turbo – Freezeout

€1,100
20,000
22:00
#35

#35 NL Hold'em – €25,000 Qualifier – NO CASH ALTERNATIVE – Unlimited Re-Entry

€2,650
15,000
13 marca – niedziela
12:00
#19 (day 3)

#19 NL Hold'em – EPT Prague Main Event – Day 3

€5,300
12:00
#36

#36 NL Hold'em – Hyper Turbo Knockout (€1,000) – Freezeout

€2,150
20,000
12:30
#32 (day 2)

#32 NL Hold'em – Single Re-Entry – Final Day

€2,200
12:30
#37

#37 NL Hold'em – Unlimited Re-Entry

€25,000
100,000
14:00
#38 (day 1)

#38 NL Hold'em – Single Re-Entry

€1,100
20,000
16:00
#39

#39 EPT High Roller Qualifier #46, 'Win your seat @ 100,000 chips' – NO CASH RETURN – Unlimited Re-Entry

€1,150
10,000
18:00
#40

#40 NL Hold'em Short Deck 6+ – Single Re-Entry

€1,100
150,000
20:00
#41

#41 EPT High Roller Qualifier #46, 'Win your seat @ 100,000 chips' – NO CASH RETURN – Unlimited Re-Entry

€1,150
10,000
22:00
#42

#42 NL Hold'em – Hyper Turbo Knockout (€500) – Freezeout

€1,100
20,000
14 marca – poniedziałek
12:00
#19 (day 4)

#19 NL Hold'em – EPT Prague Main Event – Day 4

€5,300
12:00
#43

#43 EPT High Roller Qualifier #46, 'Win your seat @ 100,000 chips' – NO CASH RETURN – Unlimited Re-Entry

€1,150
10,000
12:00
#44

#44 H-O-R-S-E – Single Re-Entry

€550
50,000
12:00
#45

#45 NL Hold'em Qualifier To Event #47 'Win your seat @ 50,000 chips' – Freezeout

€250
10,000
12:30
#38 (day 2)

#38 NL Hold'em – Single Re-Entry – Final Day

€1,100
12:30
#46 (day 1)

#46 NL Hold'em – EPT Prague High Roller – Single Re-Entry

€10,300
50,000
14:00
#40 (day 2)

#40 NL Hold'em Short Deck 6+ – Single Re-Entry – Final Day

€1,100
14:00
#47 (day 1)

#47 NL Hold'em – Freezeout

€1,100
20,000
18:00
#48 (1A)

#48 NL Hold'em – Deep Stack – Unlimited Re-Entry – Play to 5%

€330
50,000
22:00
#49

#49 NL Hold'em – Hyper Turbo Knockout (€1,000) – Freezeout

€2,150
20,000
15 marca – wtorek
12:00
#19 (day 5)

#19 NL Hold'em – EPT Prague Main Event – Day 5

€5,300
12:00
#48 (1B)

#48 NL Hold'em – Deep Stack – Unlimited Re-Entry – Play to 5%

€330
50,000
12:00
#50

#50 NL Hold'em Qualifier #51 'Win your seat @ 100,000 chips' – NO CASH ALTERNATIVE – Unlimited Re-Entry

€250
10,000
12:30
#46 (day 2)

#46 NL Hold'em – EPT Prague High Roller – Single Re-Entry

€10,300
12:30
#47 (day 2)

#47 NL Hold'em – Freezeout – Final Day

€1,100
14:00
#51 (day 1)

#51 NL Hold'em – Deep Stack – Single Re-Entry

€2,200
50,000
17:00
#48 (1C)

#48 NL Hold'em – Deep Stack – Unlimited Re-Entry – Play to 5%

€330
50,000
20:00
#52 (day 1)

#52 NL Hold'em – Unlimited Re-Entry

€25,000
100,000
22:00
#53

#53 NL Hold'em – Hyper Turbo – Freezeout

€1,100
20,000
16 marca – środa
12:00
#19 (day 6)

#19 NL Hold'em – EPT Prague Main Event – Final Day

€5,300
12:00
#48 (day 2)

#48 NL Hold'em – Deep Stack – Unlimited Re-Entry – Final Day

€330
12:00
#51 (day 2)

#51 NL Hold'em – Deep Stack – Single Re-Entry – Final Day

€2,200
12:30
#46 (day 3)

#46 NL Hold'em – EPT Prague High Roller – Single Re-Entry

€10,300
12:30
#54

#54 NL Hold'em – Unlimited Re-Entry

€220
20,000
13:00
#52 (day 2)

#52 NL Hold'em – Unlimited Re-Entry

€25,000
14:00
#55

#55 NL Hold'em – 6 Handed – Unlimited Re-Entry

€2,150
50,000
16:00
#56

#56 NL Hold'em – 6 Handed – Unlimited Re-Entry

€5,200
50,000
18:00
#57

#57 NL Hold'em – Super Hyper Turbo – Freezeout

€1,100
20,000