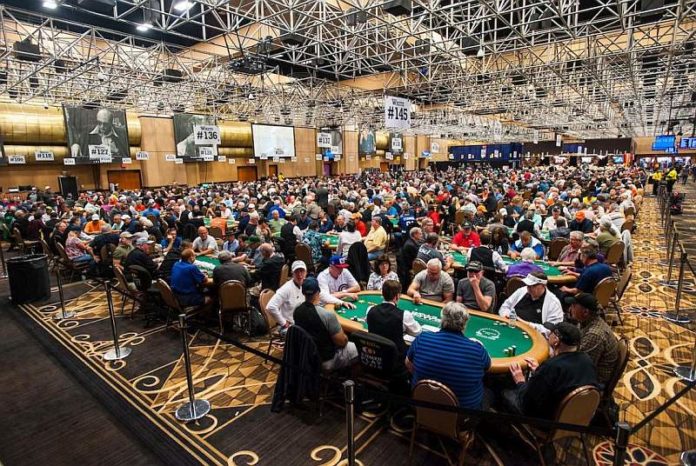 Organizatorzy WSOP odsłaniali przed nami kolejne fragmenty harmonogramu imprezy. Teraz wiemy już, że w tym roku gracze powalczą o rekordowe 101 bransoletek!
Nikogo już chyba nie dziwi, że co roku liczba eventów bransoletkowych jest większa. Rok temu oferowano 90 bransoletek, a w tym roku eventów z taką nagrodą będzie aż 101!
Organizatorzy ogłosili właśnie pełny harmonogram i nie ukrywają, że każdy z graczy znajdzie tam coś dla siebie. Tegoroczne World Series of Poker rozpocznie się 27 maja, a zakończy 15 lipca. Gracz rywalizowali będą zarówno w turniejach, gdzie wpisowe wynosi kilkaset dolarów, jak i w turniejach gdzie ten buy-in wynosi aż 250.000$.
WSOP chwali się zresztą, że przygotował coś dla każdego gracza. Rekordowa będzie liczba eventów online, których będzie aż czternaście. Pokerzyści znajdą sporo turniejów, gdzie można spodziewać się ogromnych fieldów – BIG 50, Millionaire Maker, Monster Stack i inne. Spora grupa to eventy za 1.500$, gdzie gracze powalczą w formacie freezout lub jedno re-entry, a dodatkowo rywalizować będą w oddzielnej klasyfikacji na najlepszego pokerzystę.
Oddzielna grupa to także turnieje mistrzowskie za minimalnie 10.000$ i High Rollery. Takich eventów będzie kilka, a maksymalne wpisowe to 250.000$.
Wczoraj WSOP podało także kilka informacji dotyczących samej rejestracji. Każdy z graczy będzie musiał mieć kartę lojalnościową Caesars Rewards, aby zapisać się turnieju. Organizatorzy zaznaczyli także, że rejestracja odbywała się będzie w Tropical Balroom, ale tym razem dodane zostanie więcej standardowych i VIP-owskich stanowisk, co jest odpowiedzią na zeszłoroczne długie kolejki.
Gracze będą mogli założyć także konto turniejowe WSOP. W zeszłym roku zrobiło to ponad 1.500 osób. To sposób na ominięcie kolejek przy kasach, bo po wpłacie na to konto rejestrować można się online lub z użyciem urządzenia mobilnego, a turniejowy ticket drukować w jednym ze specjalnych kiosków.
WSOP 2020 – pełny harmonogram
| Data | Turniej | Stack | Poziomy | Re-entry |
| --- | --- | --- | --- | --- |
| 27 maja | 1.000$ Freezeout No-Limit Hold'em | 20.000 | 30 | – |
| | 500$ Casino Employees | 25.000 | 40 | 1 |
| 28 maja | 500$ BIG 50 Flight A | 50.000 | 50 | 1/flight |
| | 1.500$ Omaha Hi-Lo | 25.000 | 40/60 | – |
| 29 maja | 500$ BIG 50 Flight B | 50.000 | 50 | 1/flight |
| | 25.000$ High Roller No Limit Hold'em | 150.000 | 60 | 1 |
| 30 maja | 500$ BIG 50 Flight C | 50.000 | 50 | 1/flight |
| | 1.500$ Dealer's Choice 6-Handed | 25.000 | 40/60 | 1 |
| 31 maja | 500$ BIG 50 Flight D | 50.000 | 50 | 1/flight |
| | 400$ WSOP.com ONLINE No-Limit Hold'em | 15.000 | 15 | 1 |
| | 25.000$ Heads Up No-Limit Hold'em | 150.000 | 20 | – |
| 1 czerwca | 600$ No-Limit Hold'em Deepstack | 30.000 | 30 | 1 |
| | 2.500$ Mixed Limit Triple Draw Lowball | 35.000 | 60 | 1 |
| 2 czerwca | 1.000$ Super Turbo Bounty | 20.000 | 20 | – |
| | 1.500$ Stud | 25.000 | 40/60 | – |
| 3 czerwca | 1.500$ 6-Handed No-Limit Hold'em | 25.000 | 40/60 | 1 |
| | 10.000$ Omaha Hi-Lo Championship | 60.000 | 60/90 | – |
| 4 czerwca | 1.500$ No-Limit Hold'em Freezeout | 25.000 | 40/60 | – |
| | 1.500$ H.O.R.S.E. | 25.000 | 40/60 | – |
| 5 czerwca | 1.500$ Millionaire Maker Flight A | 25.000 | 60 | 1/flight |
| | 50.000$ High Roller No-Limit Hold'em 8-Handed | 300.000 | 60 | 1 |
| | 1.500$ Mixed PLO Hi-Lo, Omaha Hi-Lo, Big O | 25.000 | 40/60 | 1 |
| 6 czerwca | 1.500$ Millionaire Maker Flight B | 25.000 | 60 | 1/flight |
| | 10.000$ Stud Championship | 60.000 | 60/90 | – |
| 7 czerwca | 1.000$ FORTY STACK No-Limit Hold'em | 40.000 | 30 | 1 |
| | 3.000$ H.O.R.S.E. | 40.000 | 60 | – |
| | 777$ WSOP.com ONLINE Pot-Limit Omaha (7-Handed) | 20.000 | 15 | 3 |
| 8 czerwca | 600$ Pot-Limit Omaha Deepstack 8-Handed | 30.000 | 30 | 1 |
| | 10.000$ Short Deck No-Limit Hold'em | 60.000 | 60 | 1 |
| 9 czerwca | 1.500$ Super Turbo Bounty | 25.000 | 20 | – |
| | 10.000$ H.O.R.S.E. Championship | 60.000 | 60/90 | – |
| | 800$ WSOP.com ONLINE Freezeout Knockout Deepstack | 40.000 | 10 | – |
| 10 czerwca | 1.000$ Pot-Limit Omaha 8-Handed | 20.000 | 40/60 | 1 |
| | 1.500$ No-Limit 2-7 Single Draw | 25.000 | 60 | 1 |
| 11 czerwca | 2.500$ Freezeout No-Limit Hold'em | 35.000 | 40/60 | – |
| | 1.500$ Stud Hi-Lo | 25.000 | 40/60 | – |
| 12 czerwca | 1.500$ MONSTER STACK Flight A | 50.000 | 60 | – |
| | 10.000$ Super Turbo Bounty | 60.000 | 20 | – |
| | 1.500$ 2-7 Triple Draw | 25.000 | 40/60 | 1 |
| 13 czerwca | 1.500$ MONSTER STACK Flight B | 50.000 | 60 | – |
| | 10.000$ Dealer's Choice Championship | 60.000 | 60/90 | – |
| 14 czerwca | 800$ No-Limit Hold'em Deepstack | 40.000 | 30 | 1 |
| | 1.500$ Pot-Limit Omaha (8-Handed) | 25.000 | 40/60 | 1 |
| | 500$ WSOP.com ONLINE Turbo Deepstack (8-Handed) | 40.000 | 10 | 1 |
| 15 czerwca | 500$ No-Limit Hold'em Freezeout | 25.000 | 30 | – |
| | 10.000$ 2-7 Single Draw Championship | 60.000 | 60/90 | 1 |
| 16 czerwca | 600$ Mixed NLH/PLO Deepstack 8-Handed | 30.000 | 30 | 1 |
| | 1.500$ Razz | 25.000 | 40/60 | – |
| 17 czerwca | 10.000$/1.000$ Ladies No-Limit Hold'em | 20.000 | 60 | 1 |
| | 1.500$ No-Limit Hold'em SHOOTOUT | 25.000 | 40 | – |
| | 25.000$ High Roller Pot-Limit Omaha 8-Handed | 150.000 | 60 | 1 |
| 18 czerwca | 1.000$ Seniors No-Limit Hold'em (50+) | 20.000 | 60 | 1 |
| | 3.000$ No-Limit Hold'em Freezeout | 40.000 | 40/60 | – |
| | 10.000$ 2-7 Triple Draw Championship | 60.000 | 60 | – |
| 19 czerwca | 1.000$ Double Stack No-Limit Hold'em Flight A | 40.000 | 60 | 1/flight |
| | 2.500$ Nine-Game Mix | 35.000 | 60 | 1 |
| 20 czerwca | 1.000$ Double Stack No-Limit Hold'em Flight B | 40.000 | 60 | 1/flight |
| | 10.000$ Pot-Limit Omaha Championship 8-Handed | 60.000 | 60 | None |
| 21 czerwca | 800$ No-Limit Hold'em Deepstack 8-Handed | 40.000 | 30 | 1 |
| | 5.000$ Freezeout No-Limit Hold'em 8-Handed | 50.000 | 40 | – |
| | 500$ WSOP.com ONLINE Freezeout No-Limit Hold'em | 20.000 | 15 | – |
| 22 czerwca | 1.000$ Super Seniors No-Limit Hold'em (60+) | 20.000 | 60 | 1 |
| | 1.000$ Tag Team No-Limit Hold'em | 20.000 | 60 | – |
| | 50.000$ Poker Players Championship | 300.000 | 100 | – |
| 23 czerwca | 600$ No-Limit Hold'em Deepstack Championship | 30.000 | 40/60 | 1 |
| | 1.500$ Pot-Limit Omaha Hi-Lo (8-Handed) | 25.000 | 40/60 | 1 |
| 24 czerwca | 400$ Colossus Flight A | 40.000 | 40 | 1/flight |
| | 10.000$ Razz Championship | 60.000 | 60/90 | – |
| 25 czerwca | 400$ Colossus Flight B | 40.000 | 40 | 1/flight |
| | 5.000$ No-Limit Hold'em 6-Handed | 50.000 | 60 | 1 |
| 26 czerwca | 888$ Crazy Eights Flight A | 40.000 | 30/40 | 1/flight |
| | 10.000$ Pot-Limit Omaha Hi-Lo Championship | 60.000 | 60 | – |
| | 888$ Crazy Eights Flight B | 40.000 | 30/40 | 1/flight |
| 27 czerwca | 888$ Crazy Eights Flight C | 40.000 | 30/40 | 1/flight |
| | 250.000$ Super High Roller No-Limit Hold'em | 1.500.000 | 60 | 1 |
| | 1.500$ Limit Hold'em | 25.000 | 40/60 | – |
| | 888$ Crazy Eights Flight D | 40.000 | 30/40 | 1/flight |
| 28 czerwca | 1.500$ MYSTERY BOUNTY No-Limit Hold'em | 50.000 | 30 | – |
| | 10.000$ Stud Hi-Lo Championship | 60.000 | 60/90 | – |
| | 1.000$ WSOP.com ONLINE CHAMPIONSHIP | 20.000 | 15 | 1 |
| 29 czerwca | 1.000$ Mini Main Event | 60.000 | 30 | – |
| | 10.000$ No-Limit Hold'em 6-Handed | 60.000 | 60 | – |
| | 500$ WSOP.com ONLINE No-Limit Hold'em | 15.000 | 15 | 1 |
| 30 czerwca | 500$ Final 500 SALUTE TO WARRIORS No-Limit Hold'em | 25.000 | 40 | 1 |
| | 10.000$ Limit Hold'em Championship | 60.000 | 60/90 | – |
| | 1.500$ WSOP.com ONLINE No-Limit Hold'em 8-Handed | 20.000 | 15 | 1 |
| 1 lipca | 10.000$ Main Event Flight A | 60.000 | 120 | – |
| | 3.200$ WSOP.com ONLINE High Roller (8-Handed) | 25.000 | 20 | 1 |
| 2 lipca | 10.000$ Main Event Flight B | 60.000 | 120 | – |
| | 10.000$ WSOP.com ONLINE Super High Roller Championship | 30.000 | 20 | – |
| 3 lipca | 10.000$ Main Event Flight C | 60.000 | 120 | – |
| | 400$ WSOP.com ONLINE No-Limit Hold'em | 15.000 | 15 | 1 |
| 4 lipca | 1.000$+111$ Little One for One Drop Flight A | 40.000 | 60 | Bez limitu |
| | 500$ WSOP.com ONLINE No-Limit Hold'em Turbo Deepstack | 40.000 | 8 | 1 |
| 5 lipca | 1.000$+111$ Little One for One Drop Flight B | 40.000 | 60 | Bez limitu |
| | 3.000$ Limit Hold'em 6-Handed | 40.000 | 60 | – |
| | 600$ WSOP.com ONLINE 6-Handed No-Limit Hold'em | 15.000 | 15 | 1 |
| 6 lipca | 1.000$+111$ Little One for One Drop Flight C | 40.000 | 60 | Bez limitu |
| | 5.000$ Mixed NLH/PLO 8-Handed | 50.000 | 30 | 1 |
| 7 lipca | 1.500$ No-Limit Hold'em Bounty | 25.000 | 40/60 | – |
| | 50.000$ High Roller Pot-Limit Omaha | 300.000 | 40 | 1 |
| 8 lipca | 1.500$ Pot-Limit Omaha Bounty | 25.000 | 40/60 | 1 |
| | 3.000$ No-Limit Hold'em 6-Handed | 40.000 | 30 | 1 |
| 9 lipca | 1.500$ FIFTY STACK No-Limit Hold'em | 50.000 | 30 | 1 |
| | 1.500$ Mixed NLH/PLO (8-Handed) | 25.000 | 40/60 | 1 |
| | 50.000$ High Roller No-Limit Hold'em | 300.000 | 40 | 1 |
| 10 lipca | 1.500$ The Closer Flight A | 25.000 | 30 | 1/flight |
| | 3.000$ Pot-Limit Omaha 6-Handed | 40.000 | 60 | 1 |
| 11 lipca | 1.500$ The Closer Flight B | 25.000 | 30 | 1/flight |
| | 100.000$ High Roller No-Limit Hold'em | 600.000 | 40 | 1 |
| 12 lipca | 800$ No-Limit Hold'em Deepstack | 40.000 | 30 | 1 |
| | 1.500$ Eight-Game Mix | 25.000 | 40/60 | 1 |
| | 500$ WSOP.com ONLINE SUMMER SAVER | 20.000 | 15 | 1 |
| 13 lipca | 1.000$ Super Turbo No-Limit Hold'em | 20.000 | 20 | 1 |
| | 2.500$ Mixed Big Bet | 35.000 | 60 | 1 |
| | 5.000$ No-Limit Hold'em 8-Handed | 50.000 | 30 | 1 |