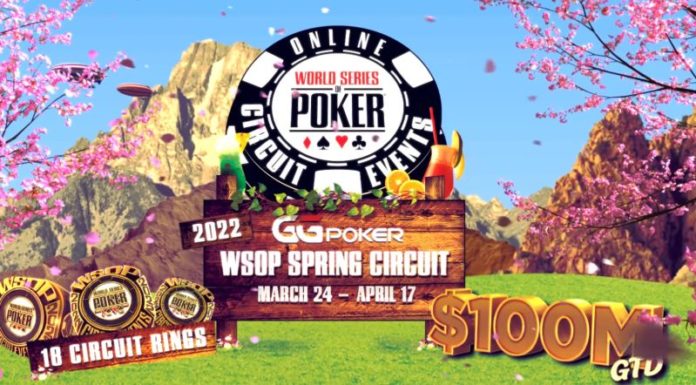 Już wkrótce na GGPoker kolejny bardzo ciekawy festiwal. Będzie to WSOP Spring Circuit, w którym poker room gwarantuje ogromną pulę wszystkich turniejów.
WSOP Spring Circuit będzie kolejnym ogromnym festiwalem, który rozgrywany jest na GGPoker. Rozgrywki rozpoczną się 24 marca i potrwają aż do 17 kwietnia. Łączna pula wszystkich turniejów to aż 100.000.000$!
Najważniejsze informacje o festiwalu:
Osiemnaście turniejów o pierścienie WSOP-C
Main Event z pulą gwarantowaną 5.000.000$ i wpisowym 525$
Specjalny, nowy turniej Mystery Bounty
Szansa na dołączenie do GGTeam Champions
Specjalny event, z którego zyski przeznaczone zostaną na ofiary wojny w Ukrainie
Eventy mistrzowskie Spring Circuit: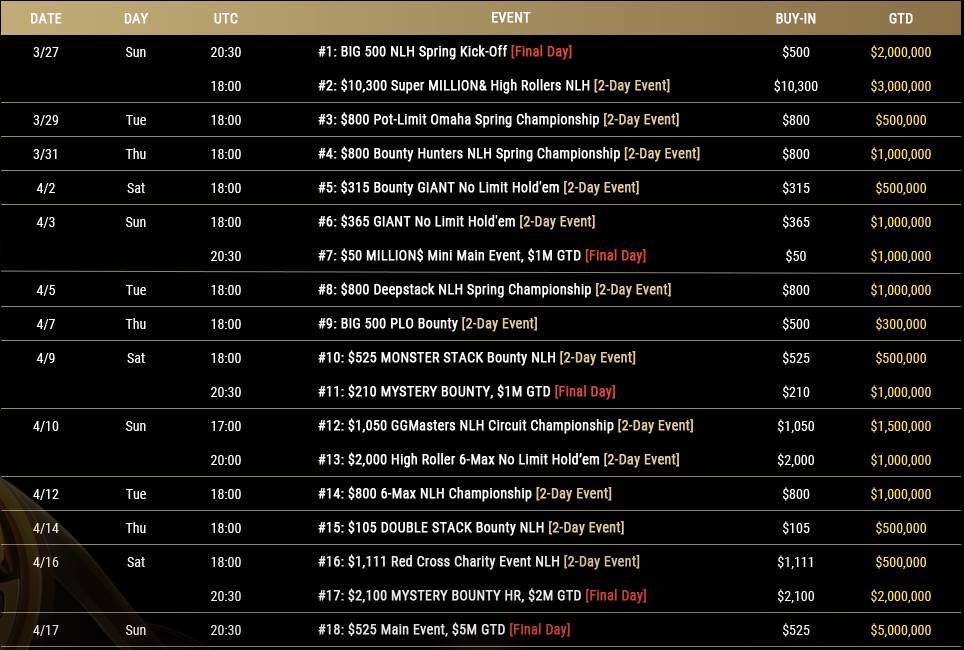 Zwycięzcy WSOP Spring Circuit oprócz pierścieni otrzymają także dodatkowo:
Zaproszenie do Turniejów Mistrzów, czyli freerolla z pulą 1.000.000$
Darmowa wejściówka do eventu Millionaire Maker za 1.500$ (WSOP)
Dostęp do Platinum Lounge Access (hotel Paris podczas WSOP)
Diamentowy status Caesars Rewards
Specjalna odznaka GGPoker
Nie macie konta na GGPoker?
To doskonały moment, aby je założyć! Będziecie mogli korzystać ze wszystkich dodatkowych promocji.
Krok 1. Wyczyść "cookies" w przeglądarce (to bardzo ważne)
Krok 2. Skorzystaj z tego linku lub kliknij w poniższy banner – następnie ściągnij soft i załóż konto i skorzystaj z bogatych promocji na start, m.in: z bonusu 100% do 600$ (dwa do wyboru), promocji Honeymoon i promocji o łącznej wartości 10.000.000$ w każdym miesiącu.
Harmonogram 2022 WSOP Spring Circuit:
| | | | | |
| --- | --- | --- | --- | --- |
| DATA | GODZINA (UTC) | EVENT | BUY-IN | GTD |
| 24 marca | 13:00 | WSOPC Series: $125 Daily Kick-Off | $125 | $40,000 |
| 24 marca | 13:15 | WSOPC Series: $52.50 Deepstack Bounty Turbo | $52.50 | $25,000 |
| 24 marca | 14:00 | WSOPC Series: $300 Daily Deepstack | $300 | $35,000 |
| 24 marca | 14:00 | WSOPC Series: $30 Daily Deepstack | $30 | $20,000 |
| 24 marca | 14:30 | WSOPC Series: $840 Bounty Warm-Up HR | $840 | $50,000 |
| 24 marca | 14:30 | WSOPC Series: $84 Bounty Warm-Up | $84 | $40,000 |
| 24 marca | 15:00 | WSOPC Series: $400 Forty Stack HR | $400 | $40,000 |
| 24 marca | 15:00 | WSOPC Series: $40 Forty Stack | $40 | $40,000 |
| 24 marca | 15:15 | WSOPC Series: $31.50 Deepstack Bounty Turbo | $31.50 | $25,000 |
| 24 marca | 16:00 | WSOPC Series: $888 CRAZY EIGHTS HR | $888 | $75,000 |
| 24 marca | 16:00 | WSOPC Series: $88 CRAZY EIGHTS | $88 | $50,000 |
| 24 marca | 16:30 | WSOPC Series: $525 Bounty Hunters HR | $525 | $200,000 |
| 24 marca | 16:30 | WSOPC Series: $52.50 Bounty Hunters Daily Main | $52.50 | $125,000 |
| 24 marca | 17:00 | WSOPC Series: $5,250 Spring Circuit HR Opener | $5,250 | $100,000 |
| 24 marca | 17:00 | WSOPC Series: $250 Daily Classic HR [Freezeout] | $250 | $50,000 |
| 24 marca | 17:00 | WSOPC Series: $25 GGMasters Daily Classic [Freezeout] | $25 | $40,000 |
| 24 marca | 17:30 | WSOPC Series: $210 Bounty Hunters Big Game | $210 | $125,000 |
| 24 marca | 17:40 | WSOPC Series: $525 PLO Bounty HR | $525 | $25,000 |
| 24 marca | 17:40 | WSOPC Series: $52.50 PLO Bounty | $52.50 | $12,500 |
| 24 marca | 18:00 | WSOPC Series: $1,050 Thursday Thriller Bounty HR | $1,050 | $300,000 |
| 24 marca | 18:00 | WSOPC Series: $150 Thursday Thriller Bounty | $150 | $75,000 |
| 24 marca | 18:00 | WSOPC Series: $15 Mini Thursday Thriller Bounty | $15 | $25,000 |
| 24 marca | 18:30 | WSOPC Series: $315 Bounty King Circuit | $315 | $100,000 |
| 24 marca | 18:30 | WSOPC Series: $31.50 Bounty King Jr | $31.50 | $70,000 |
| 24 marca | 19:00 | WSOPC Series: $5,250 Deepstack Super HR | $5,250 | $100,000 |
| 24 marca | 19:00 | WSOPC Series: $525 Fifty Stack HR | $525 | $40,000 |
| 24 marca | 19:00 | WSOPC Series: $55 Fifty Stack | $55 | $40,000 |
| 24 marca | 19:10 | WSOPC Series: $1,050 PLO Main Event HR | $1,050 | $40,000 |
| 24 marca | 19:10 | WSOPC Series: $150 PLO Main Event | $150 | $20,000 |
| 24 marca | 19:40 | WSOPC Series: $5,250 PLO Super HR Bounty | $5,250 | $50,000 |
| 24 marca | 20:00 | WSOPC Series: $77 LUCKY SEVENS Superstack Turbo | $77 | $40,000 |
| 24 marca | 20:30 | WSOPC Series: $525 Bounty Hunters HR Encore | $525 | $40,000 |
| 24 marca | 20:30 | WSOPC Series: $52.50 Bounty Hunters Circuit Special | $52.50 | $30,000 |
| 24 marca | 21:00 | WSOPC Series: $5,250 Spring Circuit HR Closer | $5,250 | $75,000 |
| 24 marca | 21:00 | WSOPC Series: $1,050 Thursday Heater HR [Bounty Turbo] | $1,050 | $50,000 |
| 24 marca | 21:00 | WSOPC Series: $210 Thursday Heater [Bounty Turbo] | $210 | $50,000 |
| 24 marca | 22:00 | WSOPC Series: $630 SUPER SIX Bounty Turbo HR | $630 | $40,000 |
| 24 marca | 22:00 | WSOPC Series: $63 SUPER SIX Bounty Turbo | $63 | $25,000 |
| 24 marca | 23:00 | WSOPC Series: $500 Thursday Saver HR [Hyper] | $500 | $25,000 |
| 24 marca | 23:00 | WSOPC Series: $50 Thursday Saver [Hyper] | $50 | $25,000 |
| 25 marca | 00:00 | WSOPC Series: $125 Super Turbo Closer | $125 | $25,000 |
| 25 marca | 13:00 | WSOPC Series: $125 Daily Kick-Off | $125 | $30,000 |
| 25 marca | 13:15 | WSOPC Series: $52.50 Deepstack Bounty Turbo | $52.50 | $25,000 |
| 25 marca | 14:00 | WSOPC Series: $300 Daily Deepstack | $300 | $15,000 |
| 25 marca | 14:00 | WSOPC Series: $30 Daily Deepstack | $30 | $15,000 |
| 25 marca | 14:30 | WSOPC Series: $840 Bounty Warm-Up HR | $840 | $35,000 |
| 25 marca | 14:30 | WSOPC Series: $84 Bounty Warm-Up | $84 | $30,000 |
| 25 marca | 15:00 | WSOPC Series: $400 Forty Stack HR | $400 | $20,000 |
| 25 marca | 15:00 | WSOPC Series: $40 Forty Stack | $40 | $30,000 |
| 25 marca | 15:15 | WSOPC Series: $31.50 Deepstack Bounty Turbo | $31.50 | $25,000 |
| 25 marca | 16:00 | WSOPC Series: $888 CRAZY EIGHTS HR | $888 | $40,000 |
| 25 marca | 16:00 | WSOPC Series: $88 CRAZY EIGHTS | $88 | $35,000 |
| 25 marca | 16:30 | WSOPC Series: $525 Bounty Hunters HR | $525 | $125,000 |
| 25 marca | 16:30 | WSOPC Series: $52.50 Bounty Hunters Daily Main | $52.50 | $125,000 |
| 25 marca | 17:00 | WSOPC Series: $250 Daily Classic HR [Freezeout] | $250 | $40,000 |
| 25 marca | 17:00 | WSOPC Series: $25 GGMasters Daily Classic [Freezeout] | $25 | $40,000 |
| 25 marca | 17:30 | WSOPC Series: $210 Bounty Hunters Big Game | $210 | $75,000 |
| 25 marca | 17:40 | WSOPC Series: $525 PLO Bounty HR | $525 | $15,000 |
| 25 marca | 17:40 | WSOPC Series: $52.50 PLO Bounty | $52.50 | $10,000 |
| 25 marca | 18:00 | WSOPC Series: $1,050 Friday Night Fight HR [Bounty 6-Max] | $1,050 | $150,000 |
| 25 marca | 18:00 | WSOPC Series: $150 Friday Night Fight [Bounty 6-Max] | $150 | $50,000 |
| 25 marca | 18:00 | WSOPC Series: $15 Mini Friday Night Fight [Bounty 6-Max] | $15 | $25,000 |
| 25 marca | 18:30 | WSOPC Series: $315 Bounty King Circuit | $315 | $50,000 |
| 25 marca | 18:30 | WSOPC Series: $31.50 Bounty King Jr | $31.50 | $70,000 |
| 25 marca | 19:00 | WSOPC Series: $525 Fifty Stack HR | $525 | $25,000 |
| 25 marca | 19:00 | WSOPC Series: $55 Fifty Stack | $55 | $30,000 |
| 25 marca | 19:10 | WSOPC Series: $1,050 PLO Main Event HR | $1,050 | $25,000 |
| 25 marca | 19:10 | WSOPC Series: $150 PLO Main Event | $150 | $15,000 |
| 25 marca | 20:00 | WSOPC Series: $77 LUCKY SEVENS Superstack Turbo | $77 | $35,000 |
| 25 marca | 20:30 | WSOPC Series: $525 Bounty Hunters HR Encore | $525 | $25,000 |
| 25 marca | 20:30 | WSOPC Series: $52.50 Bounty Hunters Circuit Special | $52.50 | $30,000 |
| 25 marca | 21:00 | WSOPC Series: $1,050 Friday Heater HR [Bounty Turbo] | $1,050 | $25,000 |
| 25 marca | 21:00 | WSOPC Series: $210 Friday Heater [Bounty Turbo] | $210 | $30,000 |
| 25 marca | 22:00 | WSOPC Series: $630 SUPER SIX Bounty Turbo HR | $630 | $25,000 |
| 25 marca | 22:00 | WSOPC Series: $63 SUPER SIX Bounty Turbo | $63 | $20,000 |
| 25 marca | 23:00 | WSOPC Series: $500 Friday Saver HR [Hyper] | $500 | $17,500 |
| 25 marca | 23:00 | WSOPC Series: $50 Friday Saver [Hyper] | $50 | $20,000 |
| 26 marca | 00:00 | WSOPC Series: $125 Super Turbo Closer | $125 | $18,000 |
| 26 marca | 13:00 | WSOPC Series: $125 Daily Kick-Off | $125 | $30,000 |
| 26 marca | 13:15 | WSOPC Series: $52.50 Deepstack Bounty Turbo | $52.50 | $25,000 |
| 26 marca | 14:00 | WSOPC Series: $300 Daily Deepstack | $300 | $20,000 |
| 26 marca | 14:00 | WSOPC Series: $30 Daily Deepstack | $30 | $15,000 |
| 26 marca | 14:30 | WSOPC Series: $840 Bounty Warm-Up HR | $840 | $40,000 |
| 26 marca | 14:30 | WSOPC Series: $84 Bounty Warm-Up | $84 | $40,000 |
| 26 marca | 15:00 | WSOPC Series: $400 Forty Stack HR | $400 | $25,000 |
| 26 marca | 15:00 | WSOPC Series: $40 Forty Stack | $40 | $40,000 |
| 26 marca | 15:15 | WSOPC Series: $31.50 Deepstack Bounty Turbo | $31.50 | $25,000 |
| 26 marca | 16:00 | WSOPC Series: $888 CRAZY EIGHTS HR | $888 | $50,000 |
| 26 marca | 16:00 | WSOPC Series: $88 CRAZY EIGHTS | $88 | $40,000 |
| 26 marca | 16:30 | WSOPC Series: $525 Bounty Hunters HR | $525 | $150,000 |
| 26 marca | 16:30 | WSOPC Series: $52.50 Bounty Hunters Daily Main | $52.50 | $125,000 |
| 26 marca | 17:00 | WSOPC Series: $250 Daily Classic HR [Freezeout] | $250 | $40,000 |
| 26 marca | 17:00 | WSOPC Series: $25 GGMasters Daily Classic [Freezeout] | $25 | $40,000 |
| 26 marca | 17:30 | WSOPC Series: $210 Bounty Hunters Big Game | $210 | $75,000 |
| 26 marca | 17:40 | WSOPC Series: $525 PLO Bounty HR | $525 | $20,000 |
| 26 marca | 17:40 | WSOPC Series: $52.50 PLO Bounty | $52.50 | $10,000 |
| 26 marca | 18:00 | WSOPC Series: $1,050 Saturday Knockout HR [Bounty] | $1,050 | $175,000 |
| 26 marca | 18:00 | WSOPC Series: $150 Saturday Knockout [Bounty] | $150 | $60,000 |
| 26 marca | 18:00 | WSOPC Series: $15 Mini Saturday Knockout [Bounty] | $15 | $25,000 |
| 26 marca | 18:30 | WSOPC Series: $315 Bounty King Circuit | $315 | $60,000 |
| 26 marca | 18:30 | WSOPC Series: $31.50 Bounty King Jr | $31.50 | $70,000 |
| 26 marca | 19:00 | WSOPC Series: $525 Fifty Stack HR | $525 | $30,000 |
| 26 marca | 19:00 | WSOPC Series: $55 Fifty Stack | $55 | $30,000 |
| 26 marca | 19:10 | WSOPC Series: $1,050 PLO Main Event HR | $1,050 | $30,000 |
| 26 marca | 19:10 | WSOPC Series: $150 PLO Main Event | $150 | $20,000 |
| 26 marca | 20:00 | WSOPC Series: $77 LUCKY SEVENS Superstack Turbo | $77 | $35,000 |
| 26 marca | 20:30 | WSOPC Series: $525 Bounty Hunters HR Encore | $525 | $30,000 |
| 26 marca | 20:30 | WSOPC Series: $52.50 Bounty Hunters Circuit Special | $52.50 | $30,000 |
| 26 marca | 21:00 | WSOPC Series: $1,050 Saturday Heater HR [Bounty Turbo] | $1,050 | $25,000 |
| 26 marca | 21:00 | WSOPC Series: $210 Saturday Heater [Bounty Turbo] | $210 | $30,000 |
| 26 marca | 22:00 | WSOPC Series: $630 SUPER SIX Bounty Turbo HR | $630 | $25,000 |
| 26 marca | 22:00 | WSOPC Series: $63 SUPER SIX Bounty Turbo | $63 | $20,000 |
| 26 marca | 23:00 | WSOPC Series: $500 Saturday Saver HR [Hyper] | $500 | $20,000 |
| 26 marca | 23:00 | WSOPC Series: $50 Saturday Saver [Hyper] | $50 | $20,000 |
| 27 marca | 00:00 | WSOPC Series: $125 Super Turbo Closer | $125 | $18,000 |
| 27 marca | 12:00 | WSOPC Series: $1,050 Sunday Kick-Off HR | $1,050 | $100,000 |
| 27 marca | 12:00 | WSOPC Series: $125 Sunday Kick-Off | $125 | $100,000 |
| 27 marca | 13:00 | WSOPC Series: $250 Sunday Monster Stack | $250 | $125,000 |
| 27 marca | 13:00 | WSOPC Series: $25 Sunday Monster Stack | $25 | $80,000 |
| 27 marca | 13:15 | WSOPC Series: $52.50 Deepstack Bounty Turbo | $52.50 | $50,000 |
| 27 marca | 14:00 | WSOPC Series: $300 Sunday Marathon | $300 | $150,000 |
| 27 marca | 14:00 | WSOPC Series: $30 Sunday Marathon | $30 | $100,000 |
| 27 marca | 14:30 | WSOPC Series: $840 Bounty Warm-Up HR | $840 | $125,000 |
| 27 marca | 14:30 | WSOPC Series: $84 Bounty Warm-Up | $84 | $125,000 |
| 27 marca | 15:00 | WSOPC Series: $400 Forty Stack HR | $400 | $125,000 |
| 27 marca | 15:00 | WSOPC Series: $40 Forty Stack | $40 | $100,000 |
| 27 marca | 15:30 | WSOPC Series: $126 Sunday Six Shooter Bounty | $126 | $125,000 |
| 27 marca | 16:00 | WSOPC Series: $888 CRAZY EIGHTS HR | $888 | $200,000 |
| 27 marca | 16:00 | WSOPC Series: $88 CRAZY EIGHTS | $88 | $150,000 |
| 27 marca | 16:10 | WSOPC Series: $840 PLO Hundred Stack HR | $840 | $75,000 |
| 27 marca | 16:10 | WSOPC Series: $88 PLO Hundred Stack | $88 | $20,000 |
| 27 marca | 16:30 | WSOPC Series: $5,250 Bounty Hunters Super High Roller | $5,250 | $200,000 |
| 27 marca | 16:30 | WSOPC Series: $525 Bounty Hunters HR Main Event | $525 | $1,000,000 |
| 27 marca | 16:30 | WSOPC Series: $52.50 Bounty Hunters Sunday Freezeout | $52.50 | $250,000 |
| 27 marca | 17:30 | WSOPC Series: $210 Bounty Hunters Sunday Big Game | $210 | $300,000 |
| 27 marca | 17:40 | WSOPC Series: $525 PLO Bounty HR | $525 | $75,000 |
| 27 marca | 17:40 | WSOPC Series: $52.50 PLO Bounty | $52.50 | $25,000 |
| 27 marca | 18:00 | WSOPC Series: $250 Sunday Main Event | $250 | $400,000 |
| 27 marca | 18:00 | WSOPC Series: $25 Sunday Mini Main [Freezeout] | $25 | $100,000 |
| 27 marca | 18:00 | #2: $10,300 Super MILLION$ High Rollers NLH [2-Day Event] | $10,300 | $3,000,000 |
| 27 marca | 18:30 | WSOPC Series: $31.50 Bounty King Jr [Freezeout] | $31.50 | $125,000 |
| 27 marca | 19:00 | WSOPC Series: $5,250 Deepstack Sunday HR | $5,250 | $200,000 |
| 27 marca | 19:00 | WSOPC Series: $1,050 Sunday HR Main Event | $1,050 | $600,000 |
| 27 marca | 19:00 | WSOPC Series: $55 Sunday Fifty Stack [Freezeout] | $55 | $125,000 |
| 27 marca | 19:10 | WSOPC Series: $1,050 Sunday PLO Main Event | $1,050 | $125,000 |
| 27 marca | 19:40 | WSOPC Series: $5,250 PLO Bounty Super High Roller | $5,250 | $100,000 |
| 27 marca | 20:30 | #1: BIG 500 NLH Spring Kick-Off [Final Day] | $500 | $2,000,000 |
| 27 marca | 20:00 | WSOPC Series: $25,500 Sunday Super HR | $25,500 | $750,000 |
| 27 marca | 20:00 | WSOPC Series: $777 LUCKY SEVENS HR | $777 | $150,000 |
| 27 marca | 20:00 | WSOPC Series: $77 LUCKY SEVENS Superstack Turbo | $77 | $125,000 |
| 27 marca | 20:30 | WSOPC Series: $525 Bounty Hunters HR Encore | $525 | $150,000 |
| 27 marca | 20:30 | WSOPC Series: $52.50 Bounty Hunters Sunday Encore | $52.50 | $125,000 |
| 27 marca | 21:00 | WSOPC Series: $1,050 Sunday Heater HR [Bounty Turbo] | $1,050 | $125,000 |
| 27 marca | 21:00 | WSOPC Series: $210 Sunday Heater [Bounty Turbo] | $210 | $175,000 |
| 27 marca | 21:00 | WSOPC Series: $25 Sunday Mini Heater [Bounty Turbo] | $25 | $75,000 |
| 27 marca | 22:00 | WSOPC Series: $5,250 The Closer Sunday HR | $5,250 | $100,000 |
| 27 marca | 22:00 | WSOPC Series: $630 SUPER SIX Bounty Turbo HR | $630 | $100,000 |
| 27 marca | 22:00 | WSOPC Series: $63 SUPER SIX Bounty Turbo | $63 | $75,000 |
| 27 marca | 23:00 | WSOPC Series: $250 Sunday Saver [Hyper] | $250 | $100,000 |
| 27 marca | 23:00 | WSOPC Series: $50 Sunday Saver [Hyper] | $50 | $50,000 |
| 28 marca | 00:00 | WSOPC Series: $125 Super Turbo Closer | $125 | $100,000 |
| 28 marca | 00:00 | WSOPC Series: $25 Mini Super Turbo Closer | $25 | $40,000 |
| 28 marca | 13:00 | WSOPC Series: $125 Daily Kick-Off | $125 | $40,000 |
| 28 marca | 13:15 | WSOPC Series: $52.50 Deepstack Bounty Turbo | $52.50 | $25,000 |
| 28 marca | 14:00 | WSOPC Series: $300 Daily Deepstack | $300 | $30,000 |
| 28 marca | 14:00 | WSOPC Series: $30 Daily Deepstack | $30 | $20,000 |
| 28 marca | 14:30 | WSOPC Series: $840 Bounty Warm-Up HR | $840 | $50,000 |
| 28 marca | 14:30 | WSOPC Series: $84 Bounty Warm-Up | $84 | $40,000 |
| 28 marca | 15:00 | WSOPC Series: $400 Forty Stack HR | $400 | $40,000 |
| 28 marca | 15:00 | WSOPC Series: $40 Forty Stack | $40 | $40,000 |
| 28 marca | 15:15 | WSOPC Series: $31.50 Deepstack Bounty Turbo | $31.50 | $25,000 |
| 28 marca | 16:00 | WSOPC Series: $888 CRAZY EIGHTS HR | $888 | $75,000 |
| 28 marca | 16:00 | WSOPC Series: $88 CRAZY EIGHTS | $88 | $50,000 |
| 28 marca | 16:30 | WSOPC Series: $525 Bounty Hunters HR | $525 | $200,000 |
| 28 marca | 16:30 | WSOPC Series: $52.50 Bounty Hunters Daily Main | $52.50 | $125,000 |
| 28 marca | 17:00 | WSOPC Series: $5,250 Spring Circuit HR Opener | $5,250 | $100,000 |
| 28 marca | 17:00 | WSOPC Series: $250 Daily Classic HR [Freezeout] | $250 | $50,000 |
| 28 marca | 17:00 | WSOPC Series: $25 GGMasters Daily Classic [Freezeout] | $25 | $40,000 |
| 28 marca | 17:30 | WSOPC Series: $210 Bounty Hunters Big Game | $210 | $125,000 |
| 28 marca | 17:40 | WSOPC Series: $525 PLO Bounty HR | $525 | $25,000 |
| 28 marca | 17:40 | WSOPC Series: $52.50 PLO Bounty | $52.50 | $12,500 |
| 28 marca | 18:00 | WSOPC Series: $1,050 Monday Main Event HR | $1,050 | $225,000 |
| 28 marca | 18:00 | WSOPC Series: $150 Monday Main Event | $150 | $75,000 |
| 28 marca | 18:00 | WSOPC Series: $15 Mini Monday Main Event | $15 | $25,000 |
| 28 marca | 18:30 | WSOPC Series: $315 Bounty King Circuit | $315 | $75,000 |
| 28 marca | 18:30 | WSOPC Series: $31.50 Bounty King Jr | $31.50 | $70,000 |
| 28 marca | 19:00 | WSOPC Series: $5,250 Deepstack Super HR | $5,250 | $100,000 |
| 28 marca | 19:00 | WSOPC Series: $525 Fifty Stack HR | $525 | $40,000 |
| 28 marca | 19:00 | WSOPC Series: $55 Fifty Stack | $55 | $40,000 |
| 28 marca | 19:10 | WSOPC Series: $1,050 PLO Main Event HR | $1,050 | $40,000 |
| 28 marca | 19:10 | WSOPC Series: $150 PLO Main Event | $150 | $20,000 |
| 28 marca | 19:40 | WSOPC Series: $5,250 PLO Super HR Bounty | $5,250 | $50,000 |
| 28 marca | 20:00 | WSOPC Series: $77 LUCKY SEVENS Superstack Turbo | $77 | $40,000 |
| 28 marca | 20:30 | WSOPC Series: $525 Bounty Hunters HR Encore | $525 | $40,000 |
| 28 marca | 20:30 | WSOPC Series: $52.50 Bounty Hunters Circuit Special | $52.50 | $30,000 |
| 28 marca | 21:00 | WSOPC Series: $5,250 Spring Circuit HR Closer | $5,250 | $75,000 |
| 28 marca | 21:00 | WSOPC Series: $1,050 Monday Heater HR [Bounty Turbo] | $1,050 | $50,000 |
| 28 marca | 21:00 | WSOPC Series: $210 Monday Heater [Bounty Turbo] | $210 | $50,000 |
| 28 marca | 22:00 | WSOPC Series: $630 SUPER SIX Bounty Turbo HR | $630 | $40,000 |
| 28 marca | 22:00 | WSOPC Series: $63 SUPER SIX Bounty Turbo | $63 | $25,000 |
| 28 marca | 23:00 | WSOPC Series: $500 Monday Saver HR [Hyper] | $500 | $25,000 |
| 28 marca | 23:00 | WSOPC Series: $50 Monday Saver [Hyper] | $50 | $25,000 |
| 29 marca | 00:00 | WSOPC Series: $125 Super Turbo Closer | $125 | $25,000 |
| 29 marca | 13:00 | WSOPC Series: $125 Daily Kick-Off | $125 | $40,000 |
| 29 marca | 13:15 | WSOPC Series: $52.50 Deepstack Bounty Turbo | $52.50 | $25,000 |
| 29 marca | 14:00 | WSOPC Series: $300 Daily Deepstack | $300 | $30,000 |
| 29 marca | 14:00 | WSOPC Series: $30 Daily Deepstack | $30 | $20,000 |
| 29 marca | 14:30 | WSOPC Series: $840 Bounty Warm-Up HR | $840 | $50,000 |
| 29 marca | 14:30 | WSOPC Series: $84 Bounty Warm-Up | $84 | $40,000 |
| 29 marca | 15:00 | WSOPC Series: $400 Forty Stack HR | $400 | $40,000 |
| 29 marca | 15:00 | WSOPC Series: $40 Forty Stack | $40 | $40,000 |
| 29 marca | 15:15 | WSOPC Series: $31.50 Deepstack Bounty Turbo | $31.50 | $25,000 |
| 29 marca | 16:00 | WSOPC Series: $888 CRAZY EIGHTS HR | $888 | $75,000 |
| 29 marca | 16:00 | WSOPC Series: $88 CRAZY EIGHTS | $88 | $50,000 |
| 29 marca | 16:30 | WSOPC Series: $525 Bounty Hunters HR | $525 | $200,000 |
| 29 marca | 16:30 | WSOPC Series: $52.50 Bounty Hunters Daily Main | $52.50 | $125,000 |
| 29 marca | 17:00 | WSOPC Series: $5,250 Spring Circuit HR Opener | $5,250 | $100,000 |
| 29 marca | 17:00 | WSOPC Series: $250 Daily Classic HR [Freezeout] | $250 | $50,000 |
| 29 marca | 17:00 | WSOPC Series: $25 GGMasters Daily Classic [Freezeout] | $25 | $40,000 |
| 29 marca | 17:30 | WSOPC Series: $210 Bounty Hunters Big Game | $210 | $125,000 |
| 29 marca | 17:40 | WSOPC Series: $525 PLO Bounty HR | $525 | $25,000 |
| 29 marca | 17:40 | WSOPC Series: $52.50 PLO Bounty | $52.50 | $12,500 |
| 29 marca | 18:00 | #3: $800 Pot-Limit Omaha Spring Championship [2-Day Event] | $800 | $500,000 |
| 29 marca | 18:00 | WSOPC Series: $1,050 Super Tuesday HR | $1,050 | $225,000 |
| 29 marca | 18:00 | WSOPC Series: $150 Super Tuesday | $150 | $75,000 |
| 29 marca | 18:00 | WSOPC Series: $15 Mini Super Tuesday | $15 | $25,000 |
| 29 marca | 18:30 | WSOPC Series: $315 Bounty King Circuit | $315 | $75,000 |
| 29 marca | 18:30 | WSOPC Series: $31.50 Bounty King Jr | $31.50 | $70,000 |
| 29 marca | 19:00 | WSOPC Series: $5,250 Deepstack Super HR | $5,250 | $100,000 |
| 29 marca | 19:00 | WSOPC Series: $525 Fifty Stack HR | $525 | $40,000 |
| 29 marca | 19:00 | WSOPC Series: $55 Fifty Stack | $55 | $40,000 |
| 29 marca | 19:10 | WSOPC Series: $1,050 PLO Main Event HR | $1,050 | $40,000 |
| 29 marca | 19:10 | WSOPC Series: $150 PLO Main Event | $150 | $20,000 |
| 29 marca | 19:40 | WSOPC Series: $5,250 PLO Super HR Bounty | $5,250 | $50,000 |
| 29 marca | 20:00 | WSOPC Series: $77 LUCKY SEVENS Superstack Turbo | $77 | $40,000 |
| 29 marca | 20:30 | WSOPC Series: $525 Bounty Hunters HR Encore | $525 | $40,000 |
| 29 marca | 20:30 | WSOPC Series: $52.50 Bounty Hunters Circuit Special | $52.50 | $30,000 |
| 29 marca | 21:00 | WSOPC Series: $5,250 Spring Circuit HR Closer | $5,250 | $75,000 |
| 29 marca | 21:00 | WSOPC Series: $1,050 Tuesday Heater HR [Bounty Turbo] | $1,050 | $50,000 |
| 29 marca | 21:00 | WSOPC Series: $210 Tuesday Heater [Bounty Turbo] | $210 | $50,000 |
| 29 marca | 22:00 | WSOPC Series: $630 SUPER SIX Bounty Turbo HR | $630 | $40,000 |
| 29 marca | 22:00 | WSOPC Series: $63 SUPER SIX Bounty Turbo | $63 | $25,000 |
| 29 marca | 23:00 | WSOPC Series: $500 Tuesday Saver HR [Hyper] | $500 | $25,000 |
| 29 marca | 23:00 | WSOPC Series: $50 Tuesday Saver [Hyper] | $50 | $25,000 |
| 30 marca | 00:00 | WSOPC Series: $125 Super Turbo Closer | $125 | $25,000 |
| 30 marca | 13:00 | WSOPC Series: $125 Daily Kick-Off | $125 | $30,000 |
| 30 marca | 13:15 | WSOPC Series: $52.50 Deepstack Bounty Turbo | $52.50 | $25,000 |
| 30 marca | 14:00 | WSOPC Series: $300 Daily Deepstack | $300 | $20,000 |
| 30 marca | 14:00 | WSOPC Series: $30 Daily Deepstack | $30 | $20,000 |
| 30 marca | 14:30 | WSOPC Series: $840 Bounty Warm-Up HR | $840 | $40,000 |
| 30 marca | 14:30 | WSOPC Series: $84 Bounty Warm-Up | $84 | $40,000 |
| 30 marca | 15:00 | WSOPC Series: $400 Forty Stack HR | $400 | $25,000 |
| 30 marca | 15:00 | WSOPC Series: $40 Forty Stack | $40 | $30,000 |
| 30 marca | 15:15 | WSOPC Series: $31.50 Deepstack Bounty Turbo | $31.50 | $25,000 |
| 30 marca | 16:00 | WSOPC Series: $888 CRAZY EIGHTS HR | $888 | $50,000 |
| 30 marca | 16:00 | WSOPC Series: $88 CRAZY EIGHTS | $88 | $40,000 |
| 30 marca | 16:30 | WSOPC Series: $525 Bounty Hunters HR | $525 | $150,000 |
| 30 marca | 16:30 | WSOPC Series: $52.50 Bounty Hunters Daily Main | $52.50 | $125,000 |
| 30 marca | 17:00 | WSOPC Series: $250 Daily Classic HR [Freezeout] | $250 | $40,000 |
| 30 marca | 17:00 | WSOPC Series: $25 GGMasters Daily Classic [Freezeout] | $25 | $40,000 |
| 30 marca | 17:30 | WSOPC Series: $210 Bounty Hunters Big Game | $210 | $100,000 |
| 30 marca | 17:40 | WSOPC Series: $525 PLO Bounty HR | $525 | $20,000 |
| 30 marca | 17:40 | WSOPC Series: $52.50 PLO Bounty | $52.50 | $12,500 |
| 30 marca | 18:00 | WSOPC Series: $1,050 Wednesday Main Event HR | $1,050 | $175,000 |
| 30 marca | 18:00 | WSOPC Series: $150 Wednesday Main Event | $150 | $50,000 |
| 30 marca | 18:00 | WSOPC Series: $15 Mini Wednesday Main Event | $15 | $25,000 |
| 30 marca | 18:30 | WSOPC Series: $315 Bounty King Circuit | $315 | $60,000 |
| 30 marca | 18:30 | WSOPC Series: $31.50 Bounty King Jr | $31.50 | $70,000 |
| 30 marca | 19:00 | WSOPC Series: $525 Fifty Stack HR | $525 | $30,000 |
| 30 marca | 19:00 | WSOPC Series: $55 Fifty Stack | $55 | $40,000 |
| 30 marca | 19:10 | WSOPC Series: $1,050 PLO Main Event HR | $1,050 | $30,000 |
| 30 marca | 19:10 | WSOPC Series: $150 PLO Main Event | $150 | $20,000 |
| 30 marca | 20:00 | WSOPC Series: $77 LUCKY SEVENS Superstack Turbo | $77 | $40,000 |
| 30 marca | 20:30 | WSOPC Series: $525 Bounty Hunters HR Encore | $525 | $30,000 |
| 30 marca | 20:30 | WSOPC Series: $52.50 Bounty Hunters Circuit Special | $52.50 | $30,000 |
| 30 marca | 21:00 | WSOPC Series: $1,050 Wednesday Heater HR [Bounty Turbo] | $1,050 | $40,000 |
| 30 marca | 21:00 | WSOPC Series: $210 Wednesday Heater [Bounty Turbo] | $210 | $40,000 |
| 30 marca | 22:00 | WSOPC Series: $630 SUPER SIX Bounty Turbo HR | $630 | $30,000 |
| 30 marca | 22:00 | WSOPC Series: $63 SUPER SIX Bounty Turbo | $63 | $25,000 |
| 30 marca | 23:00 | WSOPC Series: $500 Wednesday Saver HR [Hyper] | $500 | $20,000 |
| 30 marca | 23:00 | WSOPC Series: $50 Wednesday Saver [Hyper] | $50 | $25,000 |
| 31 marca | 00:00 | WSOPC Series: $125 Super Turbo Closer | $125 | $20,000 |
| 31 marca | 13:00 | WSOPC Series: $125 Daily Kick-Off | $125 | $40,000 |
| 31 marca | 13:15 | WSOPC Series: $52.50 Deepstack Bounty Turbo | $52.50 | $25,000 |
| 31 marca | 14:00 | WSOPC Series: $300 Daily Deepstack | $300 | $35,000 |
| 31 marca | 14:00 | WSOPC Series: $30 Daily Deepstack | $30 | $20,000 |
| 31 marca | 14:30 | WSOPC Series: $840 Bounty Warm-Up HR | $840 | $50,000 |
| 31 marca | 14:30 | WSOPC Series: $84 Bounty Warm-Up | $84 | $40,000 |
| 31 marca | 15:00 | WSOPC Series: $400 Forty Stack HR | $400 | $40,000 |
| 31 marca | 15:00 | WSOPC Series: $40 Forty Stack | $40 | $40,000 |
| 31 marca | 15:15 | WSOPC Series: $31.50 Deepstack Bounty Turbo | $31.50 | $25,000 |
| 31 marca | 16:00 | WSOPC Series: $888 CRAZY EIGHTS HR | $888 | $75,000 |
| 31 marca | 16:00 | WSOPC Series: $88 CRAZY EIGHTS | $88 | $50,000 |
| 31 marca | 16:30 | WSOPC Series: $525 Bounty Hunters HR | $525 | $200,000 |
| 31 marca | 16:30 | WSOPC Series: $52.50 Bounty Hunters Daily Main | $52.50 | $125,000 |
| 31 marca | 17:00 | WSOPC Series: $5,250 Spring Circuit HR Opener | $5,250 | $100,000 |
| 31 marca | 17:00 | WSOPC Series: $250 Daily Classic HR [Freezeout] | $250 | $50,000 |
| 31 marca | 17:00 | WSOPC Series: $25 GGMasters Daily Classic [Freezeout] | $25 | $40,000 |
| 31 marca | 17:30 | WSOPC Series: $210 Bounty Hunters Big Game | $210 | $125,000 |
| 31 marca | 17:40 | WSOPC Series: $525 PLO Bounty HR | $525 | $25,000 |
| 31 marca | 17:40 | WSOPC Series: $52.50 PLO Bounty | $52.50 | $12,500 |
| 31 marca | 18:00 | #4: $800 Bounty Hunters NLH Spring Championship [2-Day Event] | $800 | $1,000,000 |
| 31 marca | 18:00 | WSOPC Series: $1,050 Thursday Thriller Bounty HR | $1,050 | $300,000 |
| 31 marca | 18:00 | WSOPC Series: $150 Thursday Thriller Bounty | $150 | $75,000 |
| 31 marca | 18:00 | WSOPC Series: $15 Mini Thursday Thriller Bounty | $15 | $25,000 |
| 31 marca | 18:30 | WSOPC Series: $315 Bounty King Circuit | $315 | $100,000 |
| 31 marca | 18:30 | WSOPC Series: $31.50 Bounty King Jr | $31.50 | $70,000 |
| 31 marca | 19:00 | WSOPC Series: $5,250 Deepstack Super HR | $5,250 | $100,000 |
| 31 marca | 19:00 | WSOPC Series: $525 Fifty Stack HR | $525 | $40,000 |
| 31 marca | 19:00 | WSOPC Series: $55 Fifty Stack | $55 | $40,000 |
| 31 marca | 19:10 | WSOPC Series: $1,050 PLO Main Event HR | $1,050 | $40,000 |
| 31 marca | 19:10 | WSOPC Series: $150 PLO Main Event | $150 | $20,000 |
| 31 marca | 19:40 | WSOPC Series: $5,250 PLO Super HR Bounty | $5,250 | $50,000 |
| 31 marca | 20:00 | WSOPC Series: $77 LUCKY SEVENS Superstack Turbo | $77 | $40,000 |
| 31 marca | 20:30 | WSOPC Series: $525 Bounty Hunters HR Encore | $525 | $40,000 |
| 31 marca | 20:30 | WSOPC Series: $52.50 Bounty Hunters Circuit Special | $52.50 | $30,000 |
| 31 marca | 21:00 | WSOPC Series: $5,250 Spring Circuit HR Closer | $5,250 | $75,000 |
| 31 marca | 21:00 | WSOPC Series: $1,050 Thursday Heater HR [Bounty Turbo] | $1,050 | $50,000 |
| 31 marca | 21:00 | WSOPC Series: $210 Thursday Heater [Bounty Turbo] | $210 | $50,000 |
| 31 marca | 22:00 | WSOPC Series: $630 SUPER SIX Bounty Turbo HR | $630 | $40,000 |
| 31 marca | 22:00 | WSOPC Series: $63 SUPER SIX Bounty Turbo | $63 | $25,000 |
| 31 marca | 23:00 | WSOPC Series: $500 Thursday Saver HR [Hyper] | $500 | $25,000 |
| 31 marca | 23:00 | WSOPC Series: $50 Thursday Saver [Hyper] | $50 | $25,000 |
| 1 kwietnia | 00:00 | WSOPC Series: $125 Super Turbo Closer | $125 | $25,000 |
| 1 kwietnia | 13:00 | WSOPC Series: $125 Daily Kick-Off | $125 | $30,000 |
| 1 kwietnia | 13:15 | WSOPC Series: $52.50 Deepstack Bounty Turbo | $52.50 | $25,000 |
| 1 kwietnia | 14:00 | WSOPC Series: $300 Daily Deepstack | $300 | $15,000 |
| 1 kwietnia | 14:00 | WSOPC Series: $30 Daily Deepstack | $30 | $15,000 |
| 1 kwietnia | 14:30 | WSOPC Series: $840 Bounty Warm-Up HR | $840 | $35,000 |
| 1 kwietnia | 14:30 | WSOPC Series: $84 Bounty Warm-Up | $84 | $30,000 |
| 1 kwietnia | 15:00 | WSOPC Series: $400 Forty Stack HR | $400 | $20,000 |
| 1 kwietnia | 15:00 | WSOPC Series: $40 Forty Stack | $40 | $30,000 |
| 1 kwietnia | 15:15 | WSOPC Series: $31.50 Deepstack Bounty Turbo | $31.50 | $25,000 |
| 1 kwietnia | 16:00 | WSOPC Series: $888 CRAZY EIGHTS HR | $888 | $40,000 |
| 1 kwietnia | 16:00 | WSOPC Series: $88 CRAZY EIGHTS | $88 | $35,000 |
| 1 kwietnia | 16:30 | WSOPC Series: $525 Bounty Hunters HR | $525 | $125,000 |
| 1 kwietnia | 16:30 | WSOPC Series: $52.50 Bounty Hunters Daily Main | $52.50 | $125,000 |
| 1 kwietnia | 17:00 | WSOPC Series: $250 Daily Classic HR [Freezeout] | $250 | $40,000 |
| 1 kwietnia | 17:00 | WSOPC Series: $25 GGMasters Daily Classic [Freezeout] | $25 | $40,000 |
| 1 kwietnia | 17:30 | WSOPC Series: $210 Bounty Hunters Big Game | $210 | $75,000 |
| 1 kwietnia | 17:40 | WSOPC Series: $525 PLO Bounty HR | $525 | $15,000 |
| 1 kwietnia | 17:40 | WSOPC Series: $52.50 PLO Bounty | $52.50 | $10,000 |
| 1 kwietnia | 18:00 | WSOPC Series: $1,050 Friday Night Fight HR [Bounty 6-Max] | $1,050 | $150,000 |
| 1 kwietnia | 18:00 | WSOPC Series: $150 Friday Night Fight [Bounty 6-Max] | $150 | $50,000 |
| 1 kwietnia | 18:00 | WSOPC Series: $15 Mini Friday Night Fight [Bounty 6-Max] | $15 | $25,000 |
| 1 kwietnia | 18:30 | WSOPC Series: $315 Bounty King Circuit | $315 | $50,000 |
| 1 kwietnia | 18:30 | WSOPC Series: $31.50 Bounty King Jr | $31.50 | $70,000 |
| 1 kwietnia | 19:00 | WSOPC Series: $525 Fifty Stack HR | $525 | $25,000 |
| 1 kwietnia | 19:00 | WSOPC Series: $55 Fifty Stack | $55 | $30,000 |
| 1 kwietnia | 19:10 | WSOPC Series: $1,050 PLO Main Event HR | $1,050 | $25,000 |
| 1 kwietnia | 19:10 | WSOPC Series: $150 PLO Main Event | $150 | $15,000 |
| 1 kwietnia | 20:00 | WSOPC Series: $77 LUCKY SEVENS Superstack Turbo | $77 | $35,000 |
| 1 kwietnia | 20:30 | WSOPC Series: $525 Bounty Hunters HR Encore | $525 | $25,000 |
| 1 kwietnia | 20:30 | WSOPC Series: $52.50 Bounty Hunters Circuit Special | $52.50 | $30,000 |
| 1 kwietnia | 21:00 | WSOPC Series: $1,050 Friday Heater HR [Bounty Turbo] | $1,050 | $25,000 |
| 1 kwietnia | 21:00 | WSOPC Series: $210 Friday Heater [Bounty Turbo] | $210 | $30,000 |
| 1 kwietnia | 22:00 | WSOPC Series: $630 SUPER SIX Bounty Turbo HR | $630 | $25,000 |
| 1 kwietnia | 22:00 | WSOPC Series: $63 SUPER SIX Bounty Turbo | $63 | $20,000 |
| 1 kwietnia | 23:00 | WSOPC Series: $500 Friday Saver HR [Hyper] | $500 | $17,500 |
| 1 kwietnia | 23:00 | WSOPC Series: $50 Friday Saver [Hyper] | $50 | $20,000 |
| 2 kwietnia | 00:00 | WSOPC Series: $125 Super Turbo Closer | $125 | $18,000 |
| 2 kwietnia | 13:00 | WSOPC Series: $125 Daily Kick-Off | $125 | $30,000 |
| 2 kwietnia | 13:15 | WSOPC Series: $52.50 Deepstack Bounty Turbo | $52.50 | $25,000 |
| 2 kwietnia | 14:00 | WSOPC Series: $300 Daily Deepstack | $300 | $20,000 |
| 2 kwietnia | 14:00 | WSOPC Series: $30 Daily Deepstack | $30 | $15,000 |
| 2 kwietnia | 14:30 | WSOPC Series: $840 Bounty Warm-Up HR | $840 | $40,000 |
| 2 kwietnia | 14:30 | WSOPC Series: $84 Bounty Warm-Up | $84 | $40,000 |
| 2 kwietnia | 15:00 | WSOPC Series: $400 Forty Stack HR | $400 | $25,000 |
| 2 kwietnia | 15:00 | WSOPC Series: $40 Forty Stack | $40 | $40,000 |
| 2 kwietnia | 15:15 | WSOPC Series: $31.50 Deepstack Bounty Turbo | $31.50 | $25,000 |
| 2 kwietnia | 16:00 | WSOPC Series: $888 CRAZY EIGHTS HR | $888 | $50,000 |
| 2 kwietnia | 16:00 | WSOPC Series: $88 CRAZY EIGHTS | $88 | $40,000 |
| 2 kwietnia | 16:30 | WSOPC Series: $525 Bounty Hunters HR | $525 | $150,000 |
| 2 kwietnia | 16:30 | WSOPC Series: $52.50 Bounty Hunters Daily Main | $52.50 | $125,000 |
| 2 kwietnia | 17:00 | WSOPC Series: $250 Daily Classic HR [Freezeout] | $250 | $40,000 |
| 2 kwietnia | 17:00 | WSOPC Series: $25 GGMasters Daily Classic [Freezeout] | $25 | $40,000 |
| 2 kwietnia | 17:30 | WSOPC Series: $210 Bounty Hunters Big Game | $210 | $75,000 |
| 2 kwietnia | 17:40 | WSOPC Series: $525 PLO Bounty HR | $525 | $20,000 |
| 2 kwietnia | 17:40 | WSOPC Series: $52.50 PLO Bounty | $52.50 | $10,000 |
| 2 kwietnia | 18:00 | #5: $315 Bounty GIANT No Limit Hold'em [2-Day Event] | $315 | $500,000 |
| 2 kwietnia | 18:00 | WSOPC Series: $1,050 Saturday Knockout HR [Bounty] | $1,050 | $175,000 |
| 2 kwietnia | 18:00 | WSOPC Series: $150 Saturday Knockout [Bounty] | $150 | $60,000 |
| 2 kwietnia | 18:00 | WSOPC Series: $15 Mini Saturday Knockout [Bounty] | $15 | $25,000 |
| 2 kwietnia | 18:30 | WSOPC Series: $315 Bounty King Circuit | $315 | $60,000 |
| 2 kwietnia | 18:30 | WSOPC Series: $31.50 Bounty King Jr | $31.50 | $70,000 |
| 2 kwietnia | 19:00 | WSOPC Series: $525 Fifty Stack HR | $525 | $30,000 |
| 2 kwietnia | 19:00 | WSOPC Series: $55 Fifty Stack | $55 | $30,000 |
| 2 kwietnia | 19:10 | WSOPC Series: $1,050 PLO Main Event HR | $1,050 | $30,000 |
| 2 kwietnia | 19:10 | WSOPC Series: $150 PLO Main Event | $150 | $20,000 |
| 2 kwietnia | 20:00 | WSOPC Series: $77 LUCKY SEVENS Superstack Turbo | $77 | $35,000 |
| 2 kwietnia | 20:30 | WSOPC Series: $525 Bounty Hunters HR Encore | $525 | $30,000 |
| 2 kwietnia | 20:30 | WSOPC Series: $52.50 Bounty Hunters Circuit Special | $52.50 | $30,000 |
| 2 kwietnia | 21:00 | WSOPC Series: $1,050 Saturday Heater HR [Bounty Turbo] | $1,050 | $25,000 |
| 2 kwietnia | 21:00 | WSOPC Series: $210 Saturday Heater [Bounty Turbo] | $210 | $30,000 |
| 2 kwietnia | 22:00 | WSOPC Series: $630 SUPER SIX Bounty Turbo HR | $630 | $25,000 |
| 2 kwietnia | 22:00 | WSOPC Series: $63 SUPER SIX Bounty Turbo | $63 | $20,000 |
| 2 kwietnia | 23:00 | WSOPC Series: $500 Saturday Saver HR [Hyper] | $500 | $20,000 |
| 2 kwietnia | 23:00 | WSOPC Series: $50 Saturday Saver [Hyper] | $50 | $20,000 |
| 3 kwietnia | 00:00 | WSOPC Series: $125 Super Turbo Closer | $125 | $18,000 |
| 3 kwietnia | 12:00 | WSOPC Series: $1,050 Sunday Kick-Off HR | $1,050 | $100,000 |
| 3 kwietnia | 12:00 | WSOPC Series: $125 Sunday Kick-Off | $125 | $100,000 |
| 3 kwietnia | 13:00 | WSOPC Series: $250 Sunday Monster Stack | $250 | $125,000 |
| 3 kwietnia | 13:00 | WSOPC Series: $25 Sunday Monster Stack | $25 | $80,000 |
| 3 kwietnia | 13:15 | WSOPC Series: $52.50 Deepstack Bounty Turbo | $52.50 | $50,000 |
| 3 kwietnia | 14:00 | WSOPC Series: $300 Sunday Marathon | $300 | $150,000 |
| 3 kwietnia | 14:00 | WSOPC Series: $30 Sunday Marathon | $30 | $100,000 |
| 3 kwietnia | 14:30 | WSOPC Series: $840 Bounty Warm-Up HR | $840 | $125,000 |
| 3 kwietnia | 14:30 | WSOPC Series: $84 Bounty Warm-Up | $84 | $125,000 |
| 3 kwietnia | 15:00 | WSOPC Series: $400 Forty Stack HR | $400 | $125,000 |
| 3 kwietnia | 15:00 | WSOPC Series: $40 Forty Stack | $40 | $100,000 |
| 3 kwietnia | 15:30 | WSOPC Series: $126 Sunday Six Shooter Bounty | $126 | $125,000 |
| 3 kwietnia | 16:00 | WSOPC Series: $888 CRAZY EIGHTS HR | $888 | $200,000 |
| 3 kwietnia | 16:00 | WSOPC Series: $88 CRAZY EIGHTS | $88 | $150,000 |
| 3 kwietnia | 16:10 | WSOPC Series: $840 PLO Hundred Stack HR | $840 | $75,000 |
| 3 kwietnia | 16:10 | WSOPC Series: $88 PLO Hundred Stack | $88 | $20,000 |
| 3 kwietnia | 16:30 | WSOPC Series: $5,250 Bounty Hunters Super High Roller | $5,250 | $200,000 |
| 3 kwietnia | 16:30 | WSOPC Series: $525 Bounty Hunters HR Main Event | $525 | $1,000,000 |
| 3 kwietnia | 16:30 | WSOPC Series: $52.50 Bounty Hunters Sunday Freezeout | $52.50 | $250,000 |
| 3 kwietnia | 17:30 | WSOPC Series: $210 Bounty Hunters Sunday Big Game | $210 | $300,000 |
| 3 kwietnia | 17:40 | WSOPC Series: $525 PLO Bounty HR | $525 | $75,000 |
| 3 kwietnia | 17:40 | WSOPC Series: $52.50 PLO Bounty | $52.50 | $25,000 |
| 3 kwietnia | 18:00 | #6: $365 GIANT No Limit Hold'em [2-Day Event] | $365 | $1,000,000 |
| 3 kwietnia | 18:00 | WSOPC Series: $250 Sunday Main Event | $250 | $400,000 |
| 3 kwietnia | 18:00 | WSOPC Series: $25 Sunday Mini Main [Freezeout] | $25 | $100,000 |
| 3 kwietnia | 18:30 | WSOPC Series: $31.50 Bounty King Jr [Freezeout] | $31.50 | $125,000 |
| 3 kwietnia | 19:00 | WSOPC Series: $5,250 Deepstack Sunday HR | $5,250 | $200,000 |
| 3 kwietnia | 19:00 | WSOPC Series: $1,050 Sunday HR Main Event | $1,050 | $600,000 |
| 3 kwietnia | 19:00 | WSOPC Series: $55 Sunday Fifty Stack [Freezeout] | $55 | $125,000 |
| 3 kwietnia | 19:10 | WSOPC Series: $1,050 Sunday PLO Main Event | $1,050 | $125,000 |
| 3 kwietnia | 19:40 | WSOPC Series: $5,250 PLO Bounty Super High Roller | $5,250 | $100,000 |
| 3 kwietnia | 20:30 | #7: $50 MILLION$ Mini Main Event, $1M GTD [Final Day] | $50 | $1,000,000 |
| 3 kwietnia | 20:00 | WSOPC Series: $25,500 Sunday Super HR | $25,500 | $750,000 |
| 3 kwietnia | 20:00 | WSOPC Series: $777 LUCKY SEVENS HR | $777 | $150,000 |
| 3 kwietnia | 20:00 | WSOPC Series: $77 LUCKY SEVENS Superstack Turbo | $77 | $125,000 |
| 3 kwietnia | 20:30 | WSOPC Series: $525 Bounty Hunters HR Encore | $525 | $150,000 |
| 3 kwietnia | 20:30 | WSOPC Series: $52.50 Bounty Hunters Sunday Encore | $52.50 | $125,000 |
| 3 kwietnia | 21:00 | WSOPC Series: $1,050 Sunday Heater HR [Bounty Turbo] | $1,050 | $125,000 |
| 3 kwietnia | 21:00 | WSOPC Series: $210 Sunday Heater [Bounty Turbo] | $210 | $175,000 |
| 3 kwietnia | 21:00 | WSOPC Series: $25 Sunday Mini Heater [Bounty Turbo] | $25 | $75,000 |
| 3 kwietnia | 22:00 | WSOPC Series: $5,250 The Closer Sunday HR | $5,250 | $100,000 |
| 3 kwietnia | 22:00 | WSOPC Series: $630 SUPER SIX Bounty Turbo HR | $630 | $100,000 |
| 3 kwietnia | 22:00 | WSOPC Series: $63 SUPER SIX Bounty Turbo | $63 | $75,000 |
| 3 kwietnia | 23:00 | WSOPC Series: $250 Sunday Saver [Hyper] | $250 | $100,000 |
| 3 kwietnia | 23:00 | WSOPC Series: $50 Sunday Saver [Hyper] | $50 | $50,000 |
| 4 kwietnia | 00:00 | WSOPC Series: $125 Super Turbo Closer | $125 | $100,000 |
| 4 kwietnia | 00:00 | WSOPC Series: $25 Mini Super Turbo Closer | $25 | $40,000 |
| 4 kwietnia | 13:00 | WSOPC Series: $125 Daily Kick-Off | $125 | $40,000 |
| 4 kwietnia | 13:15 | WSOPC Series: $52.50 Deepstack Bounty Turbo | $52.50 | $25,000 |
| 4 kwietnia | 14:00 | WSOPC Series: $300 Daily Deepstack | $300 | $30,000 |
| 4 kwietnia | 14:00 | WSOPC Series: $30 Daily Deepstack | $30 | $20,000 |
| 4 kwietnia | 14:30 | WSOPC Series: $840 Bounty Warm-Up HR | $840 | $50,000 |
| 4 kwietnia | 14:30 | WSOPC Series: $84 Bounty Warm-Up | $84 | $40,000 |
| 4 kwietnia | 15:00 | WSOPC Series: $400 Forty Stack HR | $400 | $40,000 |
| 4 kwietnia | 15:00 | WSOPC Series: $40 Forty Stack | $40 | $40,000 |
| 4 kwietnia | 15:15 | WSOPC Series: $31.50 Deepstack Bounty Turbo | $31.50 | $25,000 |
| 4 kwietnia | 16:00 | WSOPC Series: $888 CRAZY EIGHTS HR | $888 | $75,000 |
| 4 kwietnia | 16:00 | WSOPC Series: $88 CRAZY EIGHTS | $88 | $50,000 |
| 4 kwietnia | 16:30 | WSOPC Series: $525 Bounty Hunters HR | $525 | $200,000 |
| 4 kwietnia | 16:30 | WSOPC Series: $52.50 Bounty Hunters Daily Main | $52.50 | $125,000 |
| 4 kwietnia | 17:00 | WSOPC Series: $5,250 Spring Circuit HR Opener | $5,250 | $100,000 |
| 4 kwietnia | 17:00 | WSOPC Series: $250 Daily Classic HR [Freezeout] | $250 | $50,000 |
| 4 kwietnia | 17:00 | WSOPC Series: $25 GGMasters Daily Classic [Freezeout] | $25 | $40,000 |
| 4 kwietnia | 17:30 | WSOPC Series: $210 Bounty Hunters Big Game | $210 | $125,000 |
| 4 kwietnia | 17:40 | WSOPC Series: $525 PLO Bounty HR | $525 | $25,000 |
| 4 kwietnia | 17:40 | WSOPC Series: $52.50 PLO Bounty | $52.50 | $12,500 |
| 4 kwietnia | 18:00 | WSOPC Series: $1,050 Monday Main Event HR | $1,050 | $225,000 |
| 4 kwietnia | 18:00 | WSOPC Series: $150 Monday Main Event | $150 | $75,000 |
| 4 kwietnia | 18:00 | WSOPC Series: $15 Mini Monday Main Event | $15 | $25,000 |
| 4 kwietnia | 18:30 | WSOPC Series: $315 Bounty King Circuit | $315 | $75,000 |
| 4 kwietnia | 18:30 | WSOPC Series: $31.50 Bounty King Jr | $31.50 | $70,000 |
| 4 kwietnia | 19:00 | WSOPC Series: $5,250 Deepstack Super HR | $5,250 | $100,000 |
| 4 kwietnia | 19:00 | WSOPC Series: $525 Fifty Stack HR | $525 | $40,000 |
| 4 kwietnia | 19:00 | WSOPC Series: $55 Fifty Stack | $55 | $40,000 |
| 4 kwietnia | 19:10 | WSOPC Series: $1,050 PLO Main Event HR | $1,050 | $40,000 |
| 4 kwietnia | 19:10 | WSOPC Series: $150 PLO Main Event | $150 | $20,000 |
| 4 kwietnia | 19:40 | WSOPC Series: $5,250 PLO Super HR Bounty | $5,250 | $50,000 |
| 4 kwietnia | 20:00 | WSOPC Series: $77 LUCKY SEVENS Superstack Turbo | $77 | $40,000 |
| 4 kwietnia | 20:30 | WSOPC Series: $525 Bounty Hunters HR Encore | $525 | $40,000 |
| 4 kwietnia | 20:30 | WSOPC Series: $52.50 Bounty Hunters Circuit Special | $52.50 | $30,000 |
| 4 kwietnia | 21:00 | WSOPC Series: $5,250 Spring Circuit HR Closer | $5,250 | $75,000 |
| 4 kwietnia | 21:00 | WSOPC Series: $1,050 Monday Heater HR [Bounty Turbo] | $1,050 | $50,000 |
| 4 kwietnia | 21:00 | WSOPC Series: $210 Monday Heater [Bounty Turbo] | $210 | $50,000 |
| 4 kwietnia | 22:00 | WSOPC Series: $630 SUPER SIX Bounty Turbo HR | $630 | $40,000 |
| 4 kwietnia | 22:00 | WSOPC Series: $63 SUPER SIX Bounty Turbo | $63 | $25,000 |
| 4 kwietnia | 23:00 | WSOPC Series: $500 Monday Saver HR [Hyper] | $500 | $25,000 |
| 4 kwietnia | 23:00 | WSOPC Series: $50 Monday Saver [Hyper] | $50 | $25,000 |
| 5 kwietnia | 00:00 | WSOPC Series: $125 Super Turbo Closer | $125 | $25,000 |
| 5 kwietnia | 13:00 | WSOPC Series: $125 Daily Kick-Off | $125 | $40,000 |
| 5 kwietnia | 13:15 | WSOPC Series: $52.50 Deepstack Bounty Turbo | $52.50 | $25,000 |
| 5 kwietnia | 14:00 | WSOPC Series: $300 Daily Deepstack | $300 | $30,000 |
| 5 kwietnia | 14:00 | WSOPC Series: $30 Daily Deepstack | $30 | $20,000 |
| 5 kwietnia | 14:30 | WSOPC Series: $840 Bounty Warm-Up HR | $840 | $50,000 |
| 5 kwietnia | 14:30 | WSOPC Series: $84 Bounty Warm-Up | $84 | $40,000 |
| 5 kwietnia | 15:00 | WSOPC Series: $400 Forty Stack HR | $400 | $40,000 |
| 5 kwietnia | 15:00 | WSOPC Series: $40 Forty Stack | $40 | $40,000 |
| 5 kwietnia | 15:15 | WSOPC Series: $31.50 Deepstack Bounty Turbo | $31.50 | $25,000 |
| 5 kwietnia | 16:00 | WSOPC Series: $888 CRAZY EIGHTS HR | $888 | $75,000 |
| 5 kwietnia | 16:00 | WSOPC Series: $88 CRAZY EIGHTS | $88 | $50,000 |
| 5 kwietnia | 16:30 | WSOPC Series: $525 Bounty Hunters HR | $525 | $200,000 |
| 5 kwietnia | 16:30 | WSOPC Series: $52.50 Bounty Hunters Daily Main | $52.50 | $125,000 |
| 5 kwietnia | 17:00 | WSOPC Series: $5,250 Spring Circuit HR Opener | $5,250 | $100,000 |
| 5 kwietnia | 17:00 | WSOPC Series: $250 Daily Classic HR [Freezeout] | $250 | $50,000 |
| 5 kwietnia | 17:00 | WSOPC Series: $25 GGMasters Daily Classic [Freezeout] | $25 | $40,000 |
| 5 kwietnia | 17:30 | WSOPC Series: $210 Bounty Hunters Big Game | $210 | $125,000 |
| 5 kwietnia | 17:40 | WSOPC Series: $525 PLO Bounty HR | $525 | $25,000 |
| 5 kwietnia | 17:40 | WSOPC Series: $52.50 PLO Bounty | $52.50 | $12,500 |
| 5 kwietnia | 18:00 | #8: $800 Deepstack NLH Spring Championship [2-Day Event] | $800 | $1,000,000 |
| 5 kwietnia | 18:00 | WSOPC Series: $1,050 Super Tuesday HR | $1,050 | $225,000 |
| 5 kwietnia | 18:00 | WSOPC Series: $150 Super Tuesday | $150 | $75,000 |
| 5 kwietnia | 18:00 | WSOPC Series: $15 Mini Super Tuesday | $15 | $25,000 |
| 5 kwietnia | 18:30 | WSOPC Series: $315 Bounty King Circuit | $315 | $75,000 |
| 5 kwietnia | 18:30 | WSOPC Series: $31.50 Bounty King Jr | $31.50 | $70,000 |
| 5 kwietnia | 19:00 | WSOPC Series: $5,250 Deepstack Super HR | $5,250 | $100,000 |
| 5 kwietnia | 19:00 | WSOPC Series: $525 Fifty Stack HR | $525 | $40,000 |
| 5 kwietnia | 19:00 | WSOPC Series: $55 Fifty Stack | $55 | $40,000 |
| 5 kwietnia | 19:10 | WSOPC Series: $1,050 PLO Main Event HR | $1,050 | $40,000 |
| 5 kwietnia | 19:10 | WSOPC Series: $150 PLO Main Event | $150 | $20,000 |
| 5 kwietnia | 19:40 | WSOPC Series: $5,250 PLO Super HR Bounty | $5,250 | $50,000 |
| 5 kwietnia | 20:00 | WSOPC Series: $77 LUCKY SEVENS Superstack Turbo | $77 | $40,000 |
| 5 kwietnia | 20:30 | WSOPC Series: $525 Bounty Hunters HR Encore | $525 | $40,000 |
| 5 kwietnia | 20:30 | WSOPC Series: $52.50 Bounty Hunters Circuit Special | $52.50 | $30,000 |
| 5 kwietnia | 21:00 | WSOPC Series: $5,250 Spring Circuit HR Closer | $5,250 | $75,000 |
| 5 kwietnia | 21:00 | WSOPC Series: $1,050 Tuesday Heater HR [Bounty Turbo] | $1,050 | $50,000 |
| 5 kwietnia | 21:00 | WSOPC Series: $210 Tuesday Heater [Bounty Turbo] | $210 | $50,000 |
| 5 kwietnia | 22:00 | WSOPC Series: $630 SUPER SIX Bounty Turbo HR | $630 | $40,000 |
| 5 kwietnia | 22:00 | WSOPC Series: $63 SUPER SIX Bounty Turbo | $63 | $25,000 |
| 5 kwietnia | 23:00 | WSOPC Series: $500 Tuesday Saver HR [Hyper] | $500 | $25,000 |
| 5 kwietnia | 23:00 | WSOPC Series: $50 Tuesday Saver [Hyper] | $50 | $25,000 |
| 6 kwietnia | 00:00 | WSOPC Series: $125 Super Turbo Closer | $125 | $25,000 |
| 6 kwietnia | 13:00 | WSOPC Series: $125 Daily Kick-Off | $125 | $30,000 |
| 6 kwietnia | 13:15 | WSOPC Series: $52.50 Deepstack Bounty Turbo | $52.50 | $25,000 |
| 6 kwietnia | 14:00 | WSOPC Series: $300 Daily Deepstack | $300 | $20,000 |
| 6 kwietnia | 14:00 | WSOPC Series: $30 Daily Deepstack | $30 | $20,000 |
| 6 kwietnia | 14:30 | WSOPC Series: $840 Bounty Warm-Up HR | $840 | $40,000 |
| 6 kwietnia | 14:30 | WSOPC Series: $84 Bounty Warm-Up | $84 | $40,000 |
| 6 kwietnia | 15:00 | WSOPC Series: $400 Forty Stack HR | $400 | $25,000 |
| 6 kwietnia | 15:00 | WSOPC Series: $40 Forty Stack | $40 | $30,000 |
| 6 kwietnia | 15:15 | WSOPC Series: $31.50 Deepstack Bounty Turbo | $31.50 | $25,000 |
| 6 kwietnia | 16:00 | WSOPC Series: $888 CRAZY EIGHTS HR | $888 | $50,000 |
| 6 kwietnia | 16:00 | WSOPC Series: $88 CRAZY EIGHTS | $88 | $40,000 |
| 6 kwietnia | 16:30 | WSOPC Series: $525 Bounty Hunters HR | $525 | $150,000 |
| 6 kwietnia | 16:30 | WSOPC Series: $52.50 Bounty Hunters Daily Main | $52.50 | $125,000 |
| 6 kwietnia | 17:00 | WSOPC Series: $250 Daily Classic HR [Freezeout] | $250 | $40,000 |
| 6 kwietnia | 17:00 | WSOPC Series: $25 GGMasters Daily Classic [Freezeout] | $25 | $40,000 |
| 6 kwietnia | 17:30 | WSOPC Series: $210 Bounty Hunters Big Game | $210 | $100,000 |
| 6 kwietnia | 17:40 | WSOPC Series: $525 PLO Bounty HR | $525 | $20,000 |
| 6 kwietnia | 17:40 | WSOPC Series: $52.50 PLO Bounty | $52.50 | $12,500 |
| 6 kwietnia | 18:00 | WSOPC Series: $1,050 Wednesday Main Event HR | $1,050 | $175,000 |
| 6 kwietnia | 18:00 | WSOPC Series: $150 Wednesday Main Event | $150 | $50,000 |
| 6 kwietnia | 18:00 | WSOPC Series: $15 Mini Wednesday Main Event | $15 | $25,000 |
| 6 kwietnia | 18:30 | WSOPC Series: $315 Bounty King Circuit | $315 | $60,000 |
| 6 kwietnia | 18:30 | WSOPC Series: $31.50 Bounty King Jr | $31.50 | $70,000 |
| 6 kwietnia | 19:00 | WSOPC Series: $525 Fifty Stack HR | $525 | $30,000 |
| 6 kwietnia | 19:00 | WSOPC Series: $55 Fifty Stack | $55 | $40,000 |
| 6 kwietnia | 19:10 | WSOPC Series: $1,050 PLO Main Event HR | $1,050 | $30,000 |
| 6 kwietnia | 19:10 | WSOPC Series: $150 PLO Main Event | $150 | $20,000 |
| 6 kwietnia | 20:00 | WSOPC Series: $77 LUCKY SEVENS Superstack Turbo | $77 | $40,000 |
| 6 kwietnia | 20:30 | WSOPC Series: $525 Bounty Hunters HR Encore | $525 | $30,000 |
| 6 kwietnia | 20:30 | WSOPC Series: $52.50 Bounty Hunters Circuit Special | $52.50 | $30,000 |
| 6 kwietnia | 21:00 | WSOPC Series: $1,050 Wednesday Heater HR [Bounty Turbo] | $1,050 | $40,000 |
| 6 kwietnia | 21:00 | WSOPC Series: $210 Wednesday Heater [Bounty Turbo] | $210 | $40,000 |
| 6 kwietnia | 22:00 | WSOPC Series: $630 SUPER SIX Bounty Turbo HR | $630 | $30,000 |
| 6 kwietnia | 22:00 | WSOPC Series: $63 SUPER SIX Bounty Turbo | $63 | $25,000 |
| 6 kwietnia | 23:00 | WSOPC Series: $500 Wednesday Saver HR [Hyper] | $500 | $20,000 |
| 6 kwietnia | 23:00 | WSOPC Series: $50 Wednesday Saver [Hyper] | $50 | $25,000 |
| 7 kwietnia | 00:00 | WSOPC Series: $125 Super Turbo Closer | $125 | $20,000 |
| 7 kwietnia | 13:00 | WSOPC Series: $125 Daily Kick-Off | $125 | $40,000 |
| 7 kwietnia | 13:15 | WSOPC Series: $52.50 Deepstack Bounty Turbo | $52.50 | $25,000 |
| 7 kwietnia | 14:00 | WSOPC Series: $300 Daily Deepstack | $300 | $35,000 |
| 7 kwietnia | 14:00 | WSOPC Series: $30 Daily Deepstack | $30 | $20,000 |
| 7 kwietnia | 14:30 | WSOPC Series: $840 Bounty Warm-Up HR | $840 | $50,000 |
| 7 kwietnia | 14:30 | WSOPC Series: $84 Bounty Warm-Up | $84 | $40,000 |
| 7 kwietnia | 15:00 | WSOPC Series: $400 Forty Stack HR | $400 | $40,000 |
| 7 kwietnia | 15:00 | WSOPC Series: $40 Forty Stack | $40 | $40,000 |
| 7 kwietnia | 15:15 | WSOPC Series: $31.50 Deepstack Bounty Turbo | $31.50 | $25,000 |
| 7 kwietnia | 16:00 | WSOPC Series: $888 CRAZY EIGHTS HR | $888 | $75,000 |
| 7 kwietnia | 16:00 | WSOPC Series: $88 CRAZY EIGHTS | $88 | $50,000 |
| 7 kwietnia | 16:30 | WSOPC Series: $525 Bounty Hunters HR | $525 | $200,000 |
| 7 kwietnia | 16:30 | WSOPC Series: $52.50 Bounty Hunters Daily Main | $52.50 | $125,000 |
| 7 kwietnia | 17:00 | WSOPC Series: $5,250 Spring Circuit HR Opener | $5,250 | $100,000 |
| 7 kwietnia | 17:00 | WSOPC Series: $250 Daily Classic HR [Freezeout] | $250 | $50,000 |
| 7 kwietnia | 17:00 | WSOPC Series: $25 GGMasters Daily Classic [Freezeout] | $25 | $40,000 |
| 7 kwietnia | 17:30 | WSOPC Series: $210 Bounty Hunters Big Game | $210 | $125,000 |
| 7 kwietnia | 17:40 | WSOPC Series: $525 PLO Bounty HR | $525 | $25,000 |
| 7 kwietnia | 17:40 | WSOPC Series: $52.50 PLO Bounty | $52.50 | $12,500 |
| 7 kwietnia | 18:00 | #9: BIG 500 PLO Bounty [2-Day Event] | $500 | $300,000 |
| 7 kwietnia | 18:00 | WSOPC Series: $1,050 Thursday Thriller Bounty HR | $1,050 | $300,000 |
| 7 kwietnia | 18:00 | WSOPC Series: $150 Thursday Thriller Bounty | $150 | $75,000 |
| 7 kwietnia | 18:00 | WSOPC Series: $15 Mini Thursday Thriller Bounty | $15 | $25,000 |
| 7 kwietnia | 18:30 | WSOPC Series: $315 Bounty King Circuit | $315 | $100,000 |
| 7 kwietnia | 18:30 | WSOPC Series: $31.50 Bounty King Jr | $31.50 | $70,000 |
| 7 kwietnia | 19:00 | WSOPC Series: $5,250 Deepstack Super HR | $5,250 | $100,000 |
| 7 kwietnia | 19:00 | WSOPC Series: $525 Fifty Stack HR | $525 | $40,000 |
| 7 kwietnia | 19:00 | WSOPC Series: $55 Fifty Stack | $55 | $40,000 |
| 7 kwietnia | 19:10 | WSOPC Series: $1,050 PLO Main Event HR | $1,050 | $40,000 |
| 7 kwietnia | 19:10 | WSOPC Series: $150 PLO Main Event | $150 | $20,000 |
| 7 kwietnia | 19:40 | WSOPC Series: $5,250 PLO Super HR Bounty | $5,250 | $50,000 |
| 7 kwietnia | 20:00 | WSOPC Series: $77 LUCKY SEVENS Superstack Turbo | $77 | $40,000 |
| 7 kwietnia | 20:30 | WSOPC Series: $525 Bounty Hunters HR Encore | $525 | $40,000 |
| 7 kwietnia | 20:30 | WSOPC Series: $52.50 Bounty Hunters Circuit Special | $52.50 | $30,000 |
| 7 kwietnia | 21:00 | WSOPC Series: $5,250 Spring Circuit HR Closer | $5,250 | $75,000 |
| 7 kwietnia | 21:00 | WSOPC Series: $1,050 Thursday Heater HR [Bounty Turbo] | $1,050 | $50,000 |
| 7 kwietnia | 21:00 | WSOPC Series: $210 Thursday Heater [Bounty Turbo] | $210 | $50,000 |
| 7 kwietnia | 22:00 | WSOPC Series: $630 SUPER SIX Bounty Turbo HR | $630 | $40,000 |
| 7 kwietnia | 22:00 | WSOPC Series: $63 SUPER SIX Bounty Turbo | $63 | $25,000 |
| 7 kwietnia | 23:00 | WSOPC Series: $500 Thursday Saver HR [Hyper] | $500 | $25,000 |
| 7 kwietnia | 23:00 | WSOPC Series: $50 Thursday Saver [Hyper] | $50 | $25,000 |
| 8 kwietnia | 00:00 | WSOPC Series: $125 Super Turbo Closer | $125 | $25,000 |
| 8 kwietnia | 13:00 | WSOPC Series: $125 Daily Kick-Off | $125 | $30,000 |
| 8 kwietnia | 13:15 | WSOPC Series: $52.50 Deepstack Bounty Turbo | $52.50 | $25,000 |
| 8 kwietnia | 14:00 | WSOPC Series: $300 Daily Deepstack | $300 | $15,000 |
| 8 kwietnia | 14:00 | WSOPC Series: $30 Daily Deepstack | $30 | $15,000 |
| 8 kwietnia | 14:30 | WSOPC Series: $840 Bounty Warm-Up HR | $840 | $35,000 |
| 8 kwietnia | 14:30 | WSOPC Series: $84 Bounty Warm-Up | $84 | $30,000 |
| 8 kwietnia | 15:00 | WSOPC Series: $400 Forty Stack HR | $400 | $20,000 |
| 8 kwietnia | 15:00 | WSOPC Series: $40 Forty Stack | $40 | $30,000 |
| 8 kwietnia | 15:15 | WSOPC Series: $31.50 Deepstack Bounty Turbo | $31.50 | $25,000 |
| 8 kwietnia | 16:00 | WSOPC Series: $888 CRAZY EIGHTS HR | $888 | $40,000 |
| 8 kwietnia | 16:00 | WSOPC Series: $88 CRAZY EIGHTS | $88 | $35,000 |
| 8 kwietnia | 16:30 | WSOPC Series: $525 Bounty Hunters HR | $525 | $125,000 |
| 8 kwietnia | 16:30 | WSOPC Series: $52.50 Bounty Hunters Daily Main | $52.50 | $125,000 |
| 8 kwietnia | 17:00 | WSOPC Series: $250 Daily Classic HR [Freezeout] | $250 | $40,000 |
| 8 kwietnia | 17:00 | WSOPC Series: $25 GGMasters Daily Classic [Freezeout] | $25 | $40,000 |
| 8 kwietnia | 17:30 | WSOPC Series: $210 Bounty Hunters Big Game | $210 | $75,000 |
| 8 kwietnia | 17:40 | WSOPC Series: $525 PLO Bounty HR | $525 | $15,000 |
| 8 kwietnia | 17:40 | WSOPC Series: $52.50 PLO Bounty | $52.50 | $10,000 |
| 8 kwietnia | 18:00 | WSOPC Series: $1,050 Friday Night Fight HR [Bounty 6-Max] | $1,050 | $150,000 |
| 8 kwietnia | 18:00 | WSOPC Series: $150 Friday Night Fight [Bounty 6-Max] | $150 | $50,000 |
| 8 kwietnia | 18:00 | WSOPC Series: $15 Mini Friday Night Fight [Bounty 6-Max] | $15 | $25,000 |
| 8 kwietnia | 18:30 | WSOPC Series: $315 Bounty King Circuit | $315 | $50,000 |
| 8 kwietnia | 18:30 | WSOPC Series: $31.50 Bounty King Jr | $31.50 | $70,000 |
| 8 kwietnia | 19:00 | WSOPC Series: $525 Fifty Stack HR | $525 | $25,000 |
| 8 kwietnia | 19:00 | WSOPC Series: $55 Fifty Stack | $55 | $30,000 |
| 8 kwietnia | 19:10 | WSOPC Series: $1,050 PLO Main Event HR | $1,050 | $25,000 |
| 8 kwietnia | 19:10 | WSOPC Series: $150 PLO Main Event | $150 | $15,000 |
| 8 kwietnia | 20:00 | WSOPC Series: $77 LUCKY SEVENS Superstack Turbo | $77 | $35,000 |
| 8 kwietnia | 20:30 | WSOPC Series: $525 Bounty Hunters HR Encore | $525 | $25,000 |
| 8 kwietnia | 20:30 | WSOPC Series: $52.50 Bounty Hunters Circuit Special | $52.50 | $30,000 |
| 8 kwietnia | 21:00 | WSOPC Series: $1,050 Friday Heater HR [Bounty Turbo] | $1,050 | $25,000 |
| 8 kwietnia | 21:00 | WSOPC Series: $210 Friday Heater [Bounty Turbo] | $210 | $30,000 |
| 8 kwietnia | 22:00 | WSOPC Series: $630 SUPER SIX Bounty Turbo HR | $630 | $25,000 |
| 8 kwietnia | 22:00 | WSOPC Series: $63 SUPER SIX Bounty Turbo | $63 | $20,000 |
| 8 kwietnia | 23:00 | WSOPC Series: $500 Friday Saver HR [Hyper] | $500 | $17,500 |
| 8 kwietnia | 23:00 | WSOPC Series: $50 Friday Saver [Hyper] | $50 | $20,000 |
| 9 kwietnia | 00:00 | WSOPC Series: $125 Super Turbo Closer | $125 | $18,000 |
| 9 kwietnia | 13:00 | WSOPC Series: $125 Daily Kick-Off | $125 | $30,000 |
| 9 kwietnia | 13:15 | WSOPC Series: $52.50 Deepstack Bounty Turbo | $52.50 | $25,000 |
| 9 kwietnia | 14:00 | WSOPC Series: $300 Daily Deepstack | $300 | $20,000 |
| 9 kwietnia | 14:00 | WSOPC Series: $30 Daily Deepstack | $30 | $15,000 |
| 9 kwietnia | 14:30 | WSOPC Series: $840 Bounty Warm-Up HR | $840 | $40,000 |
| 9 kwietnia | 14:30 | WSOPC Series: $84 Bounty Warm-Up | $84 | $40,000 |
| 9 kwietnia | 15:00 | WSOPC Series: $400 Forty Stack HR | $400 | $25,000 |
| 9 kwietnia | 15:00 | WSOPC Series: $40 Forty Stack | $40 | $40,000 |
| 9 kwietnia | 15:15 | WSOPC Series: $31.50 Deepstack Bounty Turbo | $31.50 | $25,000 |
| 9 kwietnia | 16:00 | WSOPC Series: $888 CRAZY EIGHTS HR | $888 | $50,000 |
| 9 kwietnia | 16:00 | WSOPC Series: $88 CRAZY EIGHTS | $88 | $40,000 |
| 9 kwietnia | 16:30 | WSOPC Series: $525 Bounty Hunters HR | $525 | $150,000 |
| 9 kwietnia | 16:30 | WSOPC Series: $52.50 Bounty Hunters Daily Main | $52.50 | $125,000 |
| 9 kwietnia | 17:00 | WSOPC Series: $250 Daily Classic HR [Freezeout] | $250 | $40,000 |
| 9 kwietnia | 17:00 | WSOPC Series: $25 GGMasters Daily Classic [Freezeout] | $25 | $40,000 |
| 9 kwietnia | 17:30 | WSOPC Series: $210 Bounty Hunters Big Game | $210 | $75,000 |
| 9 kwietnia | 17:40 | WSOPC Series: $525 PLO Bounty HR | $525 | $20,000 |
| 9 kwietnia | 17:40 | WSOPC Series: $52.50 PLO Bounty | $52.50 | $10,000 |
| 9 kwietnia | 18:00 | #10: $525 MONSTER STACK Bounty NLH [2-Day Event] | $525 | $500,000 |
| 9 kwietnia | 18:00 | WSOPC Series: $1,050 Saturday Knockout HR [Bounty] | $1,050 | $175,000 |
| 9 kwietnia | 18:00 | WSOPC Series: $150 Saturday Knockout [Bounty] | $150 | $60,000 |
| 9 kwietnia | 18:00 | WSOPC Series: $15 Mini Saturday Knockout [Bounty] | $15 | $25,000 |
| 9 kwietnia | 18:30 | WSOPC Series: $315 Bounty King Circuit | $315 | $60,000 |
| 9 kwietnia | 18:30 | WSOPC Series: $31.50 Bounty King Jr | $31.50 | $70,000 |
| 9 kwietnia | 19:00 | WSOPC Series: $525 Fifty Stack HR | $525 | $30,000 |
| 9 kwietnia | 19:00 | WSOPC Series: $55 Fifty Stack | $55 | $30,000 |
| 9 kwietnia | 19:10 | WSOPC Series: $1,050 PLO Main Event HR | $1,050 | $30,000 |
| 9 kwietnia | 19:10 | WSOPC Series: $150 PLO Main Event | $150 | $20,000 |
| 9 kwietnia | 20:30 | #11: $210 MYSTERY BOUNTY, $1M GTD [Final Day] | $210 | $1,000,000 |
| 9 kwietnia | 20:00 | WSOPC Series: $77 LUCKY SEVENS Superstack Turbo | $77 | $35,000 |
| 9 kwietnia | 20:30 | WSOPC Series: $525 Bounty Hunters HR Encore | $525 | $30,000 |
| 9 kwietnia | 20:30 | WSOPC Series: $52.50 Bounty Hunters Circuit Special | $52.50 | $30,000 |
| 9 kwietnia | 21:00 | WSOPC Series: $1,050 Saturday Heater HR [Bounty Turbo] | $1,050 | $25,000 |
| 9 kwietnia | 21:00 | WSOPC Series: $210 Saturday Heater [Bounty Turbo] | $210 | $30,000 |
| 9 kwietnia | 22:00 | WSOPC Series: $630 SUPER SIX Bounty Turbo HR | $630 | $25,000 |
| 9 kwietnia | 22:00 | WSOPC Series: $63 SUPER SIX Bounty Turbo | $63 | $20,000 |
| 9 kwietnia | 23:00 | WSOPC Series: $500 Saturday Saver HR [Hyper] | $500 | $20,000 |
| 9 kwietnia | 23:00 | WSOPC Series: $50 Saturday Saver [Hyper] | $50 | $20,000 |
| 10 kwietnia | 00:00 | WSOPC Series: $125 Super Turbo Closer | $125 | $18,000 |
| 10 kwietnia | 12:00 | WSOPC Series: $1,050 Sunday Kick-Off HR | $1,050 | $100,000 |
| 10 kwietnia | 12:00 | WSOPC Series: $125 Sunday Kick-Off | $125 | $100,000 |
| 10 kwietnia | 13:00 | WSOPC Series: $250 Sunday Monster Stack | $250 | $125,000 |
| 10 kwietnia | 13:00 | WSOPC Series: $25 Sunday Monster Stack | $25 | $80,000 |
| 10 kwietnia | 13:15 | WSOPC Series: $52.50 Deepstack Bounty Turbo | $52.50 | $50,000 |
| 10 kwietnia | 14:00 | WSOPC Series: $300 Sunday Marathon | $300 | $150,000 |
| 10 kwietnia | 14:00 | WSOPC Series: $30 Sunday Marathon | $30 | $100,000 |
| 10 kwietnia | 14:30 | WSOPC Series: $840 Bounty Warm-Up HR | $840 | $125,000 |
| 10 kwietnia | 14:30 | WSOPC Series: $84 Bounty Warm-Up | $84 | $125,000 |
| 10 kwietnia | 15:00 | WSOPC Series: $400 Forty Stack HR | $400 | $125,000 |
| 10 kwietnia | 15:00 | WSOPC Series: $40 Forty Stack | $40 | $100,000 |
| 10 kwietnia | 15:30 | WSOPC Series: $126 Sunday Six Shooter Bounty | $126 | $125,000 |
| 10 kwietnia | 16:00 | WSOPC Series: $888 CRAZY EIGHTS HR | $888 | $200,000 |
| 10 kwietnia | 16:00 | WSOPC Series: $88 CRAZY EIGHTS | $88 | $150,000 |
| 10 kwietnia | 16:10 | WSOPC Series: $840 PLO Hundred Stack HR | $840 | $75,000 |
| 10 kwietnia | 16:10 | WSOPC Series: $88 PLO Hundred Stack | $88 | $20,000 |
| 10 kwietnia | 16:30 | WSOPC Series: $5,250 Bounty Hunters Super High Roller | $5,250 | $200,000 |
| 10 kwietnia | 16:30 | WSOPC Series: $525 Bounty Hunters HR Main Event | $525 | $1,000,000 |
| 10 kwietnia | 16:30 | WSOPC Series: $52.50 Bounty Hunters Sunday Freezeout | $52.50 | $250,000 |
| 10 kwietnia | 17:00 | #12: $1,050 GGMasters NLH Circuit Championship [2-Day Event] | $1,050 | $1,500,000 |
| 10 kwietnia | 17:30 | WSOPC Series: $210 Bounty Hunters Sunday Big Game | $210 | $300,000 |
| 10 kwietnia | 17:40 | WSOPC Series: $525 PLO Bounty HR | $525 | $75,000 |
| 10 kwietnia | 17:40 | WSOPC Series: $52.50 PLO Bounty | $52.50 | $25,000 |
| 10 kwietnia | 18:00 | WSOPC Series: $250 Sunday Main Event | $250 | $400,000 |
| 10 kwietnia | 18:00 | WSOPC Series: $25 Sunday Mini Main [Freezeout] | $25 | $100,000 |
| 10 kwietnia | 18:30 | WSOPC Series: $31.50 Bounty King Jr [Freezeout] | $31.50 | $125,000 |
| 10 kwietnia | 19:00 | WSOPC Series: $5,250 Deepstack Sunday HR | $5,250 | $200,000 |
| 10 kwietnia | 19:00 | WSOPC Series: $1,050 Sunday HR Main Event | $1,050 | $600,000 |
| 10 kwietnia | 19:00 | WSOPC Series: $55 Sunday Fifty Stack [Freezeout] | $55 | $125,000 |
| 10 kwietnia | 19:10 | WSOPC Series: $1,050 Sunday PLO Main Event | $1,050 | $125,000 |
| 10 kwietnia | 19:40 | WSOPC Series: $5,250 PLO Bounty Super High Roller | $5,250 | $100,000 |
| 10 kwietnia | 20:00 | #13: $2,000 High Roller 6-Max No Limit Hold'em [2-Day Event] | $2,000 | $1,000,000 |
| 10 kwietnia | 20:00 | WSOPC Series: $25,500 Sunday Super HR | $25,500 | $750,000 |
| 10 kwietnia | 20:00 | WSOPC Series: $777 LUCKY SEVENS HR | $777 | $150,000 |
| 10 kwietnia | 20:00 | WSOPC Series: $77 LUCKY SEVENS Superstack Turbo | $77 | $125,000 |
| 10 kwietnia | 20:30 | WSOPC Series: $525 Bounty Hunters HR Encore | $525 | $150,000 |
| 10 kwietnia | 20:30 | WSOPC Series: $52.50 Bounty Hunters Sunday Encore | $52.50 | $125,000 |
| 10 kwietnia | 21:00 | WSOPC Series: $1,050 Sunday Heater HR [Bounty Turbo] | $1,050 | $125,000 |
| 10 kwietnia | 21:00 | WSOPC Series: $210 Sunday Heater [Bounty Turbo] | $210 | $175,000 |
| 10 kwietnia | 21:00 | WSOPC Series: $25 Sunday Mini Heater [Bounty Turbo] | $25 | $75,000 |
| 10 kwietnia | 22:00 | WSOPC Series: $5,250 The Closer Sunday HR | $5,250 | $100,000 |
| 10 kwietnia | 22:00 | WSOPC Series: $630 SUPER SIX Bounty Turbo HR | $630 | $100,000 |
| 10 kwietnia | 22:00 | WSOPC Series: $63 SUPER SIX Bounty Turbo | $63 | $75,000 |
| 10 kwietnia | 23:00 | WSOPC Series: $250 Sunday Saver [Hyper] | $250 | $100,000 |
| 10 kwietnia | 23:00 | WSOPC Series: $50 Sunday Saver [Hyper] | $50 | $50,000 |
| 11 kwietnia | 00:00 | WSOPC Series: $125 Super Turbo Closer | $125 | $100,000 |
| 11 kwietnia | 00:00 | WSOPC Series: $25 Mini Super Turbo Closer | $25 | $40,000 |
| 11 kwietnia | 13:00 | WSOPC Series: $125 Daily Kick-Off | $125 | $40,000 |
| 11 kwietnia | 13:15 | WSOPC Series: $52.50 Deepstack Bounty Turbo | $52.50 | $25,000 |
| 11 kwietnia | 14:00 | WSOPC Series: $300 Daily Deepstack | $300 | $30,000 |
| 11 kwietnia | 14:00 | WSOPC Series: $30 Daily Deepstack | $30 | $20,000 |
| 11 kwietnia | 14:30 | WSOPC Series: $840 Bounty Warm-Up HR | $840 | $50,000 |
| 11 kwietnia | 14:30 | WSOPC Series: $84 Bounty Warm-Up | $84 | $40,000 |
| 11 kwietnia | 15:00 | WSOPC Series: $400 Forty Stack HR | $400 | $40,000 |
| 11 kwietnia | 15:00 | WSOPC Series: $40 Forty Stack | $40 | $40,000 |
| 11 kwietnia | 15:15 | WSOPC Series: $31.50 Deepstack Bounty Turbo | $31.50 | $25,000 |
| 11 kwietnia | 16:00 | WSOPC Series: $888 CRAZY EIGHTS HR | $888 | $75,000 |
| 11 kwietnia | 16:00 | WSOPC Series: $88 CRAZY EIGHTS | $88 | $50,000 |
| 11 kwietnia | 16:30 | WSOPC Series: $525 Bounty Hunters HR | $525 | $200,000 |
| 11 kwietnia | 16:30 | WSOPC Series: $52.50 Bounty Hunters Daily Main | $52.50 | $125,000 |
| 11 kwietnia | 17:00 | WSOPC Series: $5,250 Spring Circuit HR Opener | $5,250 | $100,000 |
| 11 kwietnia | 17:00 | WSOPC Series: $250 Daily Classic HR [Freezeout] | $250 | $50,000 |
| 11 kwietnia | 17:00 | WSOPC Series: $25 GGMasters Daily Classic [Freezeout] | $25 | $40,000 |
| 11 kwietnia | 17:30 | WSOPC Series: $210 Bounty Hunters Big Game | $210 | $125,000 |
| 11 kwietnia | 17:40 | WSOPC Series: $525 PLO Bounty HR | $525 | $25,000 |
| 11 kwietnia | 17:40 | WSOPC Series: $52.50 PLO Bounty | $52.50 | $12,500 |
| 11 kwietnia | 18:00 | WSOPC Series: $1,050 Monday Main Event HR | $1,050 | $225,000 |
| 11 kwietnia | 18:00 | WSOPC Series: $150 Monday Main Event | $150 | $75,000 |
| 11 kwietnia | 18:00 | WSOPC Series: $15 Mini Monday Main Event | $15 | $25,000 |
| 11 kwietnia | 18:30 | WSOPC Series: $315 Bounty King Circuit | $315 | $75,000 |
| 11 kwietnia | 18:30 | WSOPC Series: $31.50 Bounty King Jr | $31.50 | $70,000 |
| 11 kwietnia | 19:00 | WSOPC Series: $5,250 Deepstack Super HR | $5,250 | $100,000 |
| 11 kwietnia | 19:00 | WSOPC Series: $525 Fifty Stack HR | $525 | $40,000 |
| 11 kwietnia | 19:00 | WSOPC Series: $55 Fifty Stack | $55 | $40,000 |
| 11 kwietnia | 19:10 | WSOPC Series: $1,050 PLO Main Event HR | $1,050 | $40,000 |
| 11 kwietnia | 19:10 | WSOPC Series: $150 PLO Main Event | $150 | $20,000 |
| 11 kwietnia | 19:40 | WSOPC Series: $5,250 PLO Super HR Bounty | $5,250 | $50,000 |
| 11 kwietnia | 20:00 | WSOPC Series: $77 LUCKY SEVENS Superstack Turbo | $77 | $40,000 |
| 11 kwietnia | 20:30 | WSOPC Series: $525 Bounty Hunters HR Encore | $525 | $40,000 |
| 11 kwietnia | 20:30 | WSOPC Series: $52.50 Bounty Hunters Circuit Special | $52.50 | $30,000 |
| 11 kwietnia | 21:00 | WSOPC Series: $5,250 Spring Circuit HR Closer | $5,250 | $75,000 |
| 11 kwietnia | 21:00 | WSOPC Series: $1,050 Monday Heater HR [Bounty Turbo] | $1,050 | $50,000 |
| 11 kwietnia | 21:00 | WSOPC Series: $210 Monday Heater [Bounty Turbo] | $210 | $50,000 |
| 11 kwietnia | 22:00 | WSOPC Series: $630 SUPER SIX Bounty Turbo HR | $630 | $40,000 |
| 11 kwietnia | 22:00 | WSOPC Series: $63 SUPER SIX Bounty Turbo | $63 | $25,000 |
| 11 kwietnia | 23:00 | WSOPC Series: $500 Monday Saver HR [Hyper] | $500 | $25,000 |
| 11 kwietnia | 23:00 | WSOPC Series: $50 Monday Saver [Hyper] | $50 | $25,000 |
| 12 kwietnia | 00:00 | WSOPC Series: $125 Super Turbo Closer | $125 | $25,000 |
| 12 kwietnia | 13:00 | WSOPC Series: $125 Daily Kick-Off | $125 | $40,000 |
| 12 kwietnia | 13:15 | WSOPC Series: $52.50 Deepstack Bounty Turbo | $52.50 | $25,000 |
| 12 kwietnia | 14:00 | WSOPC Series: $300 Daily Deepstack | $300 | $30,000 |
| 12 kwietnia | 14:00 | WSOPC Series: $30 Daily Deepstack | $30 | $20,000 |
| 12 kwietnia | 14:30 | WSOPC Series: $840 Bounty Warm-Up HR | $840 | $50,000 |
| 12 kwietnia | 14:30 | WSOPC Series: $84 Bounty Warm-Up | $84 | $40,000 |
| 12 kwietnia | 15:00 | WSOPC Series: $400 Forty Stack HR | $400 | $40,000 |
| 12 kwietnia | 15:00 | WSOPC Series: $40 Forty Stack | $40 | $40,000 |
| 12 kwietnia | 15:15 | WSOPC Series: $31.50 Deepstack Bounty Turbo | $31.50 | $25,000 |
| 12 kwietnia | 16:00 | WSOPC Series: $888 CRAZY EIGHTS HR | $888 | $75,000 |
| 12 kwietnia | 16:00 | WSOPC Series: $88 CRAZY EIGHTS | $88 | $50,000 |
| 12 kwietnia | 16:30 | WSOPC Series: $525 Bounty Hunters HR | $525 | $200,000 |
| 12 kwietnia | 16:30 | WSOPC Series: $52.50 Bounty Hunters Daily Main | $52.50 | $125,000 |
| 12 kwietnia | 17:00 | WSOPC Series: $5,250 Spring Circuit HR Opener | $5,250 | $100,000 |
| 12 kwietnia | 17:00 | WSOPC Series: $250 Daily Classic HR [Freezeout] | $250 | $50,000 |
| 12 kwietnia | 17:00 | WSOPC Series: $25 GGMasters Daily Classic [Freezeout] | $25 | $40,000 |
| 12 kwietnia | 17:30 | WSOPC Series: $210 Bounty Hunters Big Game | $210 | $125,000 |
| 12 kwietnia | 17:40 | WSOPC Series: $525 PLO Bounty HR | $525 | $25,000 |
| 12 kwietnia | 17:40 | WSOPC Series: $52.50 PLO Bounty | $52.50 | $12,500 |
| 12 kwietnia | 18:00 | #14: $800 6-Max NLH Championship [2-Day Event] | $800 | $1,000,000 |
| 12 kwietnia | 18:00 | WSOPC Series: $1,050 Super Tuesday HR | $1,050 | $225,000 |
| 12 kwietnia | 18:00 | WSOPC Series: $150 Super Tuesday | $150 | $75,000 |
| 12 kwietnia | 18:00 | WSOPC Series: $15 Mini Super Tuesday | $15 | $25,000 |
| 12 kwietnia | 18:30 | WSOPC Series: $315 Bounty King Circuit | $315 | $75,000 |
| 12 kwietnia | 18:30 | WSOPC Series: $31.50 Bounty King Jr | $31.50 | $70,000 |
| 12 kwietnia | 19:00 | WSOPC Series: $5,250 Deepstack Super HR | $5,250 | $100,000 |
| 12 kwietnia | 19:00 | WSOPC Series: $525 Fifty Stack HR | $525 | $40,000 |
| 12 kwietnia | 19:00 | WSOPC Series: $55 Fifty Stack | $55 | $40,000 |
| 12 kwietnia | 19:10 | WSOPC Series: $1,050 PLO Main Event HR | $1,050 | $40,000 |
| 12 kwietnia | 19:10 | WSOPC Series: $150 PLO Main Event | $150 | $20,000 |
| 12 kwietnia | 19:40 | WSOPC Series: $5,250 PLO Super HR Bounty | $5,250 | $50,000 |
| 12 kwietnia | 20:00 | WSOPC Series: $77 LUCKY SEVENS Superstack Turbo | $77 | $40,000 |
| 12 kwietnia | 20:30 | WSOPC Series: $525 Bounty Hunters HR Encore | $525 | $40,000 |
| 12 kwietnia | 20:30 | WSOPC Series: $52.50 Bounty Hunters Circuit Special | $52.50 | $30,000 |
| 12 kwietnia | 21:00 | WSOPC Series: $5,250 Spring Circuit HR Closer | $5,250 | $75,000 |
| 12 kwietnia | 21:00 | WSOPC Series: $1,050 Tuesday Heater HR [Bounty Turbo] | $1,050 | $50,000 |
| 12 kwietnia | 21:00 | WSOPC Series: $210 Tuesday Heater [Bounty Turbo] | $210 | $50,000 |
| 12 kwietnia | 22:00 | WSOPC Series: $630 SUPER SIX Bounty Turbo HR | $630 | $40,000 |
| 12 kwietnia | 22:00 | WSOPC Series: $63 SUPER SIX Bounty Turbo | $63 | $25,000 |
| 12 kwietnia | 23:00 | WSOPC Series: $500 Tuesday Saver HR [Hyper] | $500 | $25,000 |
| 12 kwietnia | 23:00 | WSOPC Series: $50 Tuesday Saver [Hyper] | $50 | $25,000 |
| 13 kwietnia | 00:00 | WSOPC Series: $125 Super Turbo Closer | $125 | $25,000 |
| 13 kwietnia | 13:00 | WSOPC Series: $125 Daily Kick-Off | $125 | $30,000 |
| 13 kwietnia | 13:15 | WSOPC Series: $52.50 Deepstack Bounty Turbo | $52.50 | $25,000 |
| 13 kwietnia | 14:00 | WSOPC Series: $300 Daily Deepstack | $300 | $20,000 |
| 13 kwietnia | 14:00 | WSOPC Series: $30 Daily Deepstack | $30 | $20,000 |
| 13 kwietnia | 14:30 | WSOPC Series: $840 Bounty Warm-Up HR | $840 | $40,000 |
| 13 kwietnia | 14:30 | WSOPC Series: $84 Bounty Warm-Up | $84 | $40,000 |
| 13 kwietnia | 15:00 | WSOPC Series: $400 Forty Stack HR | $400 | $25,000 |
| 13 kwietnia | 15:00 | WSOPC Series: $40 Forty Stack | $40 | $30,000 |
| 13 kwietnia | 15:15 | WSOPC Series: $31.50 Deepstack Bounty Turbo | $31.50 | $25,000 |
| 13 kwietnia | 16:00 | WSOPC Series: $888 CRAZY EIGHTS HR | $888 | $50,000 |
| 13 kwietnia | 16:00 | WSOPC Series: $88 CRAZY EIGHTS | $88 | $40,000 |
| 13 kwietnia | 16:30 | WSOPC Series: $525 Bounty Hunters HR | $525 | $150,000 |
| 13 kwietnia | 16:30 | WSOPC Series: $52.50 Bounty Hunters Daily Main | $52.50 | $125,000 |
| 13 kwietnia | 17:00 | WSOPC Series: $250 Daily Classic HR [Freezeout] | $250 | $40,000 |
| 13 kwietnia | 17:00 | WSOPC Series: $25 GGMasters Daily Classic [Freezeout] | $25 | $40,000 |
| 13 kwietnia | 17:30 | WSOPC Series: $210 Bounty Hunters Big Game | $210 | $100,000 |
| 13 kwietnia | 17:40 | WSOPC Series: $525 PLO Bounty HR | $525 | $20,000 |
| 13 kwietnia | 17:40 | WSOPC Series: $52.50 PLO Bounty | $52.50 | $12,500 |
| 13 kwietnia | 18:00 | WSOPC Series: $1,050 Wednesday Main Event HR | $1,050 | $175,000 |
| 13 kwietnia | 18:00 | WSOPC Series: $150 Wednesday Main Event | $150 | $50,000 |
| 13 kwietnia | 18:00 | WSOPC Series: $15 Mini Wednesday Main Event | $15 | $25,000 |
| 13 kwietnia | 18:30 | WSOPC Series: $315 Bounty King Circuit | $315 | $60,000 |
| 13 kwietnia | 18:30 | WSOPC Series: $31.50 Bounty King Jr | $31.50 | $70,000 |
| 13 kwietnia | 19:00 | WSOPC Series: $525 Fifty Stack HR | $525 | $30,000 |
| 13 kwietnia | 19:00 | WSOPC Series: $55 Fifty Stack | $55 | $40,000 |
| 13 kwietnia | 19:10 | WSOPC Series: $1,050 PLO Main Event HR | $1,050 | $30,000 |
| 13 kwietnia | 19:10 | WSOPC Series: $150 PLO Main Event | $150 | $20,000 |
| 13 kwietnia | 20:00 | WSOPC Series: $77 LUCKY SEVENS Superstack Turbo | $77 | $40,000 |
| 13 kwietnia | 20:30 | WSOPC Series: $525 Bounty Hunters HR Encore | $525 | $30,000 |
| 13 kwietnia | 20:30 | WSOPC Series: $52.50 Bounty Hunters Circuit Special | $52.50 | $30,000 |
| 13 kwietnia | 21:00 | WSOPC Series: $1,050 Wednesday Heater HR [Bounty Turbo] | $1,050 | $40,000 |
| 13 kwietnia | 21:00 | WSOPC Series: $210 Wednesday Heater [Bounty Turbo] | $210 | $40,000 |
| 13 kwietnia | 22:00 | WSOPC Series: $630 SUPER SIX Bounty Turbo HR | $630 | $30,000 |
| 13 kwietnia | 22:00 | WSOPC Series: $63 SUPER SIX Bounty Turbo | $63 | $25,000 |
| 13 kwietnia | 23:00 | WSOPC Series: $500 Wednesday Saver HR [Hyper] | $500 | $20,000 |
| 13 kwietnia | 23:00 | WSOPC Series: $50 Wednesday Saver [Hyper] | $50 | $25,000 |
| 14 kwietnia | 00:00 | WSOPC Series: $125 Super Turbo Closer | $125 | $20,000 |
| 14 kwietnia | 13:00 | WSOPC Series: $125 Daily Kick-Off | $125 | $40,000 |
| 14 kwietnia | 13:15 | WSOPC Series: $52.50 Deepstack Bounty Turbo | $52.50 | $25,000 |
| 14 kwietnia | 14:00 | WSOPC Series: $300 Daily Deepstack | $300 | $35,000 |
| 14 kwietnia | 14:00 | WSOPC Series: $30 Daily Deepstack | $30 | $20,000 |
| 14 kwietnia | 14:30 | WSOPC Series: $840 Bounty Warm-Up HR | $840 | $50,000 |
| 14 kwietnia | 14:30 | WSOPC Series: $84 Bounty Warm-Up | $84 | $40,000 |
| 14 kwietnia | 15:00 | WSOPC Series: $400 Forty Stack HR | $400 | $40,000 |
| 14 kwietnia | 15:00 | WSOPC Series: $40 Forty Stack | $40 | $40,000 |
| 14 kwietnia | 15:15 | WSOPC Series: $31.50 Deepstack Bounty Turbo | $31.50 | $25,000 |
| 14 kwietnia | 16:00 | WSOPC Series: $888 CRAZY EIGHTS HR | $888 | $75,000 |
| 14 kwietnia | 16:00 | WSOPC Series: $88 CRAZY EIGHTS | $88 | $50,000 |
| 14 kwietnia | 16:30 | WSOPC Series: $525 Bounty Hunters HR | $525 | $200,000 |
| 14 kwietnia | 16:30 | WSOPC Series: $52.50 Bounty Hunters Daily Main | $52.50 | $125,000 |
| 14 kwietnia | 17:00 | WSOPC Series: $5,250 Spring Circuit HR Opener | $5,250 | $100,000 |
| 14 kwietnia | 17:00 | WSOPC Series: $250 Daily Classic HR [Freezeout] | $250 | $50,000 |
| 14 kwietnia | 17:00 | WSOPC Series: $25 GGMasters Daily Classic [Freezeout] | $25 | $40,000 |
| 14 kwietnia | 17:30 | WSOPC Series: $210 Bounty Hunters Big Game | $210 | $125,000 |
| 14 kwietnia | 17:40 | WSOPC Series: $525 PLO Bounty HR | $525 | $25,000 |
| 14 kwietnia | 17:40 | WSOPC Series: $52.50 PLO Bounty | $52.50 | $12,500 |
| 14 kwietnia | 18:00 | #15: $105 DOUBLE STACK Bounty NLH [2-Day Event] | $105 | $500,000 |
| 14 kwietnia | 18:00 | WSOPC Series: $1,050 Thursday Thriller Bounty HR | $1,050 | $300,000 |
| 14 kwietnia | 18:00 | WSOPC Series: $150 Thursday Thriller Bounty | $150 | $75,000 |
| 14 kwietnia | 18:00 | WSOPC Series: $15 Mini Thursday Thriller Bounty | $15 | $25,000 |
| 14 kwietnia | 18:30 | WSOPC Series: $315 Bounty King Circuit | $315 | $100,000 |
| 14 kwietnia | 18:30 | WSOPC Series: $31.50 Bounty King Jr | $31.50 | $70,000 |
| 14 kwietnia | 19:00 | WSOPC Series: $5,250 Deepstack Super HR | $5,250 | $100,000 |
| 14 kwietnia | 19:00 | WSOPC Series: $525 Fifty Stack HR | $525 | $40,000 |
| 14 kwietnia | 19:00 | WSOPC Series: $55 Fifty Stack | $55 | $40,000 |
| 14 kwietnia | 19:10 | WSOPC Series: $1,050 PLO Main Event HR | $1,050 | $40,000 |
| 14 kwietnia | 19:10 | WSOPC Series: $150 PLO Main Event | $150 | $20,000 |
| 14 kwietnia | 19:40 | WSOPC Series: $5,250 PLO Super HR Bounty | $5,250 | $50,000 |
| 14 kwietnia | 20:00 | WSOPC Series: $77 LUCKY SEVENS Superstack Turbo | $77 | $40,000 |
| 14 kwietnia | 20:30 | WSOPC Series: $525 Bounty Hunters HR Encore | $525 | $40,000 |
| 14 kwietnia | 20:30 | WSOPC Series: $52.50 Bounty Hunters Circuit Special | $52.50 | $30,000 |
| 14 kwietnia | 21:00 | WSOPC Series: $5,250 Spring Circuit HR Closer | $5,250 | $75,000 |
| 14 kwietnia | 21:00 | WSOPC Series: $1,050 Thursday Heater HR [Bounty Turbo] | $1,050 | $50,000 |
| 14 kwietnia | 21:00 | WSOPC Series: $210 Thursday Heater [Bounty Turbo] | $210 | $50,000 |
| 14 kwietnia | 22:00 | WSOPC Series: $630 SUPER SIX Bounty Turbo HR | $630 | $40,000 |
| 14 kwietnia | 22:00 | WSOPC Series: $63 SUPER SIX Bounty Turbo | $63 | $25,000 |
| 14 kwietnia | 23:00 | WSOPC Series: $500 Thursday Saver HR [Hyper] | $500 | $25,000 |
| 14 kwietnia | 23:00 | WSOPC Series: $50 Thursday Saver [Hyper] | $50 | $25,000 |
| 15 kwietnia | 00:00 | WSOPC Series: $125 Super Turbo Closer | $125 | $25,000 |
| 15 kwietnia | 13:00 | WSOPC Series: $125 Daily Kick-Off | $125 | $30,000 |
| 15 kwietnia | 13:15 | WSOPC Series: $52.50 Deepstack Bounty Turbo | $52.50 | $25,000 |
| 15 kwietnia | 14:00 | WSOPC Series: $300 Daily Deepstack | $300 | $15,000 |
| 15 kwietnia | 14:00 | WSOPC Series: $30 Daily Deepstack | $30 | $15,000 |
| 15 kwietnia | 14:30 | WSOPC Series: $840 Bounty Warm-Up HR | $840 | $35,000 |
| 15 kwietnia | 14:30 | WSOPC Series: $84 Bounty Warm-Up | $84 | $30,000 |
| 15 kwietnia | 15:00 | WSOPC Series: $400 Forty Stack HR | $400 | $20,000 |
| 15 kwietnia | 15:00 | WSOPC Series: $40 Forty Stack | $40 | $30,000 |
| 15 kwietnia | 15:15 | WSOPC Series: $31.50 Deepstack Bounty Turbo | $31.50 | $25,000 |
| 15 kwietnia | 16:00 | WSOPC Series: $888 CRAZY EIGHTS HR | $888 | $40,000 |
| 15 kwietnia | 16:00 | WSOPC Series: $88 CRAZY EIGHTS | $88 | $35,000 |
| 15 kwietnia | 16:30 | WSOPC Series: $525 Bounty Hunters HR | $525 | $125,000 |
| 15 kwietnia | 16:30 | WSOPC Series: $52.50 Bounty Hunters Daily Main | $52.50 | $125,000 |
| 15 kwietnia | 17:00 | WSOPC Series: $250 Daily Classic HR [Freezeout] | $250 | $40,000 |
| 15 kwietnia | 17:00 | WSOPC Series: $25 GGMasters Daily Classic [Freezeout] | $25 | $40,000 |
| 15 kwietnia | 17:30 | WSOPC Series: $210 Bounty Hunters Big Game | $210 | $75,000 |
| 15 kwietnia | 17:40 | WSOPC Series: $525 PLO Bounty HR | $525 | $15,000 |
| 15 kwietnia | 17:40 | WSOPC Series: $52.50 PLO Bounty | $52.50 | $10,000 |
| 15 kwietnia | 18:00 | WSOPC Series: $1,050 Friday Night Fight HR [Bounty 6-Max] | $1,050 | $150,000 |
| 15 kwietnia | 18:00 | WSOPC Series: $150 Friday Night Fight [Bounty 6-Max] | $150 | $50,000 |
| 15 kwietnia | 18:00 | WSOPC Series: $15 Mini Friday Night Fight [Bounty 6-Max] | $15 | $25,000 |
| 15 kwietnia | 18:30 | WSOPC Series: $315 Bounty King Circuit | $315 | $50,000 |
| 15 kwietnia | 18:30 | WSOPC Series: $31.50 Bounty King Jr | $31.50 | $70,000 |
| 15 kwietnia | 19:00 | WSOPC Series: $525 Fifty Stack HR | $525 | $25,000 |
| 15 kwietnia | 19:00 | WSOPC Series: $55 Fifty Stack | $55 | $30,000 |
| 15 kwietnia | 19:10 | WSOPC Series: $1,050 PLO Main Event HR | $1,050 | $25,000 |
| 15 kwietnia | 19:10 | WSOPC Series: $150 PLO Main Event | $150 | $15,000 |
| 15 kwietnia | 20:00 | WSOPC Series: $77 LUCKY SEVENS Superstack Turbo | $77 | $35,000 |
| 15 kwietnia | 20:30 | WSOPC Series: $525 Bounty Hunters HR Encore | $525 | $25,000 |
| 15 kwietnia | 20:30 | WSOPC Series: $52.50 Bounty Hunters Circuit Special | $52.50 | $30,000 |
| 15 kwietnia | 21:00 | WSOPC Series: $1,050 Friday Heater HR [Bounty Turbo] | $1,050 | $25,000 |
| 15 kwietnia | 21:00 | WSOPC Series: $210 Friday Heater [Bounty Turbo] | $210 | $30,000 |
| 15 kwietnia | 22:00 | WSOPC Series: $630 SUPER SIX Bounty Turbo HR | $630 | $25,000 |
| 15 kwietnia | 22:00 | WSOPC Series: $63 SUPER SIX Bounty Turbo | $63 | $20,000 |
| 15 kwietnia | 23:00 | WSOPC Series: $500 Friday Saver HR [Hyper] | $500 | $17,500 |
| 15 kwietnia | 23:00 | WSOPC Series: $50 Friday Saver [Hyper] | $50 | $20,000 |
| 16 kwietnia | 00:00 | WSOPC Series: $125 Super Turbo Closer | $125 | $18,000 |
| 16 kwietnia | 13:00 | WSOPC Series: $125 Daily Kick-Off | $125 | $30,000 |
| 16 kwietnia | 13:15 | WSOPC Series: $52.50 Deepstack Bounty Turbo | $52.50 | $25,000 |
| 16 kwietnia | 14:00 | WSOPC Series: $300 Daily Deepstack | $300 | $20,000 |
| 16 kwietnia | 14:00 | WSOPC Series: $30 Daily Deepstack | $30 | $15,000 |
| 16 kwietnia | 14:30 | WSOPC Series: $840 Bounty Warm-Up HR | $840 | $40,000 |
| 16 kwietnia | 14:30 | WSOPC Series: $84 Bounty Warm-Up | $84 | $40,000 |
| 16 kwietnia | 15:00 | WSOPC Series: $400 Forty Stack HR | $400 | $25,000 |
| 16 kwietnia | 15:00 | WSOPC Series: $40 Forty Stack | $40 | $40,000 |
| 16 kwietnia | 15:15 | WSOPC Series: $31.50 Deepstack Bounty Turbo | $31.50 | $25,000 |
| 16 kwietnia | 16:00 | WSOPC Series: $888 CRAZY EIGHTS HR | $888 | $50,000 |
| 16 kwietnia | 16:00 | WSOPC Series: $88 CRAZY EIGHTS | $88 | $40,000 |
| 16 kwietnia | 16:30 | WSOPC Series: $525 Bounty Hunters HR | $525 | $150,000 |
| 16 kwietnia | 16:30 | WSOPC Series: $52.50 Bounty Hunters Daily Main | $52.50 | $125,000 |
| 16 kwietnia | 17:00 | WSOPC Series: $250 Daily Classic HR [Freezeout] | $250 | $40,000 |
| 16 kwietnia | 17:00 | WSOPC Series: $25 GGMasters Daily Classic [Freezeout] | $25 | $40,000 |
| 16 kwietnia | 17:30 | WSOPC Series: $210 Bounty Hunters Big Game | $210 | $75,000 |
| 16 kwietnia | 17:40 | WSOPC Series: $525 PLO Bounty HR | $525 | $20,000 |
| 16 kwietnia | 17:40 | WSOPC Series: $52.50 PLO Bounty | $52.50 | $10,000 |
| 16 kwietnia | 18:00 | #16: $1,111 Red Cross Charity Event NHL [2-Day Event] | $1,111 | $500,000 |
| 16 kwietnia | 18:00 | WSOPC Series: $1,050 Saturday Knockout HR [Bounty] | $1,050 | $175,000 |
| 16 kwietnia | 18:00 | WSOPC Series: $150 Saturday Knockout [Bounty] | $150 | $60,000 |
| 16 kwietnia | 18:00 | WSOPC Series: $15 Mini Saturday Knockout [Bounty] | $15 | $25,000 |
| 16 kwietnia | 18:30 | WSOPC Series: $315 Bounty King Circuit | $315 | $60,000 |
| 16 kwietnia | 18:30 | WSOPC Series: $31.50 Bounty King Jr | $31.50 | $70,000 |
| 16 kwietnia | 19:00 | WSOPC Series: $525 Fifty Stack HR | $525 | $30,000 |
| 16 kwietnia | 19:00 | WSOPC Series: $55 Fifty Stack | $55 | $30,000 |
| 16 kwietnia | 19:10 | WSOPC Series: $1,050 PLO Main Event HR | $1,050 | $30,000 |
| 16 kwietnia | 19:10 | WSOPC Series: $150 PLO Main Event | $150 | $20,000 |
| 16 kwietnia | 20:30 | #17: $2,100 MYSTERY BOUNTY HR, $2M GTD [Final Day] | $2,100 | $2,000,000 |
| 16 kwietnia | 20:00 | WSOPC Series: $77 LUCKY SEVENS Superstack Turbo | $77 | $35,000 |
| 16 kwietnia | 20:30 | WSOPC Series: $525 Bounty Hunters HR Encore | $525 | $30,000 |
| 16 kwietnia | 20:30 | WSOPC Series: $52.50 Bounty Hunters Circuit Special | $52.50 | $30,000 |
| 16 kwietnia | 21:00 | WSOPC Series: $1,050 Saturday Heater HR [Bounty Turbo] | $1,050 | $25,000 |
| 16 kwietnia | 21:00 | WSOPC Series: $210 Saturday Heater [Bounty Turbo] | $210 | $30,000 |
| 16 kwietnia | 22:00 | WSOPC Series: $630 SUPER SIX Bounty Turbo HR | $630 | $25,000 |
| 16 kwietnia | 22:00 | WSOPC Series: $63 SUPER SIX Bounty Turbo | $63 | $20,000 |
| 16 kwietnia | 23:00 | WSOPC Series: $500 Saturday Saver HR [Hyper] | $500 | $20,000 |
| 16 kwietnia | 23:00 | WSOPC Series: $50 Saturday Saver [Hyper] | $50 | $20,000 |
| 17 kwietnia | 00:00 | WSOPC Series: $125 Super Turbo Closer | $125 | $18,000 |
| 17 kwietnia | 12:00 | WSOPC Series: $1,050 Sunday Kick-Off HR | $1,050 | $100,000 |
| 17 kwietnia | 12:00 | WSOPC Series: $125 Sunday Kick-Off | $125 | $100,000 |
| 17 kwietnia | 13:00 | WSOPC Series: $250 Sunday Monster Stack | $250 | $125,000 |
| 17 kwietnia | 13:00 | WSOPC Series: $25 Sunday Monster Stack | $25 | $80,000 |
| 17 kwietnia | 13:15 | WSOPC Series: $52.50 Deepstack Bounty Turbo | $52.50 | $50,000 |
| 17 kwietnia | 14:00 | WSOPC Series: $300 Sunday Marathon | $300 | $150,000 |
| 17 kwietnia | 14:00 | WSOPC Series: $30 Sunday Marathon | $30 | $100,000 |
| 17 kwietnia | 14:30 | WSOPC Series: $840 Bounty Warm-Up HR | $840 | $125,000 |
| 17 kwietnia | 14:30 | WSOPC Series: $84 Bounty Warm-Up | $84 | $125,000 |
| 17 kwietnia | 15:00 | WSOPC Series: $400 Forty Stack HR | $400 | $125,000 |
| 17 kwietnia | 15:00 | WSOPC Series: $40 Forty Stack | $40 | $100,000 |
| 17 kwietnia | 15:30 | WSOPC Series: $126 Sunday Six Shooter Bounty | $126 | $125,000 |
| 17 kwietnia | 16:00 | WSOPC Series: $888 CRAZY EIGHTS HR | $888 | $200,000 |
| 17 kwietnia | 16:00 | WSOPC Series: $88 CRAZY EIGHTS | $88 | $150,000 |
| 17 kwietnia | 16:10 | WSOPC Series: $840 PLO Hundred Stack HR | $840 | $75,000 |
| 17 kwietnia | 16:10 | WSOPC Series: $88 PLO Hundred Stack | $88 | $20,000 |
| 17 kwietnia | 16:30 | WSOPC Series: $5,250 Bounty Hunters Super High Roller | $5,250 | $200,000 |
| 17 kwietnia | 16:30 | WSOPC Series: $525 Bounty Hunters HR Main Event | $525 | $1,000,000 |
| 17 kwietnia | 16:30 | WSOPC Series: $52.50 Bounty Hunters Sunday Freezeout | $52.50 | $250,000 |
| 17 kwietnia | 17:30 | WSOPC Series: $210 Bounty Hunters Sunday Big Game | $210 | $300,000 |
| 17 kwietnia | 17:40 | WSOPC Series: $525 PLO Bounty HR | $525 | $75,000 |
| 17 kwietnia | 17:40 | WSOPC Series: $52.50 PLO Bounty | $52.50 | $25,000 |
| 17 kwietnia | 18:00 | WSOPC Series: $250 Sunday Main Event | $250 | $400,000 |
| 17 kwietnia | 18:00 | WSOPC Series: $25 Sunday Mini Main [Freezeout] | $25 | $100,000 |
| 17 kwietnia | 18:30 | WSOPC Series: $31.50 Bounty King Jr [Freezeout] | $31.50 | $125,000 |
| 17 kwietnia | 19:00 | WSOPC Series: $5,250 Deepstack Sunday HR | $5,250 | $200,000 |
| 17 kwietnia | 19:00 | WSOPC Series: $1,050 Sunday HR Main Event | $1,050 | $600,000 |
| 17 kwietnia | 19:00 | WSOPC Series: $55 Sunday Fifty Stack [Freezeout] | $55 | $125,000 |
| 17 kwietnia | 19:10 | WSOPC Series: $1,050 Sunday PLO Main Event | $1,050 | $125,000 |
| 17 kwietnia | 19:40 | WSOPC Series: $5,250 PLO Bounty Super High Roller | $5,250 | $100,000 |
| 17 kwietnia | 20:30 | #18: $525 Main Event, $5M GTD [Final Day] | $525 | $5,000,000 |
| 17 kwietnia | 20:00 | WSOPC Series: $25,500 Sunday Super HR | $25,500 | $750,000 |
| 17 kwietnia | 20:00 | WSOPC Series: $777 LUCKY SEVENS HR | $777 | $150,000 |
| 17 kwietnia | 20:00 | WSOPC Series: $77 LUCKY SEVENS Superstack Turbo | $77 | $125,000 |
| 17 kwietnia | 20:30 | WSOPC Series: $525 Bounty Hunters HR Encore | $525 | $150,000 |
| 17 kwietnia | 20:30 | WSOPC Series: $52.50 Bounty Hunters Sunday Encore | $52.50 | $125,000 |
| 17 kwietnia | 21:00 | WSOPC Series: $1,050 Sunday Heater HR [Bounty Turbo] | $1,050 | $125,000 |
| 17 kwietnia | 21:00 | WSOPC Series: $210 Sunday Heater [Bounty Turbo] | $210 | $175,000 |
| 17 kwietnia | 21:00 | WSOPC Series: $25 Sunday Mini Heater [Bounty Turbo] | $25 | $75,000 |
| 17 kwietnia | 22:00 | WSOPC Series: $5,250 The Closer Sunday HR | $5,250 | $100,000 |
| 17 kwietnia | 22:00 | WSOPC Series: $630 SUPER SIX Bounty Turbo HR | $630 | $100,000 |
| 17 kwietnia | 22:00 | WSOPC Series: $63 SUPER SIX Bounty Turbo | $63 | $75,000 |
| 17 kwietnia | 23:00 | WSOPC Series: $250 Sunday Saver [Hyper] | $250 | $100,000 |
| 17 kwietnia | 23:00 | WSOPC Series: $50 Sunday Saver [Hyper] | $50 | $50,000 |
| 18 kwietnia | 00:00 | WSOPC Series: $125 Super Turbo Closer | $125 | $100,000 |
| 18 kwietnia | 00:00 | WSOPC Series: $25 Mini Super Turbo Closer | $25 | $40,000 |
Polskie środy na GGPoker – sporo turniejów i wysokie pule w marcu