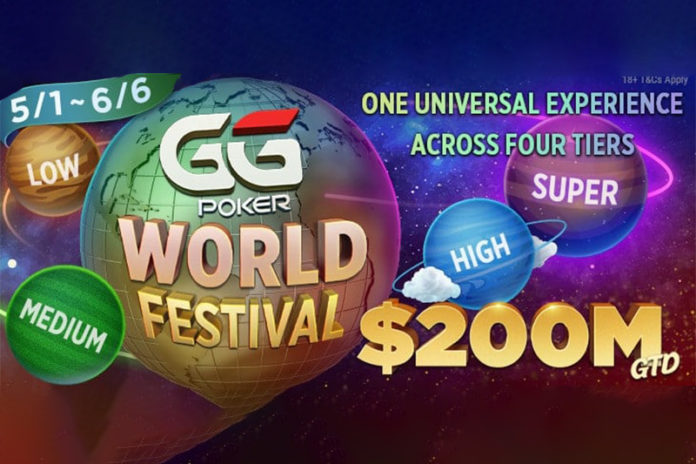 Słyszałeś już o GGPoker World Festival? Jeśli nie, to czytaj dalej, bo jest to NAJWIĘKSZY festiwal pokerowy online w historii z gigantyczną łączną pulą gwarantowaną. Dowiedz się o dodatkowych promocjach oraz sprawdź harmonogram rozgrywek.
ZOBACZ TEŻ: Bonus na GGPoker – jak zyskać nawet do 600$ na start?
Aż 200.000.000$ to gwarancja turniejowej serii online GGPoker World Festival. Patrząc na wysokość gwarancji, od razu można stwierdzić, że jest to największe wydarzenie w historii internetowych pokerowych festiwali. Tak wielkich gwarancji nie dawało nawet PokerStars za czasów swojej największej świetności.
Wydarzenie organizowane przez GGPoker rozpocznie się 30 kwietnia i potrwa do 6 czerwca. Jest to seria z ponad 200 eventami, każdy rozgrywany na 4 poziomach wpisowego: niskim, średnim, wysokim i bardzo wysokim. Łącznie daje to ponad 900 turniejów! Takiej serii po prostu nie można ominąć.
GGPoker World Festival – highlights
Do najciekawszych wydarzeń festiwalu bezsprzecznie należy zaliczyć cztery wyjątkowe wydarzenia. Graczy z najniższych stawek ucieszy event otwarcia, w którym za 5$ można przystąpić do gry o część z 1.000.000$. Ale to nie wszystko. Turniej będzie rozgrywany w formacie z "mystery bounty". Najbardziej obfita koperta będzie miała wartość aż 100.000$.
Dla pokerzystów z wyższych stawek czekają eventy z wielomilionowymi pulami nagród. W Global MILLION$ zagrasz za 500$ o część z 5.000.000$. W Main Evencie całej serii za 1.500$ można powalczyć o 8.000.000$. A jeśli jesteś pokerzystą z najwyższych stawek albo poszczęści Ci się w satelitach, za 10.300$ będziesz mógł zagrać z najlepszymi graczami świata o 10.000.000$.
| | | | | |
| --- | --- | --- | --- | --- |
| Stawki | Event | Wpisowe | Gwarancja | Inne |
| Niskie | Global MILLION$ Mystery Bounty Grand Opening | 5$ | 1.000.000$ | Maks. mystery bounty: 100.000$ |
| Wysokie | Global MILLION$ 5 Million | 500$ | 5.000.000$ | |
| Wysokie | $1,500 GG World Festival 2023 Main Event | 1.500$ | 8.000.000$ | |
| Bardzo wysokie | Super MILLION$ World Festival 10 Million | 10.300$ | 10.000.000$ | |
Festival Leaderboard
Walka o ogromne pule nagród sama w sobie jest bardzo ciekawa i angażująca. GGPoker dodatkowo wynagrodzi tych graczy, którzy na przestrzeni całej rywalizacji zaangażują się najmocniej, co oznacza, że zdobędą najwięcej punktów jednym z czterech rankingów. Te z kolei są podzielone tak samo jak wpisowe, czyli na:
ranking dla turniejów z niskich stawek (L);
ranking dla turniejów ze średnich stawek (M);
(…) z wysokich stawek (H);
(…) z bardzo wysokich stawek (S).
Na zakończenie serii gracze znajdujący się na miejscach premiowanych wypłatą podzielą się kwotą 100.000$ (po 100K na każdy ranking). Warto grać często i zbierać punkty, żeby na koniec tego pokerowego maratonu dołożyć
Harmonogram GGPoker World Festival
Dla Twojej wygody zamieszczamy poniżej pełny harmonogram festiwalu. Oczywiście bardziej szczegółowe informacje znajdziesz w sofcie. Ściągnij go, klikając na poniższy przycisk. Przy okazji skorzystaj z bonusu dla nowych graczy 100% do 600$.
Przedstawiamy harmonogram całego wydarzenia. Godziny rozpoczęcia turniejów podane są jako UTC. Czas polski uzyskasz, dodając do podanych +2 godziny.
| | | | |
| --- | --- | --- | --- |
| Data | Godzina (UTC) | Event | GTD |
| kwiecień 30 | 11:00 | 01-S: $2,625 CRAZY EIGHTS Asia HR | $100,000 |
| kwiecień 30 | 11:00 | 01-H: $840 CRAZY EIGHTS Asia | $100,000 |
| kwiecień 30 | 11:00 | 01-M: $88 CRAZY EIGHTS Asia | $88,000 |
| kwiecień 30 | 11:00 | 01-L: $8.88 Mini CRAZY EIGHTS Asia | $25,000 |
| kwiecień 30 | 12:30 | 02-S: $1,050 Festival Kickstarter [Bounty] | $100,000 |
| kwiecień 30 | 12:30 | 02-H: $150 Festival Kickstarter [Bounty] | $100,000 |
| kwiecień 30 | 12:30 | 02-M: $25 Festival Kickstarter [Bounty] | $88,000 |
| kwiecień 30 | 12:30 | 02-L: $2.50 Festival Kickstarter [Bounty] | $15,000 |
| kwiecień 30 | 14:00 | 03-S: $1,500 Sunday Marathon | $250,000 |
| kwiecień 30 | 14:00 | 03-H: $320 Sunday Marathon | $150,000 |
| kwiecień 30 | 14:00 | 03-M: $30 Sunday Marathon | $100,000 |
| kwiecień 30 | 14:00 | 03-L: $3 Sunday Marathon | $15,000 |
| kwiecień 30 | 15:00 | 04-S: $2,625 Sunday Grand Prix Europe HR | $250,000 |
| kwiecień 30 | 15:00 | 04-H: $250 Sunday Grand Prix Europe | $200,000 |
| kwiecień 30 | 15:00 | 04-M: $25 Sunday Grand Prix Europe | $100,000 |
| kwiecień 30 | 15:00 | 04-L: $2.50 Mini Grand Prix Europe | $20,000 |
| kwiecień 30 | 16:30 | 05-S: $5,250 Bounty Hunters Super High Roller | $250,000 |
| kwiecień 30 | 16:30 | 05-H: $525 Bounty Hunters HR Main Event | $1,250,000 |
| kwiecień 30 | 16:30 | 05-M: $54 Bounty Hunters Sunday Main Event | $500,000 |
| kwiecień 30 | 16:30 | 05-L: $5.40 Bounty Hunters Sunday Mini Main | $60,000 |
| kwiecień 30 | 18:00 | 06-S: $10,300 Super MILLION$ High Rollers [2-Day] | $2,000,000 |
| kwiecień 30 | 17:00 | 06-H: $1,050 GGMasters High Rollers World Festival | $750,000 |
| kwiecień 30 | 17:00 | 06-M: $150 GGMasters Festival Edition | $500,000 |
| kwiecień 30 | 18:00 | 06-L: $15 Sunday Hundred Grand | $150,000 |
| kwiecień 30 | 18:30 | 07-S: $2,625 Blade Bounty King | $100,000 |
| kwiecień 30 | 18:30 | 07-H: $320 GGMasters Bounty King | $500,000 |
| kwiecień 30 | 18:30 | 07-M: $30 Sunday Bounty King Jr | $200,000 |
| kwiecień 30 | 18:30 | 07-L: $3 Sunday Bounty King Baby | $25,000 |
| kwiecień 30 | 19:00 | 08-S: $25,500 Sunday Super High Roller | $500,000 |
| kwiecień 30 | 19:00 | 08-H: $1,050 High Rollers Main Event | $500,000 |
| kwiecień 30 | 19:00 | 08-M: $250 Sunday Main Event | $300,000 |
| kwiecień 30 | 19:00 | 08-L: $25 Sunday Mini Main Event | $125,000 |
| kwiecień 30 | 20:00 | 09-S: $5,250 Omaholic Bounty Main Event HR | $200,000 |
| kwiecień 30 | 20:00 | 09-H: $1,050 Omaholic Bounty Main Event | $150,000 |
| kwiecień 30 | 20:00 | 09-M: $150 Omaholic Bounty Main Event | $75,000 |
| kwiecień 30 | 20:00 | 09-L: $25 Omaholic Bounty Mini Main | $40,000 |
| kwiecień 30 | 21:00 | 10-S: $2,625 Sunday Heater HR [Bounty Turbo] | $200,000 |
| kwiecień 30 | 21:00 | 10-H: $250 Sunday Heater [Bounty Turbo] | $200,000 |
| kwiecień 30 | 21:00 | 10-M: $25 Sunday Heater [Bounty Turbo] | $100,000 |
| kwiecień 30 | 21:00 | 10-L: $2.50 Mini Sunday Heater [Bounty Turbo] | $10,000 |
| kwiecień 30 | 22:30 | 11-S: $1,500 Bounty King Americas HR | $100,000 |
| kwiecień 30 | 22:30 | 11-H: $525 Bounty King Americas | $75,000 |
| kwiecień 30 | 22:30 | 11-M: $54 Bounty King Americas | $50,000 |
| kwiecień 30 | 22:30 | 11-L: $5.40 Bounty King Americas | $20,000 |
| kwiecień 30 | 23:00 | 12-S: $1,050 Sunday Saver HR [Hyper] | $150,000 |
| kwiecień 30 | 23:00 | 12-H: $250 Sunday Saver [Hyper] | $150,000 |
| kwiecień 30 | 23:00 | 12-M: $50 Sunday Saver [Hyper] | $100,000 |
| kwiecień 30 | 23:00 | 12-L: $5 Mini Sunday Saver [Hyper] | $20,000 |
| maj 1 | 13:30 | 13-S: $1,500 Monday Challenge Asia [6-Max] | $75,000 |
| maj 1 | 13:30 | 13-H: $150 Monday Challenge Asia [6-Max] | $60,000 |
| maj 1 | 13:30 | 13-M: $25 Monday Challenge Asia [6-Max] | $50,000 |
| maj 1 | 13:30 | 13-L: $2.50 Mini Monday Challenge Asia [6-Max] | $10,000 |
| maj 1 | 16:30 | 14-S: $5,250 Bounty Hunters Super High Roller | $250,000 |
| maj 1 | 16:30 | 14-H: $525 Bounty Hunters HR [Classic] | $500,000 |
| maj 1 | 16:30 | 14-M: $54 Bounty Hunters Daily Main [Classic] | $250,000 |
| maj 1 | 16:30 | 14-L: $5.40 Bounty Hunters Mini Main [Classic] | $40,000 |
| maj 1 | 18:00 | 15-S: $10,300 Monday Super HR | $500,000 |
| maj 1 | 18:00 | 15-H: $1,050 Monday Monster Stack HR | $500,000 |
| maj 1 | 18:00 | 15-M: $150 Monday Monster Stack | $300,000 |
| maj 1 | 18:00 | 15-L: $25 Mini Monday Monster Stack | $100,000 |
| maj 1 | 19:00 | 16-S: $1,500 Monday Bounty Magic HR | $300,000 |
| maj 1 | 19:00 | 16-H: $320 Monday Bounty Magic | $250,000 |
| maj 1 | 19:00 | 16-M: $30 Monday Bounty Magic | $100,000 |
| maj 1 | 19:00 | 16-L: $3 Monday Bounty Magic | $15,000 |
| maj 1 | 20:00 | 17-S: $2,625 LUCKY SEVENS Samba HR [7-Max] | $200,000 |
| maj 1 | 20:00 | 17-H: $777 LUCKY SEVENS Samba [7-Max] | $77,000 |
| maj 1 | 20:00 | 17-M: $77 LUCKY SEVENS Samba [7-Max] | $77,000 |
| maj 1 | 20:00 | 17-L: $7.77 LUCKY SEVENS Samba [7-Max] | $25,000 |
| maj 2 | 13:00 | 18-S: $2,625 Double Dragon [2-Stack] | $75,000 |
| maj 2 | 13:00 | 18-H: $250 Double Dragon [2-Stack] | $60,000 |
| maj 2 | 13:00 | 18-M: $25 Double Dragon [2-Stack] | $50,000 |
| maj 2 | 13:00 | 18-L: $2.50 Mini Double Dragon [2-Stack] | $12,500 |
| maj 2 | 16:30 | 19-S: $5,250 Bounty Hunters Super High Roller | $250,000 |
| maj 2 | 16:30 | 19-H: $525 Bounty Hunters HR [Deepstack] | $500,000 |
| maj 2 | 16:30 | 19-M: $54 Bounty Hunters Daily Main [Deepstack] | $250,000 |
| maj 2 | 16:30 | 19-L: $5.40 Bounty Hunters Mini Main [Deepstack] | $40,000 |
| maj 2 | 18:00 | 20-S: $10,300 Tuesday Classic Super HR | $750,000 |
| maj 2 | 18:00 | 20-H: $1,050 Tuesday Classic HR | $600,000 |
| maj 2 | 18:00 | 20-M: $150 Tuesday Classic | $300,000 |
| maj 2 | 18:00 | 20-L: $25 Mini Tuesday Classic | $100,000 |
| maj 2 | 19:30 | 21-S: $2,625 Tuesday Takedown [Bounty 7-Max] | $300,000 |
| maj 2 | 19:30 | 21-H: $840 Tuesday Takedown [Bounty 7-Max] | $250,000 |
| maj 2 | 19:30 | 21-M: $88 Tuesday Takedown [Bounty 7-Max] | $150,000 |
| maj 2 | 19:30 | 21-L: $8.88 Tuesday Takedown [Bounty 7-Max] | $50,000 |
| maj 2 | 21:00 | 22-S: $1,500 Tuesday Super Heater HR [Bounty Turbo] | $150,000 |
| maj 2 | 21:00 | 22-H: $525 Tuesday Super Heater HR [Bounty Turbo] | $100,000 |
| maj 2 | 21:00 | 22-M: $54 Tuesday Super Heater [Bounty Turbo] | $60,000 |
| maj 2 | 21:00 | 22-L: $5.40 Tuesday Mini Heater [Bounty Turbo] | $15,000 |
| maj 3 | 14:00 | 23-S: $1,500 Wednesday Warm-Up [Deep Stacks] | $200,000 |
| maj 3 | 14:00 | 23-H: $320 Wednesday Warm-Up [Deep Stacks] | $150,000 |
| maj 3 | 14:00 | 23-M: $30 Wednesday Warm-Up [Deep Stacks] | $100,000 |
| maj 3 | 14:00 | 23-L: $3 Wednesday Warm-Up [Deep Stacks] | $15,000 |
| maj 3 | 16:30 | 24-S: $5,250 Bounty Hunters Super High Roller | $250,000 |
| maj 3 | 16:30 | 24-H: $525 Bounty Hunters HR [6-Max] | $400,000 |
| maj 3 | 16:30 | 24-M: $54 Bounty Hunters Daily Main [6-Max] | $250,000 |
| maj 3 | 16:30 | 24-L: $5.40 Bounty Hunters Mini Main [6-Max] | $40,000 |
| maj 3 | 18:00 | 25-S: $2,625 Wednesday Double Stack HR | $300,000 |
| maj 3 | 18:00 | 25-H: $250 Wednesday Double Stack | $250,000 |
| maj 3 | 18:00 | 25-M: $25 Wednesday Double Stack | $100,000 |
| maj 3 | 18:00 | 25-L: $2.50 Mini Wednesday Double Stack | $20,000 |
| maj 3 | 20:00 | 26-S: $1,050 Wednesday Wiggle [Bounty 4-Max] | $150,000 |
| maj 3 | 20:00 | 26-H: $150 Wednesday Wiggle [Bounty 4-Max] | $100,000 |
| maj 3 | 20:00 | 26-M: $25 Wednesday Wiggle [Bounty 4-Max] | $50,000 |
| maj 3 | 20:00 | 26-L: $2.50 Wednesday Wiggle [Bounty 4-Max] | $10,000 |
| maj 2 | 21:30 | 27-S: $5,250 Omaholic Block Party Turbo | $100,000 |
| maj 2 | 21:30 | 27-H: $525 Omaholic Block Party Turbo | $50,000 |
| maj 2 | 21:30 | 27-M: $50 Omaholic Block Party Turbo | $25,000 |
| maj 2 | 21:30 | 27-L: $5 Omaholic Block Party Turbo | $10,000 |
| maj 4 | 14:00 | 28-S: $1,050 Great Wall Ultradeep Turbo | $75,000 |
| maj 4 | 14:00 | 28-H: $150 Great Wall Ultradeep Turbo | $60,000 |
| maj 4 | 14:00 | 28-M: $25 Great Wall Ultradeep Turbo | $50,000 |
| maj 4 | 14:00 | 28-L: $2.50 Great Wall Ultradeep Turbo | $10,000 |
| maj 4 | 16:30 | 29-S: $5,250 Bounty Hunters Super High Roller | $250,000 |
| maj 4 | 16:30 | 29-H: $525 Bounty Hunters HR [Classic] | $500,000 |
| maj 4 | 16:30 | 29-M: $54 Bounty Hunters Daily Main [Classic] | $250,000 |
| maj 4 | 16:30 | 29-L: $5.40 Bounty Hunters Mini Main [Classic] | $40,000 |
| maj 4 | 18:00 | 30-S: $10,300 Thursday Throwdown [Bounty] | $750,000 |
| maj 4 | 18:00 | 30-H: $1,050 Thursday Throwdown [Bounty] | $750,000 |
| maj 4 | 18:00 | 30-M: $150 Thursday Throwdown [Bounty] | $400,000 |
| maj 4 | 18:00 | 30-L: $25 Mini Thursday Throwdown [Bounty] | $150,000 |
| maj 4 | 19:00 | 31-S: $1,500 Thursday Triple Chance [3-Stack] | $150,000 |
| maj 4 | 19:00 | 31-H: $320 Thursday Triple Chance [3-Stack] | $125,000 |
| maj 4 | 19:00 | 31-M: $30 Thursday Triple Chance [3-Stack] | $100,000 |
| maj 4 | 19:00 | 31-L: $3 Thursday Triple Chance [3-Stack] | $20,000 |
| maj 4 | 21:30 | 32-S: $2,625 Bounty Hunters Carnaval HR | $125,000 |
| maj 4 | 21:30 | 32-H: $250 Bounty Hunters Carnaval | $100,000 |
| maj 4 | 21:30 | 32-M: $25 Bounty Hunters Carnaval | $50,000 |
| maj 4 | 21:30 | 32-L: $2.50 Bounty Hunters Carnaval | $10,000 |
| maj 5 | 13:30 | 33-S: $2,625 Black Rabbit Bounty | $100,000 |
| maj 5 | 13:30 | 33-H: $840 Black Rabbit Bounty | $75,000 |
| maj 5 | 13:30 | 33-M: $88 Black Rabbit Bounty | $50,000 |
| maj 5 | 13:30 | 33-L: $8.88 Black Rabbit Bounty | $25,000 |
| maj 5 | 16:30 | 34-S: $5,250 Bounty Hunters Super HR | $100,000 |
| maj 5 | 16:30 | 34-H: $525 Bounty Hunters HR [Big Bounties] | $200,000 |
| maj 5 | 16:30 | 34-M: $54 Bounty Hunters Daily Main [Big Bounties] | $150,000 |
| maj 5 | 16:30 | 34-L: $5.40 Bounty Hunters Mini Main [Big Bounties] | $40,000 |
| maj 5 | 18:00 | 35-S: $1,500 Friday Night Fight HR [Bounty 6-Max] | $200,000 |
| maj 5 | 18:00 | 35-H: $150 Friday Night Fight [Bounty 6-Max] | $125,000 |
| maj 5 | 18:00 | 35-M: $25 Friday Night Fight [Bounty 6-Max] | $100,000 |
| maj 5 | 18:00 | 35-L: $2.50 Mini Friday Night Fight [Bounty 6-Max] | $20,000 |
| maj 5 | 21:30 | 36-S: $1,050 TGIF Hyper Special [6-Max] | $60,000 |
| maj 5 | 21:30 | 36-H: $320 TGIF Hyper Special [6-Max] | $50,000 |
| maj 5 | 21:30 | 36-M: $30 TGIF Hyper Special [6-Max] | $25,000 |
| maj 5 | 21:30 | 36-L: $3.00 TGIF Hyper Special [6-Max] | $10,000 |
| maj 6 | 11:00 | 37-S: $2,023 Zodiac GOAT High Roller | $100,000 |
| maj 6 | 11:00 | 37-H: $250 Zodiac GOAT High Roller | $60,000 |
| maj 6 | 11:00 | 37-M: $25 Zodiac GOAT Mini High Roller | $50,000 |
| maj 6 | 11:00 | 37-L: $2.50 Zodiac GOAT Mini High Roller | $12,500 |
| maj 6 | 14:00 | 38-S: $2,625 Saturday Superstack | $250,000 |
| maj 6 | 14:00 | 38-H: $840 Saturday Superstack | $150,000 |
| maj 6 | 14:00 | 38-M: $88 Saturday Superstack | $100,000 |
| maj 6 | 14:00 | 38-L: $8.88 Saturday Superstack | $40,000 |
| maj 6 | 16:30 | 39-S: $5,250 Bounty Hunters Super HR | $100,000 |
| maj 6 | 16:30 | 39-H: $525 Bounty Hunters HR [Ultradeep] | $400,000 |
| maj 6 | 16:30 | 39-M: $54 Bounty Hunters Daily Main [Ultradeep] | $250,000 |
| maj 6 | 16:30 | 39-L: $5.40 Bounty Hunters Mini Main [Ultradeep] | $40,000 |
| maj 6 | 18:00 | 40-S: $10,300 Saturday Secret KO [Mystery Bounty] | $500,000 |
| maj 6 | 18:00 | 40-H: $1,050 Saturday Secret KO [Mystery Bounty] | $400,000 |
| maj 6 | 18:00 | 40-M: $150 Saturday Secret KO [Mystery Bounty] | $300,000 |
| maj 6 | 18:00 | 40-L: $25 Saturday Secret KO [Mystery Bounty] | $150,000 |
| maj 6 | 19:30 | 41-S: $10,300 Omaholic Secret KO [Mystery Bounty, PLO-NL] | $200,000 |
| maj 6 | 19:30 | 41-H: $1,050 Omaholic Secret KO [Mystery Bounty, PLO-NL] | $100,000 |
| maj 6 | 19:30 | 41-M: $150 Omaholic Secret KO [Mystery Bounty, PLO-NL] | $50,000 |
| maj 6 | 19:30 | 41-L: $25 Omaholic Secret KO [Mystery Bounty, PLO-NL] | $25,000 |
| maj 6 | 22:30 | 42-S: $1,050 Saturday Speed Zone [Hyper 4-Max] | $100,000 |
| maj 6 | 22:30 | 42-H: $250 Saturday Speed Zone [Hyper 4-Max] | $75,000 |
| maj 6 | 22:30 | 42-M: $50 Saturday Speed Zone [Hyper 4-Max] | $40,000 |
| maj 6 | 22:30 | 42-L: $5 Saturday Speed Zone [Hyper 4-Max] | $20,000 |
| maj 7 | 11:00 | 43-S: $2,625 CRAZY EIGHTS Asia HR | $100,000 |
| maj 7 | 11:00 | 43-H: $840 CRAZY EIGHTS Asia | $100,000 |
| maj 7 | 11:00 | 43-M: $88 CRAZY EIGHTS Asia | $88,000 |
| maj 7 | 11:00 | 43-L: $8.88 Mini CRAZY EIGHTS Asia | $25,000 |
| maj 7 | 12:30 | 44-S: $1,050 Festival Kickstarter [Bounty] | $100,000 |
| maj 7 | 12:30 | 44-H: $150 Festival Kickstarter [Bounty] | $100,000 |
| maj 7 | 12:30 | 44-M: $25 Festival Kickstarter [Bounty] | $88,000 |
| maj 7 | 12:30 | 44-L: $2.50 Festival Kickstarter [Bounty] | $15,000 |
| maj 7 | 14:00 | 45-S: $1,500 Sunday Marathon | $300,000 |
| maj 7 | 14:00 | 45-H: $320 Sunday Marathon | $200,000 |
| maj 7 | 14:00 | 45-M: $30 Sunday Marathon | $100,000 |
| maj 7 | 14:00 | 45-L: $3 Sunday Marathon | $15,000 |
| maj 7 | 15:00 | 46-S: $2,625 Sunday Grand Prix Europe HR | $250,000 |
| maj 7 | 15:00 | 46-H: $250 Sunday Grand Prix Europe | $250,000 |
| maj 7 | 15:00 | 46-M: $25 Sunday Grand Prix Europe | $100,000 |
| maj 7 | 15:00 | 46-L: $2.50 Mini Grand Prix Europe | $20,000 |
| maj 7 | 16:30 | 47-S: $5,250 Bounty Hunters Super High Roller | $400,000 |
| maj 7 | 16:30 | 47-H: $525 Bounty Hunters HR Main Event | $1,250,000 |
| maj 7 | 16:30 | 47-M: $54 Bounty Hunters Sunday Main Event | $500,000 |
| maj 7 | 16:30 | 47-L: $5.40 Bounty Hunters Sunday Mini Main | $60,000 |
| maj 7 | 18:00 | 48-S: $10,300 Super MILLION$ High Rollers [2-Day] | $2,500,000 |
| maj 7 | 17:00 | 48-H: $1,050 GGMasters High Rollers World Festival | $1,000,000 |
| maj 7 | 17:00 | 48-M: $150 GGMasters Festival Edition | $600,000 |
| maj 7 | 18:00 | 48-L: $15 Sunday Hundred Grand | $150,000 |
| maj 7 | 18:30 | 49-S: $2,625 Blade Bounty King | $100,000 |
| maj 7 | 18:30 | 49-H: $320 GGMasters Bounty King | $500,000 |
| maj 7 | 18:30 | 49-M: $30 Sunday Bounty King Jr | $200,000 |
| maj 7 | 18:30 | 49-L: $3 Sunday Bounty King Baby | $25,000 |
| maj 7 | 19:00 | 50-S: $25,500 Sunday Super High Roller | $500,000 |
| maj 7 | 19:00 | 50-H: $1,050 High Rollers Main Event | $600,000 |
| maj 7 | 19:00 | 50-M: $250 Sunday Main Event | $400,000 |
| maj 7 | 19:00 | 50-L: $25 Sunday Mini Main Event | $125,000 |
| maj 7 | 20:00 | 51-S: $5,250 Omaholic Bounty Main Event HR | $200,000 |
| maj 7 | 20:00 | 51-H: $1,050 Omaholic Bounty Main Event | $200,000 |
| maj 7 | 20:00 | 51-M: $150 Omaholic Bounty Main Event | $75,000 |
| maj 7 | 20:00 | 51-L: $25 Omaholic Bounty Mini Main | $40,000 |
| maj 7 | 21:00 | 52-S: $2,625 Sunday Heater HR [Bounty Turbo] | $200,000 |
| maj 7 | 21:00 | 52-H: $250 Sunday Heater [Bounty Turbo] | $200,000 |
| maj 7 | 21:00 | 52-M: $25 Sunday Heater [Bounty Turbo] | $100,000 |
| maj 7 | 21:00 | 52-L: $2.50 Mini Sunday Heater [Bounty Turbo] | $10,000 |
| maj 7 | 22:30 | 53-S: $1,500 Bounty King Americas SHR | $125,000 |
| maj 7 | 22:30 | 53-H: $525 Bounty King Americas | $100,000 |
| maj 7 | 22:30 | 53-M: $54 Bounty King Americas | $50,000 |
| maj 7 | 22:30 | 53-L: $5.40 Bounty King Americas | $20,000 |
| maj 7 | 23:00 | 54-S: $1,050 Sunday Saver HR [Hyper] | $150,000 |
| maj 7 | 23:00 | 54-H: $250 Sunday Saver [Hyper] | $150,000 |
| maj 7 | 23:00 | 54-M: $50 Sunday Saver [Hyper] | $100,000 |
| maj 7 | 23:00 | 54-L: $5 Mini Sunday Saver [Hyper] | $20,000 |
| maj 8 | 13:30 | 55-S: $1,500 Monday Challenge Asia [6-Max] | $75,000 |
| maj 8 | 13:30 | 55-H: $150 Monday Challenge Asia [6-Max] | $60,000 |
| maj 8 | 13:30 | 55-M: $25 Monday Challenge Asia [6-Max] | $50,000 |
| maj 8 | 13:30 | 55-L: $2.50 Mini Monday Challenge Asia [6-Max] | $10,000 |
| maj 8 | 16:30 | 56-S: $5,250 Bounty Hunters Super High Roller | $250,000 |
| maj 8 | 16:30 | 56-H: $525 Bounty Hunters HR [Classic] | $500,000 |
| maj 8 | 16:30 | 56-M: $54 Bounty Hunters Daily Main [Classic] | $250,000 |
| maj 8 | 16:30 | 56-L: $5.40 Bounty Hunters Mini Main [Classic] | $40,000 |
| maj 8 | 18:00 | 57-S: $10,300 Monday Super HR | $500,000 |
| maj 8 | 18:00 | 57-H: $1,050 Monday Monster Stack HR | $500,000 |
| maj 8 | 18:00 | 57-M: $150 Monday Monster Stack | $300,000 |
| maj 8 | 18:00 | 57-L: $25 Mini Monday Monster Stack | $100,000 |
| maj 8 | 19:00 | 58-S: $1,500 Monday Bounty Magic HR | $300,000 |
| maj 8 | 19:00 | 58-H: $320 Monday Bounty Magic | $250,000 |
| maj 8 | 19:00 | 58-M: $30 Monday Bounty Magic | $100,000 |
| maj 8 | 19:00 | 58-L: $3 Monday Bounty Magic | $15,000 |
| maj 8 | 20:00 | 59-S: $2,625 LUCKY SEVENS Samba HR [7-Max] | $200,000 |
| maj 8 | 20:00 | 59-H: $777 LUCKY SEVENS Samba [7-Max] | $77,000 |
| maj 8 | 20:00 | 59-M: $77 LUCKY SEVENS Samba [7-Max] | $77,000 |
| maj 8 | 20:00 | 59-L: $7.77 LUCKY SEVENS Samba [7-Max] | $25,000 |
| maj 9 | 13:00 | 60-S: $2,625 Double Dragon [2-Stack] | $75,000 |
| maj 9 | 13:00 | 60-H: $250 Double Dragon [2-Stack] | $60,000 |
| maj 9 | 13:00 | 60-M: $25 Double Dragon [2-Stack] | $50,000 |
| maj 9 | 13:00 | 60-L: $2.50 Mini Double Dragon [2-Stack] | $12,500 |
| maj 9 | 16:30 | 61-S: $5,250 Bounty Hunters Super High Roller | $250,000 |
| maj 9 | 16:30 | 61-H: $525 Bounty Hunters HR [Deepstack] | $500,000 |
| maj 9 | 16:30 | 61-M: $54 Bounty Hunters Daily Main [Deepstack] | $250,000 |
| maj 9 | 16:30 | 61-L: $5.40 Bounty Hunters Mini Main [Deepstack] | $40,000 |
| maj 9 | 18:00 | 62-S: $10,300 Tuesday Classic Super HR | $750,000 |
| maj 9 | 18:00 | 62-H: $1,050 Tuesday Classic HR | $600,000 |
| maj 9 | 18:00 | 62-M: $150 Tuesday Classic | $300,000 |
| maj 9 | 18:00 | 62-L: $25 Mini Tuesday Classic | $100,000 |
| maj 9 | 19:30 | 63-S: $2,625 Tuesday Takedown [Bounty 7-Max] | $300,000 |
| maj 9 | 19:30 | 63-H: $840 Tuesday Takedown [Bounty 7-Max] | $250,000 |
| maj 9 | 19:30 | 63-M: $88 Tuesday Takedown [Bounty 7-Max] | $150,000 |
| maj 9 | 19:30 | 63-L: $8.88 Tuesday Takedown [Bounty 7-Max] | $50,000 |
| maj 9 | 21:00 | 64-S: $1,500 Tuesday Super Heater HR [Bounty Turbo] | $150,000 |
| maj 9 | 21:00 | 64-H: $525 Tuesday Super Heater HR [Bounty Turbo] | $100,000 |
| maj 9 | 21:00 | 64-M: $54 Tuesday Super Heater [Bounty Turbo] | $60,000 |
| maj 9 | 21:00 | 64-L: $5.40 Tuesday Mini Heater [Bounty Turbo] | $15,000 |
| maj 10 | 14:00 | 65-S: $1,500 Wednesday Warm-Up [Deep Stacks] | $200,000 |
| maj 10 | 14:00 | 65-H: $320 Wednesday Warm-Up [Deep Stacks] | $150,000 |
| maj 10 | 14:00 | 65-M: $30 Wednesday Warm-Up [Deep Stacks] | $100,000 |
| maj 10 | 14:00 | 65-L: $3 Wednesday Warm-Up [Deep Stacks] | $15,000 |
| maj 10 | 16:30 | 66-S: $5,250 Bounty Hunters Super High Roller | $250,000 |
| maj 10 | 16:30 | 66-H: $525 Bounty Hunters HR [6-Max] | $400,000 |
| maj 10 | 16:30 | 66-M: $54 Bounty Hunters Daily Main [6-Max] | $250,000 |
| maj 10 | 16:30 | 66-L: $5.40 Bounty Hunters Mini Main [6-Max] | $40,000 |
| maj 10 | 18:00 | 67-S: $2,625 Wednesday Double Stack HR | $300,000 |
| maj 10 | 18:00 | 67-H: $250 Wednesday Double Stack | $250,000 |
| maj 10 | 18:00 | 67-M: $25 Wednesday Double Stack | $100,000 |
| maj 10 | 18:00 | 67-L: $2.50 Mini Wednesday Double Stack | $20,000 |
| maj 10 | 20:00 | 68-S: $1,050 Wednesday Wiggle [Bounty 4-Max] | $150,000 |
| maj 10 | 20:00 | 68-H: $150 Wednesday Wiggle [Bounty 4-Max] | $100,000 |
| maj 10 | 20:00 | 68-M: $25 Wednesday Wiggle [Bounty 4-Max] | $50,000 |
| maj 10 | 20:00 | 68-L: $2.50 Wednesday Wiggle [Bounty 4-Max] | $10,000 |
| maj 9 | 21:30 | 69-S: $5,250 Omaholic Block Party Turbo | $100,000 |
| maj 9 | 21:30 | 69-H: $525 Omaholic Block Party Turbo | $50,000 |
| maj 9 | 21:30 | 69-M: $50 Omaholic Block Party Turbo | $25,000 |
| maj 9 | 21:30 | 69-L: $5 Omaholic Block Party Turbo | $10,000 |
| maj 11 | 14:00 | 70-S: $1,050 Great Wall Ultradeep Turbo | $75,000 |
| maj 11 | 14:00 | 70-H: $150 Great Wall Ultradeep Turbo | $60,000 |
| maj 11 | 14:00 | 70-M: $25 Great Wall Ultradeep Turbo | $50,000 |
| maj 11 | 14:00 | 70-L: $2.50 Great Wall Ultradeep Turbo | $10,000 |
| maj 11 | 16:30 | 71-S: $5,250 Bounty Hunters Super High Roller | $250,000 |
| maj 11 | 16:30 | 71-H: $525 Bounty Hunters HR [Classic] | $500,000 |
| maj 11 | 16:30 | 71-M: $54 Bounty Hunters Daily Main [Classic] | $250,000 |
| maj 11 | 16:30 | 71-L: $5.40 Bounty Hunters Mini Main [Classic] | $40,000 |
| maj 11 | 18:00 | 72-S: $10,300 Thursday Throwdown [Bounty] | $750,000 |
| maj 11 | 18:00 | 72-H: $1,050 Thursday Throwdown [Bounty] | $750,000 |
| maj 11 | 18:00 | 72-M: $150 Thursday Throwdown [Bounty] | $400,000 |
| maj 11 | 18:00 | 72-L: $25 Mini Thursday Throwdown [Bounty] | $150,000 |
| maj 11 | 19:00 | 73-S: $1,500 Thursday Triple Chance [3-Stack] | $150,000 |
| maj 11 | 19:00 | 73-H: $320 Thursday Triple Chance [3-Stack] | $125,000 |
| maj 11 | 19:00 | 73-M: $30 Thursday Triple Chance [3-Stack] | $100,000 |
| maj 11 | 19:00 | 73-L: $3 Thursday Triple Chance [3-Stack] | $20,000 |
| maj 11 | 21:30 | 74-S: $2,625 Bounty Hunters Carnaval HR | $125,000 |
| maj 11 | 21:30 | 74-H: $250 Bounty Hunters Carnaval | $100,000 |
| maj 11 | 21:30 | 74-M: $25 Bounty Hunters Carnaval | $50,000 |
| maj 11 | 21:30 | 74-L: $2.50 Bounty Hunters Carnaval | $10,000 |
| maj 12 | 13:30 | 75-S: $2,625 Black Rabbit Bounty | $100,000 |
| maj 12 | 13:30 | 75-H: $840 Black Rabbit Bounty | $75,000 |
| maj 12 | 13:30 | 75-M: $88 Black Rabbit Bounty | $50,000 |
| maj 12 | 13:30 | 75-L: $8.88 Black Rabbit Bounty | $25,000 |
| maj 12 | 16:30 | 76-S: $5,250 Bounty Hunters Super HR | $100,000 |
| maj 12 | 16:30 | 76-H: $525 Bounty Hunters HR [Big Bounties] | $200,000 |
| maj 12 | 16:30 | 76-M: $54 Bounty Hunters Daily Main [Big Bounties] | $150,000 |
| maj 12 | 16:30 | 76-L: $5.40 Bounty Hunters Mini Main [Big Bounties] | $40,000 |
| maj 12 | 18:00 | 77-S: $1,500 Friday Night Fight HR [Bounty 6-Max] | $200,000 |
| maj 12 | 18:00 | 77-H: $150 Friday Night Fight [Bounty 6-Max] | $125,000 |
| maj 12 | 18:00 | 77-M: $25 Friday Night Fight [Bounty 6-Max] | $100,000 |
| maj 12 | 18:00 | 77-L: $2.50 Mini Friday Night Fight [Bounty 6-Max] | $20,000 |
| maj 12 | 21:30 | 78-S: $1,050 TGIF Hyper Special [6-Max] | $60,000 |
| maj 12 | 21:30 | 78-H: $320 TGIF Hyper Special [6-Max] | $50,000 |
| maj 12 | 21:30 | 78-M: $30 TGIF Hyper Special [6-Max] | $25,000 |
| maj 12 | 21:30 | 78-L: $3.00 TGIF Hyper Special [6-Max] | $10,000 |
| maj 13 | 11:00 | 79-S: $2,023 Zodiac GOAT High Roller | $100,000 |
| maj 13 | 11:00 | 79-H: $250 Zodiac GOAT High Roller | $60,000 |
| maj 13 | 11:00 | 79-M: $25 Zodiac GOAT Mini High Roller | $50,000 |
| maj 13 | 11:00 | 79-L: $2.50 Zodiac GOAT Mini High Roller | $12,500 |
| maj 13 | 14:00 | 80-S: $2,625 Saturday Superstack | $250,000 |
| maj 13 | 14:00 | 80-H: $840 Saturday Superstack | $150,000 |
| maj 13 | 14:00 | 80-M: $88 Saturday Superstack | $100,000 |
| maj 13 | 14:00 | 80-L: $8.88 Saturday Superstack | $40,000 |
| maj 13 | 16:30 | 81-S: $5,250 Bounty Hunters Super HR | $100,000 |
| maj 13 | 16:30 | 81-H: $525 Bounty Hunters HR [Ultradeep] | $400,000 |
| maj 13 | 16:30 | 81-M: $54 Bounty Hunters Daily Main [Ultradeep] | $250,000 |
| maj 13 | 16:30 | 81-L: $5.40 Bounty Hunters Mini Main [Ultradeep] | $40,000 |
| maj 13 | 18:00 | 82-S: $10,300 Saturday Secret KO [Mystery Bounty] | $500,000 |
| maj 13 | 18:00 | 82-H: $1,050 Saturday Secret KO [Mystery Bounty] | $400,000 |
| maj 13 | 18:00 | 82-M: $150 Saturday Secret KO [Mystery Bounty] | $300,000 |
| maj 13 | 18:00 | 82-L: $25 Saturday Secret KO [Mystery Bounty] | $150,000 |
| maj 13 | 19:30 | 83-S: $10,300 Omaholic Secret KO [Mystery Bounty, PLO-NL] | $200,000 |
| maj 13 | 19:30 | 83-H: $1,050 Omaholic Secret KO [Mystery Bounty, PLO-NL] | $100,000 |
| maj 13 | 19:30 | 83-M: $150 Omaholic Secret KO [Mystery Bounty, PLO-NL] | $50,000 |
| maj 13 | 19:30 | 83-L: $25 Omaholic Secret KO [Mystery Bounty, PLO-NL] | $25,000 |
| maj 13 | 22:30 | 84-S: $1,050 Saturday Speed Zone [Hyper 4-Max] | $100,000 |
| maj 13 | 22:30 | 84-H: $250 Saturday Speed Zone [Hyper 4-Max] | $75,000 |
| maj 13 | 22:30 | 84-M: $50 Saturday Speed Zone [Hyper 4-Max] | $40,000 |
| maj 13 | 22:30 | 84-L: $5 Saturday Speed Zone [Hyper 4-Max] | $20,000 |
| maj 14 | 11:00 | 85-S: $2,625 CRAZY EIGHTS Asia HR | $100,000 |
| maj 14 | 11:00 | 85-H: $840 CRAZY EIGHTS Asia | $100,000 |
| maj 14 | 11:00 | 85-M: $88 CRAZY EIGHTS Asia | $88,000 |
| maj 14 | 11:00 | 85-L: $8.88 Mini CRAZY EIGHTS Asia | $25,000 |
| maj 14 | 12:30 | 86-S: $1,050 Festival Kickstarter [Bounty] | $100,000 |
| maj 14 | 12:30 | 86-H: $150 Festival Kickstarter [Bounty] | $100,000 |
| maj 14 | 12:30 | 86-M: $25 Festival Kickstarter [Bounty] | $88,000 |
| maj 14 | 12:30 | 86-L: $2.50 Festival Kickstarter [Bounty] | $15,000 |
| maj 14 | 14:00 | 87-S: $1,500 Sunday Marathon | $300,000 |
| maj 14 | 14:00 | 87-H: $320 Sunday Marathon | $200,000 |
| maj 14 | 14:00 | 87-M: $30 Sunday Marathon | $100,000 |
| maj 14 | 14:00 | 87-L: $3 Sunday Marathon | $15,000 |
| maj 14 | 15:00 | 88-S: $2,625 Sunday Grand Prix Europe HR | $250,000 |
| maj 14 | 15:00 | 88-H: $250 Sunday Grand Prix Europe | $250,000 |
| maj 14 | 15:00 | 88-M: $25 Sunday Grand Prix Europe | $100,000 |
| maj 14 | 15:00 | 88-L: $2.50 Mini Grand Prix Europe | $20,000 |
| maj 14 | 16:30 | 89-S: $5,250 Bounty Hunters Super High Roller | $400,000 |
| maj 14 | 16:30 | 89-H: $525 Bounty Hunters HR Main Event | $1,250,000 |
| maj 14 | 16:30 | 89-M: $54 Bounty Hunters Sunday Main Event | $500,000 |
| maj 14 | 16:30 | 89-L: $5.40 Bounty Hunters Sunday Mini Main | $60,000 |
| maj 14 | 18:00 | 90-S: $10,300 Super MILLION$ High Rollers [2-Day] | $2,500,000 |
| maj 14 | 17:00 | 90-H: $1,050 GGMasters High Rollers World Festival | $1,000,000 |
| maj 14 | 17:00 | 90-M: $150 GGMasters Festival Edition | $600,000 |
| maj 14 | 18:00 | 90-L: $15 Sunday Hundred Grand | $150,000 |
| maj 14 | 18:30 | 91-S: $2,625 Blade Bounty King | $100,000 |
| maj 14 | 18:30 | 91-H: $320 GGMasters Bounty King | $500,000 |
| maj 14 | 18:30 | 91-M: $30 Sunday Bounty King Jr | $200,000 |
| maj 14 | 18:30 | 91-L: $3 Sunday Bounty King Baby | $25,000 |
| maj 14 | 19:00 | 92-S: $25,500 Sunday Super High Roller | $500,000 |
| maj 14 | 19:00 | 92-H: $1,050 High Rollers Main Event | $600,000 |
| maj 14 | 19:00 | 92-M: $250 Sunday Main Event | $400,000 |
| maj 14 | 19:00 | 92-L: $25 Sunday Mini Main Event | $125,000 |
| maj 14 | 20:00 | 93-S: $5,250 Omaholic Bounty Main Event HR | $200,000 |
| maj 14 | 20:00 | 93-H: $1,050 Omaholic Bounty Main Event | $200,000 |
| maj 14 | 20:00 | 93-M: $150 Omaholic Bounty Main Event | $75,000 |
| maj 14 | 20:00 | 93-L: $25 Omaholic Bounty Mini Main | $40,000 |
| maj 14 | 21:00 | 94-S: $2,625 Sunday Heater HR [Bounty Turbo] | $200,000 |
| maj 14 | 21:00 | 94-H: $250 Sunday Heater [Bounty Turbo] | $200,000 |
| maj 14 | 21:00 | 94-M: $25 Sunday Heater [Bounty Turbo] | $100,000 |
| maj 14 | 21:00 | 94-L: $2.50 Mini Sunday Heater [Bounty Turbo] | $10,000 |
| maj 14 | 22:30 | 95-S: $1,500 Bounty King Americas SHR | $125,000 |
| maj 14 | 22:30 | 95-H: $525 Bounty King Americas | $100,000 |
| maj 14 | 22:30 | 95-M: $54 Bounty King Americas | $50,000 |
| maj 14 | 22:30 | 95-L: $5.40 Bounty King Americas | $20,000 |
| maj 14 | 23:00 | 96-S: $1,050 Sunday Saver HR [Hyper] | $150,000 |
| maj 14 | 23:00 | 96-H: $250 Sunday Saver [Hyper] | $150,000 |
| maj 14 | 23:00 | 96-M: $50 Sunday Saver [Hyper] | $100,000 |
| maj 14 | 23:00 | 96-L: $5 Mini Sunday Saver [Hyper] | $20,000 |
| maj 15 | 13:30 | 97-S: $1,500 Monday Challenge Asia [6-Max] | $75,000 |
| maj 15 | 13:30 | 97-H: $150 Monday Challenge Asia [6-Max] | $60,000 |
| maj 15 | 13:30 | 97-M: $25 Monday Challenge Asia [6-Max] | $50,000 |
| maj 15 | 13:30 | 97-L: $2.50 Mini Monday Challenge Asia [6-Max] | $10,000 |
| maj 15 | 16:30 | 98-S: $5,250 Bounty Hunters Super High Roller | $250,000 |
| maj 15 | 16:30 | 98-H: $525 Bounty Hunters HR [Classic] | $500,000 |
| maj 15 | 16:30 | 98-M: $54 Bounty Hunters Daily Main [Classic] | $250,000 |
| maj 15 | 16:30 | 98-L: $5.40 Bounty Hunters Mini Main [Classic] | $40,000 |
| maj 15 | 18:00 | 99-S: $10,300 Monday Super HR | $500,000 |
| maj 15 | 18:00 | 99-H: $1,050 Monday Monster Stack HR | $500,000 |
| maj 15 | 18:00 | 99-M: $150 Monday Monster Stack | $300,000 |
| maj 15 | 18:00 | 99-L: $25 Mini Monday Monster Stack | $100,000 |
| maj 15 | 19:00 | 100-S: $1,500 Monday Bounty Magic HR | $300,000 |
| maj 15 | 19:00 | 100-H: $320 Monday Bounty Magic | $250,000 |
| maj 15 | 19:00 | 100-M: $30 Monday Bounty Magic | $100,000 |
| maj 15 | 19:00 | 100-L: $3 Monday Bounty Magic | $15,000 |
| maj 15 | 20:00 | 101-S: $2,625 LUCKY SEVENS Samba HR [7-Max] | $200,000 |
| maj 15 | 20:00 | 101-H: $777 LUCKY SEVENS Samba [7-Max] | $77,000 |
| maj 15 | 20:00 | 101-M: $77 LUCKY SEVENS Samba [7-Max] | $77,000 |
| maj 15 | 20:00 | 101-L: $7.77 LUCKY SEVENS Samba [7-Max] | $25,000 |
| maj 16 | 13:00 | 102-S: $2,625 Double Dragon [2-Stack] | $75,000 |
| maj 16 | 13:00 | 102-H: $250 Double Dragon [2-Stack] | $60,000 |
| maj 16 | 13:00 | 102-M: $25 Double Dragon [2-Stack] | $50,000 |
| maj 16 | 13:00 | 102-L: $2.50 Mini Double Dragon [2-Stack] | $12,500 |
| maj 16 | 16:30 | 103-S: $5,250 Bounty Hunters Super High Roller | $250,000 |
| maj 16 | 16:30 | 103-H: $525 Bounty Hunters HR [Deepstack] | $500,000 |
| maj 16 | 16:30 | 103-M: $54 Bounty Hunters Daily Main [Deepstack] | $250,000 |
| maj 16 | 16:30 | 103-L: $5.40 Bounty Hunters Mini Main [Deepstack] | $40,000 |
| maj 16 | 18:00 | 104-S: $10,300 Tuesday Classic Super HR | $750,000 |
| maj 16 | 18:00 | 104-H: $1,050 Tuesday Classic HR | $600,000 |
| maj 16 | 18:00 | 104-M: $150 Tuesday Classic | $300,000 |
| maj 16 | 18:00 | 104-L: $25 Mini Tuesday Classic | $100,000 |
| maj 16 | 19:30 | 105-S: $2,625 Tuesday Takedown [Bounty 7-Max] | $300,000 |
| maj 16 | 19:30 | 105-H: $840 Tuesday Takedown [Bounty 7-Max] | $250,000 |
| maj 16 | 19:30 | 105-M: $88 Tuesday Takedown [Bounty 7-Max] | $150,000 |
| maj 16 | 19:30 | 105-L: $8.88 Tuesday Takedown [Bounty 7-Max] | $50,000 |
| maj 16 | 21:00 | 106-S: $1,500 Tuesday Super Heater HR [Bounty Turbo] | $150,000 |
| maj 16 | 21:00 | 106-H: $525 Tuesday Super Heater HR [Bounty Turbo] | $100,000 |
| maj 16 | 21:00 | 106-M: $54 Tuesday Super Heater [Bounty Turbo] | $60,000 |
| maj 16 | 21:00 | 106-L: $5.40 Tuesday Mini Heater [Bounty Turbo] | $15,000 |
| maj 17 | 14:00 | 107-S: $1,500 Wednesday Warm-Up [Deep Stacks] | $200,000 |
| maj 17 | 14:00 | 107-H: $320 Wednesday Warm-Up [Deep Stacks] | $150,000 |
| maj 17 | 14:00 | 107-M: $30 Wednesday Warm-Up [Deep Stacks] | $100,000 |
| maj 17 | 14:00 | 107-L: $3 Wednesday Warm-Up [Deep Stacks] | $15,000 |
| maj 17 | 16:30 | 108-S: $5,250 Bounty Hunters Super High Roller | $250,000 |
| maj 17 | 16:30 | 108-H: $525 Bounty Hunters HR [6-Max] | $400,000 |
| maj 17 | 16:30 | 108-M: $54 Bounty Hunters Daily Main [6-Max] | $250,000 |
| maj 17 | 16:30 | 108-L: $5.40 Bounty Hunters Mini Main [6-Max] | $40,000 |
| maj 17 | 18:00 | 109-S: $2,625 Wednesday Double Stack HR | $300,000 |
| maj 17 | 18:00 | 109-H: $250 Wednesday Double Stack | $250,000 |
| maj 17 | 18:00 | 109-M: $25 Wednesday Double Stack | $100,000 |
| maj 17 | 18:00 | 109-L: $2.50 Mini Wednesday Double Stack | $20,000 |
| maj 17 | 20:00 | 110-S: $1,050 Wednesday Wiggle [Bounty 4-Max] | $150,000 |
| maj 17 | 20:00 | 110-H: $150 Wednesday Wiggle [Bounty 4-Max] | $100,000 |
| maj 17 | 20:00 | 110-M: $25 Wednesday Wiggle [Bounty 4-Max] | $50,000 |
| maj 17 | 20:00 | 110-L: $2.50 Wednesday Wiggle [Bounty 4-Max] | $10,000 |
| maj 16 | 21:30 | 111-S: $5,250 Omaholic Block Party Turbo | $100,000 |
| maj 16 | 21:30 | 111-H: $525 Omaholic Block Party Turbo | $50,000 |
| maj 16 | 21:30 | 111-M: $50 Omaholic Block Party Turbo | $25,000 |
| maj 16 | 21:30 | 111-L: $5 Omaholic Block Party Turbo | $10,000 |
| maj 18 | 14:00 | 112-S: $1,050 Great Wall Ultradeep Turbo | $75,000 |
| maj 18 | 14:00 | 112-H: $150 Great Wall Ultradeep Turbo | $60,000 |
| maj 18 | 14:00 | 112-M: $25 Great Wall Ultradeep Turbo | $50,000 |
| maj 18 | 14:00 | 112-L: $2.50 Great Wall Ultradeep Turbo | $10,000 |
| maj 18 | 16:30 | 113-S: $5,250 Bounty Hunters Super High Roller | $250,000 |
| maj 18 | 16:30 | 113-H: $525 Bounty Hunters HR [Classic] | $500,000 |
| maj 18 | 16:30 | 113-M: $54 Bounty Hunters Daily Main [Classic] | $250,000 |
| maj 18 | 16:30 | 113-L: $5.40 Bounty Hunters Mini Main [Classic] | $40,000 |
| maj 18 | 18:00 | 114-S: $10,300 Thursday Throwdown [Bounty] | $750,000 |
| maj 18 | 18:00 | 114-H: $1,050 Thursday Throwdown [Bounty] | $750,000 |
| maj 18 | 18:00 | 114-M: $150 Thursday Throwdown [Bounty] | $400,000 |
| maj 18 | 18:00 | 114-L: $25 Mini Thursday Throwdown [Bounty] | $150,000 |
| maj 18 | 19:00 | 115-S: $1,500 Thursday Triple Chance [3-Stack] | $150,000 |
| maj 18 | 19:00 | 115-H: $320 Thursday Triple Chance [3-Stack] | $125,000 |
| maj 18 | 19:00 | 115-M: $30 Thursday Triple Chance [3-Stack] | $100,000 |
| maj 18 | 19:00 | 115-L: $3 Thursday Triple Chance [3-Stack] | $20,000 |
| maj 18 | 21:30 | 116-S: $2,625 Bounty Hunters Carnaval HR | $125,000 |
| maj 18 | 21:30 | 116-H: $250 Bounty Hunters Carnaval | $100,000 |
| maj 18 | 21:30 | 116-M: $25 Bounty Hunters Carnaval | $50,000 |
| maj 18 | 21:30 | 116-L: $2.50 Bounty Hunters Carnaval | $10,000 |
| maj 19 | 13:30 | 117-S: $2,625 Black Rabbit Bounty | $100,000 |
| maj 19 | 13:30 | 117-H: $840 Black Rabbit Bounty | $75,000 |
| maj 19 | 13:30 | 117-M: $88 Black Rabbit Bounty | $50,000 |
| maj 19 | 13:30 | 117-L: $8.88 Black Rabbit Bounty | $25,000 |
| maj 19 | 16:30 | 118-S: $5,250 Bounty Hunters Super HR | $100,000 |
| maj 19 | 16:30 | 118-H: $525 Bounty Hunters HR [Big Bounties] | $200,000 |
| maj 19 | 16:30 | 118-M: $54 Bounty Hunters Daily Main [Big Bounties] | $150,000 |
| maj 19 | 16:30 | 118-L: $5.40 Bounty Hunters Mini Main [Big Bounties] | $40,000 |
| maj 19 | 18:00 | 119-S: $1,500 Friday Night Fight HR [Bounty 6-Max] | $200,000 |
| maj 19 | 18:00 | 119-H: $150 Friday Night Fight [Bounty 6-Max] | $125,000 |
| maj 19 | 18:00 | 119-M: $25 Friday Night Fight [Bounty 6-Max] | $100,000 |
| maj 19 | 18:00 | 119-L: $2.50 Mini Friday Night Fight [Bounty 6-Max] | $20,000 |
| maj 19 | 21:30 | 120-S: $1,050 TGIF Hyper Special [6-Max] | $60,000 |
| maj 19 | 21:30 | 120-H: $320 TGIF Hyper Special [6-Max] | $50,000 |
| maj 19 | 21:30 | 120-M: $30 TGIF Hyper Special [6-Max] | $25,000 |
| maj 19 | 21:30 | 120-L: $3.00 TGIF Hyper Special [6-Max] | $10,000 |
| maj 20 | 11:00 | 121-S: $2,023 Zodiac GOAT High Roller | $100,000 |
| maj 20 | 11:00 | 121-H: $250 Zodiac GOAT High Roller | $60,000 |
| maj 20 | 11:00 | 121-M: $25 Zodiac GOAT Mini High Roller | $50,000 |
| maj 20 | 11:00 | 121-L: $2.50 Zodiac GOAT Mini High Roller | $12,500 |
| maj 20 | 14:00 | 122-S: $2,625 Saturday Superstack | $250,000 |
| maj 20 | 14:00 | 122-H: $840 Saturday Superstack | $150,000 |
| maj 20 | 14:00 | 122-M: $88 Saturday Superstack | $100,000 |
| maj 20 | 14:00 | 122-L: $8.88 Saturday Superstack | $40,000 |
| maj 20 | 16:30 | 123-S: $5,250 Bounty Hunters Super HR | $100,000 |
| maj 20 | 16:30 | 123-H: $525 Bounty Hunters HR [Ultradeep] | $400,000 |
| maj 20 | 16:30 | 123-M: $54 Bounty Hunters Daily Main [Ultradeep] | $250,000 |
| maj 20 | 16:30 | 123-L: $5.40 Bounty Hunters Mini Main [Ultradeep] | $40,000 |
| maj 20 | 18:00 | 124-S: $10,300 Saturday Secret KO [Mystery Bounty] | $500,000 |
| maj 20 | 18:00 | 124-H: $1,050 Saturday Secret KO [Mystery Bounty] | $400,000 |
| maj 20 | 18:00 | 124-M: $150 Saturday Secret KO [Mystery Bounty] | $300,000 |
| maj 20 | 18:00 | 124-L: $25 Saturday Secret KO [Mystery Bounty] | $150,000 |
| maj 20 | 19:30 | 125-S: $10,300 Omaholic Secret KO [Mystery Bounty, PLO-NL] | $200,000 |
| maj 20 | 19:30 | 125-H: $1,050 Omaholic Secret KO [Mystery Bounty, PLO-NL] | $100,000 |
| maj 20 | 19:30 | 125-M: $150 Omaholic Secret KO [Mystery Bounty, PLO-NL] | $50,000 |
| maj 20 | 19:30 | 125-L: $25 Omaholic Secret KO [Mystery Bounty, PLO-NL] | $25,000 |
| maj 20 | 22:30 | 126-S: $1,050 Saturday Speed Zone [Hyper 4-Max] | $100,000 |
| maj 20 | 22:30 | 126-H: $250 Saturday Speed Zone [Hyper 4-Max] | $75,000 |
| maj 20 | 22:30 | 126-M: $50 Saturday Speed Zone [Hyper 4-Max] | $40,000 |
| maj 20 | 22:30 | 126-L: $5 Saturday Speed Zone [Hyper 4-Max] | $20,000 |
| maj 21 | 11:00 | 127-S: $2,625 CRAZY EIGHTS Asia HR | $100,000 |
| maj 21 | 11:00 | 127-H: $840 CRAZY EIGHTS Asia | $100,000 |
| maj 21 | 11:00 | 127-M: $88 CRAZY EIGHTS Asia | $88,000 |
| maj 21 | 11:00 | 127-L: $8.88 Mini CRAZY EIGHTS Asia | $25,000 |
| maj 21 | 12:30 | 128-S: $1,050 Festival Kickstarter [Bounty] | $100,000 |
| maj 21 | 12:30 | 128-H: $150 Festival Kickstarter [Bounty] | $100,000 |
| maj 21 | 12:30 | 128-M: $25 Festival Kickstarter [Bounty] | $88,000 |
| maj 21 | 12:30 | 128-L: $2.50 Festival Kickstarter [Bounty] | $15,000 |
| maj 21 | 14:00 | 129-S: $1,500 Sunday Marathon | $300,000 |
| maj 21 | 14:00 | 129-H: $320 Sunday Marathon | $200,000 |
| maj 21 | 14:00 | 129-M: $30 Sunday Marathon | $100,000 |
| maj 21 | 14:00 | 129-L: $3 Sunday Marathon | $15,000 |
| maj 21 | 15:00 | 130-S: $2,625 Sunday Grand Prix Europe HR | $250,000 |
| maj 21 | 15:00 | 130-H: $250 Sunday Grand Prix Europe | $250,000 |
| maj 21 | 15:00 | 130-M: $25 Sunday Grand Prix Europe | $100,000 |
| maj 21 | 15:00 | 130-L: $2.50 Mini Grand Prix Europe | $20,000 |
| maj 21 | 16:30 | 131-S: $5,250 Bounty Hunters Super High Roller | $400,000 |
| maj 21 | 16:30 | 131-H: $525 Bounty Hunters HR Main Event | $1,250,000 |
| maj 21 | 16:30 | 131-M: $54 Bounty Hunters Sunday Main Event | $500,000 |
| maj 21 | 16:30 | 131-L: $5.40 Bounty Hunters Sunday Mini Main | $60,000 |
| maj 21 | 18:00 | 132-S: $10,300 Super MILLION$ High Rollers [2-Day] | $2,500,000 |
| maj 21 | 17:00 | 132-H: $1,050 GGMasters High Rollers World Festival | $1,000,000 |
| maj 21 | 17:00 | 132-M: $150 GGMasters Festival Edition | $600,000 |
| maj 21 | 18:00 | 132-L: $15 Sunday Hundred Grand | $150,000 |
| maj 21 | 18:30 | 133-S: $2,625 Blade Bounty King | $100,000 |
| maj 21 | 18:30 | 133-H: $320 GGMasters Bounty King | $500,000 |
| maj 21 | 18:30 | 133-M: $30 Sunday Bounty King Jr | $200,000 |
| maj 21 | 18:30 | 133-L: $3 Sunday Bounty King Baby | $25,000 |
| maj 21 | 19:00 | 134-S: $25,500 Sunday Super High Roller | $500,000 |
| maj 21 | 19:00 | 134-H: $1,050 High Rollers Main Event | $600,000 |
| maj 21 | 19:00 | 134-M: $250 Sunday Main Event | $400,000 |
| maj 21 | 19:00 | 134-L: $25 Sunday Mini Main Event | $125,000 |
| maj 21 | 20:00 | 135-S: $5,250 Omaholic Bounty Main Event HR | $200,000 |
| maj 21 | 20:00 | 135-H: $1,050 Omaholic Bounty Main Event | $200,000 |
| maj 21 | 20:00 | 135-M: $150 Omaholic Bounty Main Event | $75,000 |
| maj 21 | 20:00 | 135-L: $25 Omaholic Bounty Mini Main | $40,000 |
| maj 21 | 21:00 | 136-S: $2,625 Sunday Heater HR [Bounty Turbo] | $200,000 |
| maj 21 | 21:00 | 136-H: $250 Sunday Heater [Bounty Turbo] | $200,000 |
| maj 21 | 21:00 | 136-M: $25 Sunday Heater [Bounty Turbo] | $100,000 |
| maj 21 | 21:00 | 136-L: $2.50 Mini Sunday Heater [Bounty Turbo] | $10,000 |
| maj 21 | 22:30 | 137-S: $1,500 Bounty King Americas SHR | $125,000 |
| maj 21 | 22:30 | 137-H: $525 Bounty King Americas | $100,000 |
| maj 21 | 22:30 | 137-M: $54 Bounty King Americas | $50,000 |
| maj 21 | 22:30 | 137-L: $5.40 Bounty King Americas | $20,000 |
| maj 21 | 23:00 | 138-S: $1,050 Sunday Saver HR [Hyper] | $150,000 |
| maj 21 | 23:00 | 138-H: $250 Sunday Saver [Hyper] | $150,000 |
| maj 21 | 23:00 | 138-M: $50 Sunday Saver [Hyper] | $100,000 |
| maj 21 | 23:00 | 138-L: $5 Mini Sunday Saver [Hyper] | $20,000 |
| maj 22 | 13:30 | 139-S: $1,500 Monday Challenge Asia [6-Max] | $75,000 |
| maj 22 | 13:30 | 139-H: $150 Monday Challenge Asia [6-Max] | $60,000 |
| maj 22 | 13:30 | 139-M: $25 Monday Challenge Asia [6-Max] | $50,000 |
| maj 22 | 13:30 | 139-L: $2.50 Mini Monday Challenge Asia [6-Max] | $10,000 |
| maj 22 | 16:30 | 140-S: $5,250 Bounty Hunters Super High Roller | $250,000 |
| maj 22 | 16:30 | 140-H: $525 Bounty Hunters HR [Classic] | $500,000 |
| maj 22 | 16:30 | 140-M: $54 Bounty Hunters Daily Main [Classic] | $250,000 |
| maj 22 | 16:30 | 140-L: $5.40 Bounty Hunters Mini Main [Classic] | $40,000 |
| maj 22 | 18:00 | 141-S: $10,300 Monday Super HR | $500,000 |
| maj 22 | 18:00 | 141-H: $1,050 Monday Monster Stack HR | $500,000 |
| maj 22 | 18:00 | 141-M: $150 Monday Monster Stack | $300,000 |
| maj 22 | 18:00 | 141-L: $25 Mini Monday Monster Stack | $100,000 |
| maj 22 | 19:00 | 142-S: $1,500 Monday Bounty Magic HR | $300,000 |
| maj 22 | 19:00 | 142-H: $320 Monday Bounty Magic | $250,000 |
| maj 22 | 19:00 | 142-M: $30 Monday Bounty Magic | $100,000 |
| maj 22 | 19:00 | 142-L: $3 Monday Bounty Magic | $15,000 |
| maj 22 | 20:00 | 143-S: $2,625 LUCKY SEVENS Samba HR [7-Max] | $200,000 |
| maj 22 | 20:00 | 143-H: $777 LUCKY SEVENS Samba [7-Max] | $77,000 |
| maj 22 | 20:00 | 143-M: $77 LUCKY SEVENS Samba [7-Max] | $77,000 |
| maj 22 | 20:00 | 143-L: $7.77 LUCKY SEVENS Samba [7-Max] | $25,000 |
| maj 23 | 13:00 | 144-S: $2,625 Double Dragon [2-Stack] | $75,000 |
| maj 23 | 13:00 | 144-H: $250 Double Dragon [2-Stack] | $60,000 |
| maj 23 | 13:00 | 144-M: $25 Double Dragon [2-Stack] | $50,000 |
| maj 23 | 13:00 | 144-L: $2.50 Mini Double Dragon [2-Stack] | $12,500 |
| maj 23 | 16:30 | 145-S: $5,250 Bounty Hunters Super High Roller | $250,000 |
| maj 23 | 16:30 | 145-H: $525 Bounty Hunters HR [Deepstack] | $500,000 |
| maj 23 | 16:30 | 145-M: $54 Bounty Hunters Daily Main [Deepstack] | $250,000 |
| maj 23 | 16:30 | 145-L: $5.40 Bounty Hunters Mini Main [Deepstack] | $40,000 |
| maj 23 | 18:00 | 146-S: $10,300 Tuesday Classic Super HR | $750,000 |
| maj 23 | 18:00 | 146-H: $1,050 Tuesday Classic HR | $600,000 |
| maj 23 | 18:00 | 146-M: $150 Tuesday Classic | $300,000 |
| maj 23 | 18:00 | 146-L: $25 Mini Tuesday Classic | $100,000 |
| maj 23 | 19:30 | 147-S: $2,625 Tuesday Takedown [Bounty 7-Max] | $300,000 |
| maj 23 | 19:30 | 147-H: $840 Tuesday Takedown [Bounty 7-Max] | $250,000 |
| maj 23 | 19:30 | 147-M: $88 Tuesday Takedown [Bounty 7-Max] | $150,000 |
| maj 23 | 19:30 | 147-L: $8.88 Tuesday Takedown [Bounty 7-Max] | $50,000 |
| maj 23 | 21:00 | 148-S: $1,500 Tuesday Super Heater HR [Bounty Turbo] | $150,000 |
| maj 23 | 21:00 | 148-H: $525 Tuesday Super Heater HR [Bounty Turbo] | $100,000 |
| maj 23 | 21:00 | 148-M: $54 Tuesday Super Heater [Bounty Turbo] | $60,000 |
| maj 23 | 21:00 | 148-L: $5.40 Tuesday Mini Heater [Bounty Turbo] | $15,000 |
| maj 24 | 14:00 | 149-S: $1,500 Wednesday Warm-Up [Deep Stacks] | $200,000 |
| maj 24 | 14:00 | 149-H: $320 Wednesday Warm-Up [Deep Stacks] | $150,000 |
| maj 24 | 14:00 | 149-M: $30 Wednesday Warm-Up [Deep Stacks] | $100,000 |
| maj 24 | 14:00 | 149-L: $3 Wednesday Warm-Up [Deep Stacks] | $15,000 |
| maj 24 | 16:30 | 150-S: $5,250 Bounty Hunters Super High Roller | $250,000 |
| maj 24 | 16:30 | 150-H: $525 Bounty Hunters HR [6-Max] | $400,000 |
| maj 24 | 16:30 | 150-M: $54 Bounty Hunters Daily Main [6-Max] | $250,000 |
| maj 24 | 16:30 | 150-L: $5.40 Bounty Hunters Mini Main [6-Max] | $40,000 |
| maj 24 | 18:00 | 151-S: $2,625 Wednesday Double Stack HR | $300,000 |
| maj 24 | 18:00 | 151-H: $250 Wednesday Double Stack | $250,000 |
| maj 24 | 18:00 | 151-M: $25 Wednesday Double Stack | $100,000 |
| maj 24 | 18:00 | 151-L: $2.50 Mini Wednesday Double Stack | $20,000 |
| maj 24 | 20:00 | 152-S: $1,050 Wednesday Wiggle [Bounty 4-Max] | $150,000 |
| maj 24 | 20:00 | 152-H: $150 Wednesday Wiggle [Bounty 4-Max] | $100,000 |
| maj 24 | 20:00 | 152-M: $25 Wednesday Wiggle [Bounty 4-Max] | $50,000 |
| maj 24 | 20:00 | 152-L: $2.50 Wednesday Wiggle [Bounty 4-Max] | $10,000 |
| maj 23 | 21:30 | 153-S: $5,250 Omaholic Block Party Turbo | $100,000 |
| maj 23 | 21:30 | 153-H: $525 Omaholic Block Party Turbo | $50,000 |
| maj 23 | 21:30 | 153-M: $50 Omaholic Block Party Turbo | $25,000 |
| maj 23 | 21:30 | 153-L: $5 Omaholic Block Party Turbo | $10,000 |
| maj 25 | 14:00 | 154-S: $1,050 Great Wall Ultradeep Turbo | $75,000 |
| maj 25 | 14:00 | 154-H: $150 Great Wall Ultradeep Turbo | $60,000 |
| maj 25 | 14:00 | 154-M: $25 Great Wall Ultradeep Turbo | $50,000 |
| maj 25 | 14:00 | 154-L: $2.50 Great Wall Ultradeep Turbo | $10,000 |
| maj 25 | 16:30 | 155-S: $5,250 Bounty Hunters Super High Roller | $250,000 |
| maj 25 | 16:30 | 155-H: $525 Bounty Hunters HR [Classic] | $500,000 |
| maj 25 | 16:30 | 155-M: $54 Bounty Hunters Daily Main [Classic] | $250,000 |
| maj 25 | 16:30 | 155-L: $5.40 Bounty Hunters Mini Main [Classic] | $40,000 |
| maj 25 | 18:00 | 156-S: $10,300 Thursday Throwdown [Bounty] | $750,000 |
| maj 25 | 18:00 | 156-H: $1,050 Thursday Throwdown [Bounty] | $750,000 |
| maj 25 | 18:00 | 156-M: $150 Thursday Throwdown [Bounty] | $400,000 |
| maj 25 | 18:00 | 156-L: $25 Mini Thursday Throwdown [Bounty] | $150,000 |
| maj 25 | 19:00 | 157-S: $1,500 Thursday Triple Chance [3-Stack] | $150,000 |
| maj 25 | 19:00 | 157-H: $320 Thursday Triple Chance [3-Stack] | $125,000 |
| maj 25 | 19:00 | 157-M: $30 Thursday Triple Chance [3-Stack] | $100,000 |
| maj 25 | 19:00 | 157-L: $3 Thursday Triple Chance [3-Stack] | $20,000 |
| maj 25 | 21:30 | 158-S: $2,625 Bounty Hunters Carnaval HR | $125,000 |
| maj 25 | 21:30 | 158-H: $250 Bounty Hunters Carnaval | $100,000 |
| maj 25 | 21:30 | 158-M: $25 Bounty Hunters Carnaval | $50,000 |
| maj 25 | 21:30 | 158-L: $2.50 Bounty Hunters Carnaval | $10,000 |
| maj 26 | 13:30 | 159-S: $2,625 Black Rabbit Bounty | $100,000 |
| maj 26 | 13:30 | 159-H: $840 Black Rabbit Bounty | $75,000 |
| maj 26 | 13:30 | 159-M: $88 Black Rabbit Bounty | $50,000 |
| maj 26 | 13:30 | 159-L: $8.88 Black Rabbit Bounty | $25,000 |
| maj 26 | 16:30 | 160-S: $5,250 Bounty Hunters Super HR | $100,000 |
| maj 26 | 16:30 | 160-H: $525 Bounty Hunters HR [Big Bounties] | $200,000 |
| maj 26 | 16:30 | 160-M: $54 Bounty Hunters Daily Main [Big Bounties] | $150,000 |
| maj 26 | 16:30 | 160-L: $5.40 Bounty Hunters Mini Main [Big Bounties] | $40,000 |
| maj 26 | 18:00 | 161-S: $1,500 Friday Night Fight HR [Bounty 6-Max] | $200,000 |
| maj 26 | 18:00 | 161-H: $150 Friday Night Fight [Bounty 6-Max] | $125,000 |
| maj 26 | 18:00 | 161-M: $25 Friday Night Fight [Bounty 6-Max] | $100,000 |
| maj 26 | 18:00 | 161-L: $2.50 Mini Friday Night Fight [Bounty 6-Max] | $20,000 |
| maj 26 | 21:30 | 162-S: $1,050 TGIF Hyper Special [6-Max] | $60,000 |
| maj 26 | 21:30 | 162-H: $320 TGIF Hyper Special [6-Max] | $50,000 |
| maj 26 | 21:30 | 162-M: $30 TGIF Hyper Special [6-Max] | $25,000 |
| maj 26 | 21:30 | 162-L: $3.00 TGIF Hyper Special [6-Max] | $10,000 |
| maj 27 | 11:00 | 163-S: $2,023 Zodiac GOAT High Roller | $100,000 |
| maj 27 | 11:00 | 163-H: $250 Zodiac GOAT High Roller | $60,000 |
| maj 27 | 11:00 | 163-M: $25 Zodiac GOAT Mini High Roller | $50,000 |
| maj 27 | 11:00 | 163-L: $2.50 Zodiac GOAT Mini High Roller | $12,500 |
| maj 27 | 14:00 | 164-S: $2,625 Saturday Superstack | $250,000 |
| maj 27 | 14:00 | 164-H: $840 Saturday Superstack | $150,000 |
| maj 27 | 14:00 | 164-M: $88 Saturday Superstack | $100,000 |
| maj 27 | 14:00 | 164-L: $8.88 Saturday Superstack | $40,000 |
| maj 27 | 16:30 | 165-S: $5,250 Bounty Hunters Super HR | $100,000 |
| maj 27 | 16:30 | 165-H: $525 Bounty Hunters HR [Ultradeep] | $400,000 |
| maj 27 | 16:30 | 165-M: $54 Bounty Hunters Daily Main [Ultradeep] | $250,000 |
| maj 27 | 16:30 | 165-L: $5.40 Bounty Hunters Mini Main [Ultradeep] | $40,000 |
| maj 27 | 18:00 | 166-S: $10,300 Saturday Secret KO [Mystery Bounty] | $500,000 |
| maj 27 | 18:00 | 166-H: $1,050 Saturday Secret KO [Mystery Bounty] | $400,000 |
| maj 27 | 18:00 | 166-M: $150 Saturday Secret KO [Mystery Bounty] | $300,000 |
| maj 27 | 18:00 | 166-L: $25 Saturday Secret KO [Mystery Bounty] | $150,000 |
| maj 27 | 19:30 | 167-S: $10,300 Omaholic Secret KO [Mystery Bounty, PLO-NL] | $200,000 |
| maj 27 | 19:30 | 167-H: $1,050 Omaholic Secret KO [Mystery Bounty, PLO-NL] | $100,000 |
| maj 27 | 19:30 | 167-M: $150 Omaholic Secret KO [Mystery Bounty, PLO-NL] | $50,000 |
| maj 27 | 19:30 | 167-L: $25 Omaholic Secret KO [Mystery Bounty, PLO-NL] | $25,000 |
| maj 27 | 22:30 | 168-S: $1,050 Saturday Speed Zone [Hyper 4-Max] | $100,000 |
| maj 27 | 22:30 | 168-H: $250 Saturday Speed Zone [Hyper 4-Max] | $75,000 |
| maj 27 | 22:30 | 168-M: $50 Saturday Speed Zone [Hyper 4-Max] | $40,000 |
| maj 27 | 22:30 | 168-L: $5 Saturday Speed Zone [Hyper 4-Max] | $20,000 |
| maj 28 | 11:00 | 169-S: $2,625 CRAZY EIGHTS Asia HR | $100,000 |
| maj 28 | 11:00 | 169-H: $840 CRAZY EIGHTS Asia | $100,000 |
| maj 28 | 11:00 | 169-M: $88 CRAZY EIGHTS Asia | $88,000 |
| maj 28 | 11:00 | 169-L: $8.88 Mini CRAZY EIGHTS Asia | $25,000 |
| maj 28 | 12:30 | 170-S: $1,050 Festival Kickstarter [Bounty] | $100,000 |
| maj 28 | 12:30 | 170-H: $150 Festival Kickstarter [Bounty] | $100,000 |
| maj 28 | 12:30 | 170-M: $25 Festival Kickstarter [Bounty] | $88,000 |
| maj 28 | 12:30 | 170-L: $2.50 Festival Kickstarter [Bounty] | $15,000 |
| maj 28 | 14:00 | 171-S: $1,500 Sunday Marathon | $300,000 |
| maj 28 | 14:00 | 171-H: $320 Sunday Marathon | $200,000 |
| maj 28 | 14:00 | 171-M: $30 Sunday Marathon | $100,000 |
| maj 28 | 14:00 | 171-L: $3 Sunday Marathon | $15,000 |
| maj 28 | 15:00 | 172-S: $2,625 Sunday Grand Prix Europe HR | $250,000 |
| maj 28 | 15:00 | 172-H: $250 Sunday Grand Prix Europe | $250,000 |
| maj 28 | 15:00 | 172-M: $25 Sunday Grand Prix Europe | $100,000 |
| maj 28 | 15:00 | 172-L: $2.50 Mini Grand Prix Europe | $20,000 |
| maj 28 | 16:30 | 173-S: $5,250 Bounty Hunters Super High Roller | $400,000 |
| maj 28 | 16:30 | 173-H: $525 Bounty Hunters HR Main Event | $1,250,000 |
| maj 28 | 16:30 | 173-M: $54 Bounty Hunters Sunday Main Event | $500,000 |
| maj 28 | 16:30 | 173-L: $5.40 Bounty Hunters Sunday Mini Main | $60,000 |
| maj 28 | 18:00 | 174-S: $10,300 Super MILLION$ High Rollers [2-Day] | $2,500,000 |
| maj 28 | 17:00 | 174-H: $1,050 GGMasters High Rollers World Festival | $1,000,000 |
| maj 28 | 17:00 | 174-M: $150 GGMasters Festival Edition | $600,000 |
| maj 28 | 18:00 | 174-L: $15 Sunday Hundred Grand | $150,000 |
| maj 28 | 18:30 | 175-S: $2,625 Blade Bounty King | $100,000 |
| maj 28 | 18:30 | 175-H: $320 GGMasters Bounty King | $500,000 |
| maj 28 | 18:30 | 175-M: $30 Sunday Bounty King Jr | $200,000 |
| maj 28 | 18:30 | 175-L: $3 Sunday Bounty King Baby | $25,000 |
| maj 28 | 19:00 | 176-S: $25,500 Sunday Super High Roller | $500,000 |
| maj 28 | 19:00 | 176-H: $1,050 High Rollers Main Event | $600,000 |
| maj 28 | 19:00 | 176-M: $250 Sunday Main Event | $400,000 |
| maj 28 | 19:00 | 176-L: $25 Sunday Mini Main Event | $125,000 |
| maj 28 | 20:00 | 177-S: $5,250 Omaholic Bounty Main Event HR | $200,000 |
| maj 28 | 20:00 | 177-H: $1,050 Omaholic Bounty Main Event | $200,000 |
| maj 28 | 20:00 | 177-M: $150 Omaholic Bounty Main Event | $75,000 |
| maj 28 | 20:00 | 177-L: $25 Omaholic Bounty Mini Main | $40,000 |
| maj 28 | 21:00 | 178-S: $2,625 Sunday Heater HR [Bounty Turbo] | $200,000 |
| maj 28 | 21:00 | 178-H: $250 Sunday Heater [Bounty Turbo] | $200,000 |
| maj 28 | 21:00 | 178-M: $25 Sunday Heater [Bounty Turbo] | $100,000 |
| maj 28 | 21:00 | 178-L: $2.50 Mini Sunday Heater [Bounty Turbo] | $10,000 |
| maj 28 | 22:30 | 179-S: $1,500 Bounty King Americas SHR | $125,000 |
| maj 28 | 22:30 | 179-H: $525 Bounty King Americas | $100,000 |
| maj 28 | 22:30 | 179-M: $54 Bounty King Americas | $50,000 |
| maj 28 | 22:30 | 179-L: $5.40 Bounty King Americas | $20,000 |
| maj 28 | 23:00 | 180-S: $1,050 Sunday Saver HR [Hyper] | $150,000 |
| maj 28 | 23:00 | 180-H: $250 Sunday Saver [Hyper] | $150,000 |
| maj 28 | 23:00 | 180-M: $50 Sunday Saver [Hyper] | $100,000 |
| maj 28 | 23:00 | 180-L: $5 Mini Sunday Saver [Hyper] | $20,000 |
| maj 29 | 13:30 | 181-S: $1,500 Monday Challenge Asia [6-Max] | $75,000 |
| maj 29 | 13:30 | 181-H: $150 Monday Challenge Asia [6-Max] | $60,000 |
| maj 29 | 13:30 | 181-M: $25 Monday Challenge Asia [6-Max] | $50,000 |
| maj 29 | 13:30 | 181-L: $2.50 Mini Monday Challenge Asia [6-Max] | $10,000 |
| maj 29 | 16:30 | 182-S: $5,250 Bounty Hunters Super High Roller | $250,000 |
| maj 29 | 16:30 | 182-H: $525 Bounty Hunters HR [Classic] | $500,000 |
| maj 29 | 16:30 | 182-M: $54 Bounty Hunters Daily Main [Classic] | $250,000 |
| maj 29 | 16:30 | 182-L: $5.40 Bounty Hunters Mini Main [Classic] | $40,000 |
| maj 29 | 18:00 | 183-S: $10,300 Monday Super HR | $500,000 |
| maj 29 | 18:00 | 183-H: $1,050 Monday Monster Stack HR | $500,000 |
| maj 29 | 18:00 | 183-M: $150 Monday Monster Stack | $300,000 |
| maj 29 | 18:00 | 183-L: $25 Mini Monday Monster Stack | $100,000 |
| maj 29 | 19:00 | 184-S: $1,500 Monday Bounty Magic HR | $300,000 |
| maj 29 | 19:00 | 184-H: $320 Monday Bounty Magic | $250,000 |
| maj 29 | 19:00 | 184-M: $30 Monday Bounty Magic | $100,000 |
| maj 29 | 19:00 | 184-L: $3 Monday Bounty Magic | $15,000 |
| maj 29 | 20:00 | 185-S: $2,625 LUCKY SEVENS Samba HR [7-Max] | $200,000 |
| maj 29 | 20:00 | 185-H: $777 LUCKY SEVENS Samba [7-Max] | $77,000 |
| maj 29 | 20:00 | 185-M: $77 LUCKY SEVENS Samba [7-Max] | $77,000 |
| maj 29 | 20:00 | 185-L: $7.77 LUCKY SEVENS Samba [7-Max] | $25,000 |
| maj 30 | 13:00 | 186-S: $2,625 Double Dragon [2-Stack] | $75,000 |
| maj 30 | 13:00 | 186-H: $250 Double Dragon [2-Stack] | $60,000 |
| maj 30 | 13:00 | 186-M: $25 Double Dragon [2-Stack] | $50,000 |
| maj 30 | 13:00 | 186-L: $2.50 Mini Double Dragon [2-Stack] | $12,500 |
| maj 30 | 16:30 | 187-S: $5,250 Bounty Hunters Super High Roller | $250,000 |
| maj 30 | 16:30 | 187-H: $525 Bounty Hunters HR [Deepstack] | $500,000 |
| maj 30 | 16:30 | 187-M: $54 Bounty Hunters Daily Main [Deepstack] | $250,000 |
| maj 30 | 16:30 | 187-L: $5.40 Bounty Hunters Mini Main [Deepstack] | $40,000 |
| maj 30 | 18:00 | 188-S: $10,300 Tuesday Classic Super HR | $750,000 |
| maj 30 | 18:00 | 188-H: $1,050 Tuesday Classic HR | $600,000 |
| maj 30 | 18:00 | 188-M: $150 Tuesday Classic | $300,000 |
| maj 30 | 18:00 | 188-L: $25 Mini Tuesday Classic | $100,000 |
| maj 30 | 19:30 | 189-S: $2,625 Tuesday Takedown [Bounty 7-Max] | $300,000 |
| maj 30 | 19:30 | 189-H: $840 Tuesday Takedown [Bounty 7-Max] | $250,000 |
| maj 30 | 19:30 | 189-M: $88 Tuesday Takedown [Bounty 7-Max] | $150,000 |
| maj 30 | 19:30 | 189-L: $8.88 Tuesday Takedown [Bounty 7-Max] | $50,000 |
| maj 30 | 21:00 | 190-S: $1,500 Tuesday Super Heater HR [Bounty Turbo] | $150,000 |
| maj 30 | 21:00 | 190-H: $525 Tuesday Super Heater HR [Bounty Turbo] | $100,000 |
| maj 30 | 21:00 | 190-M: $54 Tuesday Super Heater [Bounty Turbo] | $60,000 |
| maj 30 | 21:00 | 190-L: $5.40 Tuesday Mini Heater [Bounty Turbo] | $15,000 |
| maj 31 | 14:00 | 191-S: $1,500 Wednesday Warm-Up [Deep Stacks] | $200,000 |
| maj 31 | 14:00 | 191-H: $320 Wednesday Warm-Up [Deep Stacks] | $150,000 |
| maj 31 | 14:00 | 191-M: $30 Wednesday Warm-Up [Deep Stacks] | $100,000 |
| maj 31 | 14:00 | 191-L: $3 Wednesday Warm-Up [Deep Stacks] | $15,000 |
| maj 31 | 16:30 | 192-S: $5,250 Bounty Hunters Super High Roller | $250,000 |
| maj 31 | 16:30 | 192-H: $525 Bounty Hunters HR [6-Max] | $400,000 |
| maj 31 | 16:30 | 192-M: $54 Bounty Hunters Daily Main [6-Max] | $250,000 |
| maj 31 | 16:30 | 192-L: $5.40 Bounty Hunters Mini Main [6-Max] | $40,000 |
| maj 31 | 18:00 | 193-S: $2,625 Wednesday Double Stack HR | $300,000 |
| maj 31 | 18:00 | 193-H: $250 Wednesday Double Stack | $250,000 |
| maj 31 | 18:00 | 193-M: $25 Wednesday Double Stack | $100,000 |
| maj 31 | 18:00 | 193-L: $2.50 Mini Wednesday Double Stack | $20,000 |
| maj 31 | 20:00 | 194-S: $1,050 Wednesday Wiggle [Bounty 4-Max] | $150,000 |
| maj 31 | 20:00 | 194-H: $150 Wednesday Wiggle [Bounty 4-Max] | $100,000 |
| maj 31 | 20:00 | 194-M: $25 Wednesday Wiggle [Bounty 4-Max] | $50,000 |
| maj 31 | 20:00 | 194-L: $2.50 Wednesday Wiggle [Bounty 4-Max] | $10,000 |
| maj 30 | 21:30 | 195-S: $5,250 Omaholic Block Party Turbo | $100,000 |
| maj 30 | 21:30 | 195-H: $525 Omaholic Block Party Turbo | $50,000 |
| maj 30 | 21:30 | 195-M: $50 Omaholic Block Party Turbo | $25,000 |
| maj 30 | 21:30 | 195-L: $5 Omaholic Block Party Turbo | $10,000 |
| czerwiec 1 | 14:00 | 196-S: $1,050 Great Wall Ultradeep Turbo | $75,000 |
| czerwiec 1 | 14:00 | 196-H: $150 Great Wall Ultradeep Turbo | $60,000 |
| czerwiec 1 | 14:00 | 196-M: $25 Great Wall Ultradeep Turbo | $50,000 |
| czerwiec 1 | 14:00 | 196-L: $2.50 Great Wall Ultradeep Turbo | $10,000 |
| czerwiec 1 | 16:30 | 197-S: $5,250 Bounty Hunters Super High Roller | $250,000 |
| czerwiec 1 | 16:30 | 197-H: $525 Bounty Hunters HR [Classic] | $500,000 |
| czerwiec 1 | 16:30 | 197-M: $54 Bounty Hunters Daily Main [Classic] | $250,000 |
| czerwiec 1 | 16:30 | 197-L: $5.40 Bounty Hunters Mini Main [Classic] | $40,000 |
| czerwiec 1 | 18:00 | 198-S: $10,300 Thursday Throwdown [Bounty] | $750,000 |
| czerwiec 1 | 18:00 | 198-H: $1,050 Thursday Throwdown [Bounty] | $750,000 |
| czerwiec 1 | 18:00 | 198-M: $150 Thursday Throwdown [Bounty] | $400,000 |
| czerwiec 1 | 18:00 | 198-L: $25 Mini Thursday Throwdown [Bounty] | $150,000 |
| czerwiec 1 | 19:00 | 199-S: $1,500 Thursday Triple Chance [3-Stack] | $150,000 |
| czerwiec 1 | 19:00 | 199-H: $320 Thursday Triple Chance [3-Stack] | $125,000 |
| czerwiec 1 | 19:00 | 199-M: $30 Thursday Triple Chance [3-Stack] | $100,000 |
| czerwiec 1 | 19:00 | 199-L: $3 Thursday Triple Chance [3-Stack] | $20,000 |
| czerwiec 1 | 21:30 | 200-S: $2,625 Bounty Hunters Carnaval HR | $125,000 |
| czerwiec 1 | 21:30 | 200-H: $250 Bounty Hunters Carnaval | $100,000 |
| czerwiec 1 | 21:30 | 200-M: $25 Bounty Hunters Carnaval | $50,000 |
| czerwiec 1 | 21:30 | 200-L: $2.50 Bounty Hunters Carnaval | $10,000 |
| czerwiec 2 | 13:30 | 201-S: $2,625 Black Rabbit Bounty | $100,000 |
| czerwiec 2 | 13:30 | 201-H: $840 Black Rabbit Bounty | $75,000 |
| czerwiec 2 | 13:30 | 201-M: $88 Black Rabbit Bounty | $50,000 |
| czerwiec 2 | 13:30 | 201-L: $8.88 Black Rabbit Bounty | $25,000 |
| czerwiec 2 | 16:30 | 202-S: $5,250 Bounty Hunters Super HR | $100,000 |
| czerwiec 2 | 16:30 | 202-H: $525 Bounty Hunters HR [Big Bounties] | $200,000 |
| czerwiec 2 | 16:30 | 202-M: $54 Bounty Hunters Daily Main [Big Bounties] | $150,000 |
| czerwiec 2 | 16:30 | 202-L: $5.40 Bounty Hunters Mini Main [Big Bounties] | $40,000 |
| czerwiec 2 | 18:00 | 203-S: $1,500 Friday Night Fight HR [Bounty 6-Max] | $200,000 |
| czerwiec 2 | 18:00 | 203-H: $150 Friday Night Fight [Bounty 6-Max] | $125,000 |
| czerwiec 2 | 18:00 | 203-M: $25 Friday Night Fight [Bounty 6-Max] | $100,000 |
| czerwiec 2 | 18:00 | 203-L: $2.50 Mini Friday Night Fight [Bounty 6-Max] | $20,000 |
| czerwiec 2 | 21:30 | 204-S: $1,050 TGIF Hyper Special [6-Max] | $60,000 |
| czerwiec 2 | 21:30 | 204-H: $320 TGIF Hyper Special [6-Max] | $50,000 |
| czerwiec 2 | 21:30 | 204-M: $30 TGIF Hyper Special [6-Max] | $25,000 |
| czerwiec 2 | 21:30 | 204-L: $3.00 TGIF Hyper Special [6-Max] | $10,000 |
| czerwiec 3 | 11:00 | 205-S: $2,023 Zodiac GOAT High Roller | $100,000 |
| czerwiec 3 | 11:00 | 205-H: $250 Zodiac GOAT High Roller | $60,000 |
| czerwiec 3 | 11:00 | 205-M: $25 Zodiac GOAT Mini High Roller | $50,000 |
| czerwiec 3 | 11:00 | 205-L: $2.50 Zodiac GOAT Mini High Roller | $12,500 |
| czerwiec 3 | 14:00 | 206-S: $2,625 Saturday Superstack | $250,000 |
| czerwiec 3 | 14:00 | 206-H: $840 Saturday Superstack | $150,000 |
| czerwiec 3 | 14:00 | 206-M: $88 Saturday Superstack | $100,000 |
| czerwiec 3 | 14:00 | 206-L: $8.88 Saturday Superstack | $40,000 |
| czerwiec 3 | 16:30 | 207-S: $5,250 Bounty Hunters Super HR | $100,000 |
| czerwiec 3 | 16:30 | 207-H: $525 Bounty Hunters HR [Ultradeep] | $400,000 |
| czerwiec 3 | 16:30 | 207-M: $54 Bounty Hunters Daily Main [Ultradeep] | $250,000 |
| czerwiec 3 | 16:30 | 207-L: $5.40 Bounty Hunters Mini Main [Ultradeep] | $40,000 |
| czerwiec 3 | 18:00 | 208-S: $10,300 Saturday Secret KO [Mystery Bounty] | $500,000 |
| czerwiec 3 | 18:00 | 208-H: $1,050 Saturday Secret KO [Mystery Bounty] | $400,000 |
| czerwiec 3 | 18:00 | 208-M: $150 Saturday Secret KO [Mystery Bounty] | $300,000 |
| czerwiec 3 | 18:00 | 208-L: $25 Saturday Secret KO [Mystery Bounty] | $150,000 |
| czerwiec 3 | 19:30 | 209-S: $10,300 Omaholic Secret KO [Mystery Bounty, PLO-NL] | $200,000 |
| czerwiec 3 | 19:30 | 209-H: $1,050 Omaholic Secret KO [Mystery Bounty, PLO-NL] | $100,000 |
| czerwiec 3 | 19:30 | 209-M: $150 Omaholic Secret KO [Mystery Bounty, PLO-NL] | $50,000 |
| czerwiec 3 | 19:30 | 209-L: $25 Omaholic Secret KO [Mystery Bounty, PLO-NL] | $25,000 |
| czerwiec 3 | 22:30 | 210-S: $1,050 Saturday Speed Zone [Hyper 4-Max] | $100,000 |
| czerwiec 3 | 22:30 | 210-H: $250 Saturday Speed Zone [Hyper 4-Max] | $75,000 |
| czerwiec 3 | 22:30 | 210-M: $50 Saturday Speed Zone [Hyper 4-Max] | $40,000 |
| czerwiec 3 | 22:30 | 210-L: $5 Saturday Speed Zone [Hyper 4-Max] | $20,000 |
| czerwiec 4 | 11:00 | 211-S: $2,625 CRAZY EIGHTS Asia HR | $100,000 |
| czerwiec 4 | 11:00 | 211-H: $840 CRAZY EIGHTS Asia | $100,000 |
| czerwiec 4 | 11:00 | 211-M: $88 CRAZY EIGHTS Asia | $88,000 |
| czerwiec 4 | 11:00 | 211-L: $8.88 Mini CRAZY EIGHTS Asia | $25,000 |
| czerwiec 4 | 12:30 | 212-S: $1,050 Festival Kickstarter [Bounty] | $100,000 |
| czerwiec 4 | 12:30 | 212-H: $150 Festival Kickstarter [Bounty] | $100,000 |
| czerwiec 4 | 12:30 | 212-M: $25 Festival Kickstarter [Bounty] | $88,000 |
| czerwiec 4 | 12:30 | 212-L: $2.50 Festival Kickstarter [Bounty] | $15,000 |
| czerwiec 4 | 14:00 | 213-S: $1,500 Sunday Marathon | $300,000 |
| czerwiec 4 | 14:00 | 213-H: $320 Sunday Marathon | $200,000 |
| czerwiec 4 | 14:00 | 213-M: $30 Sunday Marathon | $100,000 |
| czerwiec 4 | 14:00 | 213-L: $3 Sunday Marathon | $15,000 |
| czerwiec 4 | 15:00 | 214-S: $2,625 Sunday Grand Prix Europe HR | $250,000 |
| czerwiec 4 | 15:00 | 214-H: $250 Sunday Grand Prix Europe | $250,000 |
| czerwiec 4 | 15:00 | 214-M: $25 Sunday Grand Prix Europe | $100,000 |
| czerwiec 4 | 15:00 | 214-L: $2.50 Mini Grand Prix Europe | $20,000 |
| czerwiec 4 | 16:30 | 215-S: $5,250 Bounty Hunters Super High Roller | $400,000 |
| czerwiec 4 | 16:30 | 215-H: $525 Bounty Hunters HR Main Event | $1,250,000 |
| czerwiec 4 | 16:30 | 215-M: $54 Bounty Hunters Sunday Main Event | $500,000 |
| czerwiec 4 | 16:30 | 215-L: $5.40 Bounty Hunters Sunday Mini Main | $60,000 |
| czerwiec 4 | 18:00 | 216-S: $10,300 Super MILLION$ High Rollers [2-Day] | $2,500,000 |
| czerwiec 4 | 17:00 | 216-H: $1,050 GGMasters High Rollers World Festival | $1,000,000 |
| czerwiec 4 | 17:00 | 216-M: $150 GGMasters Festival Edition | $600,000 |
| czerwiec 4 | 18:00 | 216-L: $15 Sunday Hundred Grand | $150,000 |
| czerwiec 4 | 18:30 | 217-S: $2,625 Blade Bounty King | $100,000 |
| czerwiec 4 | 18:30 | 217-H: $320 GGMasters Bounty King | $500,000 |
| czerwiec 4 | 18:30 | 217-M: $30 Sunday Bounty King Jr | $200,000 |
| czerwiec 4 | 18:30 | 217-L: $3 Sunday Bounty King Baby | $25,000 |
| czerwiec 4 | 19:00 | 218-S: $25,500 Sunday Super High Roller | $500,000 |
| czerwiec 4 | 19:00 | 218-H: $1,050 High Rollers Main Event | $600,000 |
| czerwiec 4 | 19:00 | 218-M: $250 Sunday Main Event | $400,000 |
| czerwiec 4 | 19:00 | 218-L: $25 Sunday Mini Main Event | $125,000 |
| czerwiec 4 | 20:00 | 219-S: $5,250 Omaholic Bounty Main Event HR | $200,000 |
| czerwiec 4 | 20:00 | 219-H: $1,050 Omaholic Bounty Main Event | $200,000 |
| czerwiec 4 | 20:00 | 219-M: $150 Omaholic Bounty Main Event | $75,000 |
| czerwiec 4 | 20:00 | 219-L: $25 Omaholic Bounty Mini Main | $40,000 |
| czerwiec 4 | 21:00 | 220-S: $2,625 Sunday Heater HR [Bounty Turbo] | $200,000 |
| czerwiec 4 | 21:00 | 220-H: $250 Sunday Heater [Bounty Turbo] | $200,000 |
| czerwiec 4 | 21:00 | 220-M: $25 Sunday Heater [Bounty Turbo] | $100,000 |
| czerwiec 4 | 21:00 | 220-L: $2.50 Mini Sunday Heater [Bounty Turbo] | $10,000 |
| czerwiec 4 | 22:30 | 221-S: $1,500 Bounty King Americas SHR | $125,000 |
| czerwiec 4 | 22:30 | 221-H: $525 Bounty King Americas | $100,000 |
| czerwiec 4 | 22:30 | 221-M: $54 Bounty King Americas | $50,000 |
| czerwiec 4 | 22:30 | 221-L: $5.40 Bounty King Americas | $20,000 |
| czerwiec 4 | 23:00 | 222-S: $1,050 Sunday Saver HR [Hyper] | $150,000 |
| czerwiec 4 | 23:00 | 222-H: $250 Sunday Saver [Hyper] | $150,000 |
| czerwiec 4 | 23:00 | 222-M: $50 Sunday Saver [Hyper] | $100,000 |
| czerwiec 4 | 23:00 | 222-L: $5 Mini Sunday Saver [Hyper] | $20,000 |
| czerwiec 5 | 13:30 | 223-S: $1,500 Monday Challenge Asia [6-Max] | $75,000 |
| czerwiec 5 | 13:30 | 223-H: $150 Monday Challenge Asia [6-Max] | $60,000 |
| czerwiec 5 | 13:30 | 223-M: $25 Monday Challenge Asia [6-Max] | $50,000 |
| czerwiec 5 | 13:30 | 223-L: $2.50 Mini Monday Challenge Asia [6-Max] | $10,000 |
| czerwiec 5 | 16:30 | 224-S: $5,250 Bounty Hunters Super High Roller | $250,000 |
| czerwiec 5 | 16:30 | 224-H: $525 Bounty Hunters HR [Classic] | $500,000 |
| czerwiec 5 | 16:30 | 224-M: $54 Bounty Hunters Daily Main [Classic] | $250,000 |
| czerwiec 5 | 16:30 | 224-L: $5.40 Bounty Hunters Mini Main [Classic] | $40,000 |
| czerwiec 5 | 18:00 | 225-S: $10,300 Monday Super HR | $500,000 |
| czerwiec 5 | 18:00 | 225-H: $1,050 Monday Monster Stack HR | $500,000 |
| czerwiec 5 | 18:00 | 225-M: $150 Monday Monster Stack | $300,000 |
| czerwiec 5 | 18:00 | 225-L: $25 Mini Monday Monster Stack | $100,000 |
| czerwiec 5 | 19:00 | 226-S: $1,500 Monday Bounty Magic HR | $300,000 |
| czerwiec 5 | 19:00 | 226-H: $320 Monday Bounty Magic | $250,000 |
| czerwiec 5 | 19:00 | 226-M: $30 Monday Bounty Magic | $100,000 |
| czerwiec 5 | 19:00 | 226-L: $3 Monday Bounty Magic | $15,000 |
| czerwiec 5 | 20:00 | 227-S: $2,625 LUCKY SEVENS Samba HR [7-Max] | $200,000 |
| czerwiec 5 | 20:00 | 227-H: $777 LUCKY SEVENS Samba [7-Max] | $77,000 |
| czerwiec 5 | 20:00 | 227-M: $77 LUCKY SEVENS Samba [7-Max] | $77,000 |
| czerwiec 5 | 20:00 | 227-L: $7.77 LUCKY SEVENS Samba [7-Max] | $25,000 |
| czerwiec 6 | 13:00 | 228-S: $2,625 Double Dragon [2-Stack] | $75,000 |
| czerwiec 6 | 13:00 | 228-H: $250 Double Dragon [2-Stack] | $60,000 |
| czerwiec 6 | 13:00 | 228-M: $25 Double Dragon [2-Stack] | $50,000 |
| czerwiec 6 | 13:00 | 228-L: $2.50 Mini Double Dragon [2-Stack] | $12,500 |
| czerwiec 6 | 16:30 | 229-S: $5,250 Bounty Hunters Super High Roller | $250,000 |
| czerwiec 6 | 16:30 | 229-H: $525 Bounty Hunters HR [Deepstack] | $500,000 |
| czerwiec 6 | 16:30 | 229-M: $54 Bounty Hunters Daily Main [Deepstack] | $250,000 |
| czerwiec 6 | 16:30 | 229-L: $5.40 Bounty Hunters Mini Main [Deepstack] | $40,000 |
| czerwiec 6 | 18:00 | 230-S: $10,300 Tuesday Classic Super HR | $750,000 |
| czerwiec 6 | 18:00 | 230-H: $1,050 Tuesday Classic HR | $600,000 |
| czerwiec 6 | 18:00 | 230-M: $150 Tuesday Classic | $300,000 |
| czerwiec 6 | 18:00 | 230-L: $25 Mini Tuesday Classic | $100,000 |
| czerwiec 6 | 19:30 | 231-S: $2,625 Tuesday Takedown [Bounty 7-Max] | $300,000 |
| czerwiec 6 | 19:30 | 231-H: $840 Tuesday Takedown [Bounty 7-Max] | $250,000 |
| czerwiec 6 | 19:30 | 231-M: $88 Tuesday Takedown [Bounty 7-Max] | $150,000 |
| czerwiec 6 | 19:30 | 231-L: $8.88 Tuesday Takedown [Bounty 7-Max] | $50,000 |
| czerwiec 6 | 21:00 | 232-S: $1,500 Tuesday Super Heater HR [Bounty Turbo] | $150,000 |
| czerwiec 6 | 21:00 | 232-H: $525 Tuesday Super Heater HR [Bounty Turbo] | $100,000 |
| czerwiec 6 | 21:00 | 232-M: $54 Tuesday Super Heater [Bounty Turbo] | $60,000 |
| czerwiec 6 | 21:00 | 232-L: $5.40 Tuesday Mini Heater [Bounty Turbo] | $15,000 |